The European Public Health Association
Newsletter - November 2019
| | | |
| --- | --- | --- |
| | Newsletter - November 2019 | |
1. Editorial
We look back on a very successful 11th European Public Health conference, held 20-23 November 2019 in Marseille, France. In our annual meeting - the EUPHA Governing Board - the EUPHA strategy 2020-2025 was approved. Furthermore, two new theme-specific EUPHA sections were established. We are happy to introduce the World Congress on Public Health - Rome 2020 - to our readers.
Wishing you pleasant reading,
Natasha Azzopardi-Muscat, EUPHA president, and Dineke Zeegers Paget, Executive director EUPHA.
2. EUPHA update
EUPHA at the European Public Health conference
The European Public Health conference was held 20-23 November 2019 in Marseille, France. This year's conference theme was 'Building bridges for solidarity and public health'. Yves Charpak, vice-president of the Société Française de Santé Publique, opened the conference. There were many EUPHA and EUPHA section organised sessions at the conference:
27 workshops
10 skills-building seminars
3 plenary sessions
15 pre-conferences
We look back on a successful, interesting and engaging conference. On social media (Twitter, LinkedIn, Facebook) EUPHA's activities at the conference were highlighted with #EUPHAatEPH2019.
Marseille statement
EUPHA publishes the Marseille statement coinciding with the European Public Health conference that took place 20-23 November 2019 in Marseille, France.
The Marseille statement, 'Building bridges for solidarity in public health', highlights two key elements of solidarity in public health: leaving no one behind and translating knowledge. In this statement the public health community expresses their continued commitment to international frameworks on primary care, health promotion, and health systems strengthening. The public health community makes three specific commitments to:
take responsibility for supporting migration policies;
be determined to the value of solidarity through the health for all policies approach; and
call for action to combat inequities in health.
EUPHA, the Société Française de Santé Publique and 33 EUPHA members undersign the statement, including 20 national public health associations, 11 institutional members and 2 individual members. 10 partners also co-signed the Marseille statement.
Roadmap for action on antimicrobial resistance: 5 key strategies to tackle this global threat
On European Antibiotic Awareness day, 18 November, EUPHA signed the 'Roadmap for action on antimicrobial resistance: 5 key strategies to tackle this global threat'. This roadmap is released by the AMR stakeholder network, a civil society-led pan-European stakeholder network on AMR. It comprises over 80 leading organisations and individuals committed to tackling AMR from a "One Health" approach.
EUPHA Governing Board meeting, November 2019, Marseille, France
Last week in Marseille, the annual EUPHA Governing Board meeting was held. The EUPHA Governing Board is the highest authoritative body in EUPHA. It comprises of the delegates appointed by the members of each country.
The following was approved:
Establishing the EUPHA Digital health section
Establishing the EUPHA Oral health section
Adoption of the EUPHA strategy 2020-2025
Also the annual financial report, work plan and budget for the coming year were approved.
EUPHA Public health and law initiative
Last week in Marseille, the initiative for setting up EUPHA Public health and law section was presented.
This initiative is in line with previous work of EUPHA. For example, our partnership with the Global Law Enforcement and Public Health Association (GLEPHA) and our support the Law enforcement and public health conference.
More information on this initiative will follow shortly.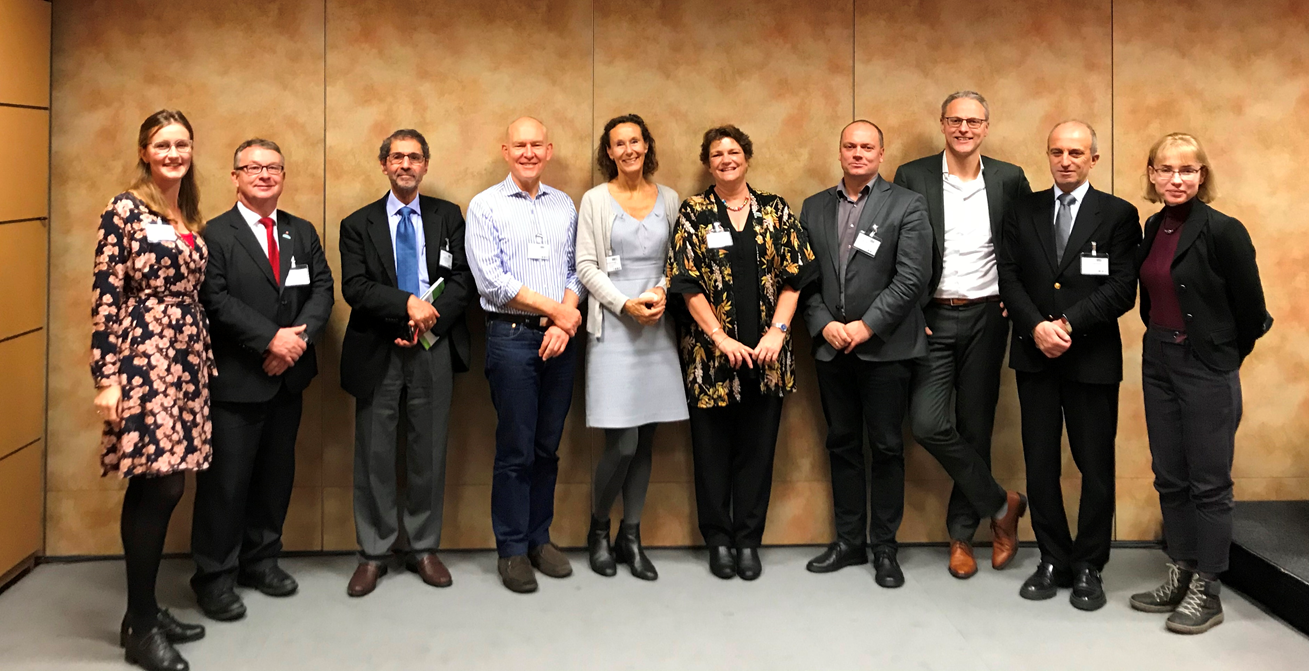 Workshop 'To regulate or not to regulate: that is still the question' held 23 November 2019 at the European Public Health conference in Marseille, France.
3. European Public Health Conference
12th EPH Conference was a great success!


Thank you for your attendance and contributions
The 12th EPH Conference is over and we hope that you will resume your normal duties in good spirits and with fond memories of Marseille. The conference was attended by 2,400 delegates from over 75 countries worldwide. We look back at a successful and enjoyable conference. It has been a pleasure to organise the event for you and we look forward to welcoming you in Rome, Italy, next year (see below).
Participants' evaluation
Your feedback is important to us and helps us improve the conference and better meet your needs. All you need to do is to login to your personal account.: http://bit.ly/2Ut7IEg
Certificate of attendance / accreditation
The 12th EPH Conference has been accredited by the European Accreditation Council for Continuing Medical Education (EACCME) with 16 European CME credits. Delegates requesting a Certificate of Attendance/Accreditation should login to their personal account.
Free access to European Journal of Public Health
EUPHA and Oxford University Press offer delegates free online access to the European Journal of Public Health (EJPH) until 28 February 2020. Access the journal through your personal account.
Presentations of plenary sessions
Many of the keynote presentations are available on our website.
Next year's EPH Conference
Next year's EPH Conference will be held in Rome, Italy, as part of the 16th World Congress on Public Health (WCPH), from 12 – 17 October 2020.
16th World Congress on Public Health, 12 - 17 October 2020, Rome, Italy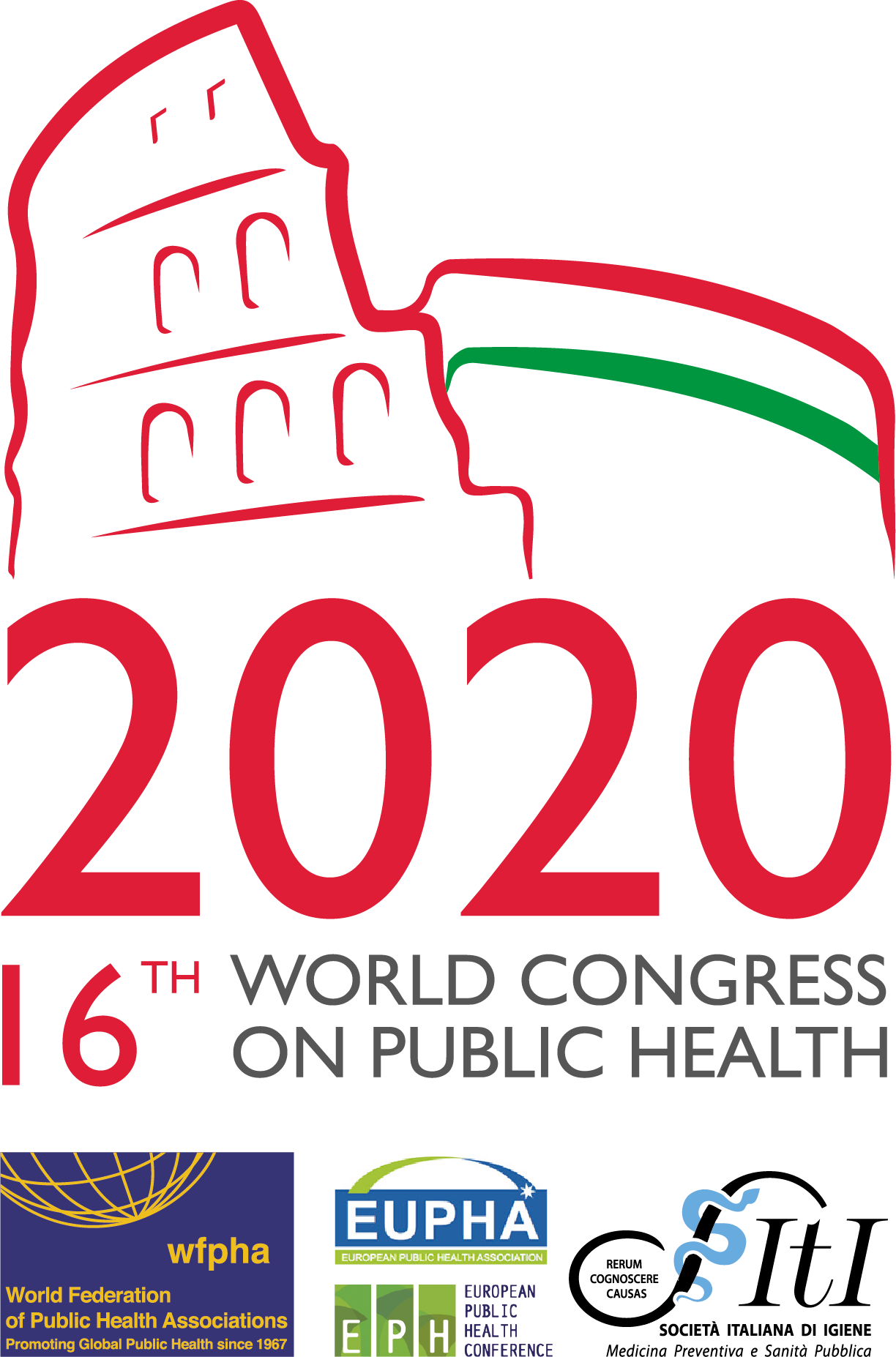 Public health for the future of humanity: analysis, advocacy and action
Next year EUPHA and EPH Conference will be joining with colleagues from across the globe in a unique partnership organizing the 16th World Congress on Public Health (WCPH) in Rome, Italy. The 13th EPH Conference will be an integral part of the World Congress on Public Health. WCPH 2020 is organized by the World Federation of Public Health Associations (WFPHA) in collaboration with the Italian Society of Hygiene, Preventive Medicine and Public Health (SItI), and the European Public Health Association (EUPHA).
Abstract submission
Abstract submission is organized by EUPHA and is open from 1 December 2019 to 1 March 2020. See our website for more information.
World Leadership Dialogues
World Leadership Dialogues (WLD) can be organised by health organisations, NGOs, and commercial organisations. WLDs are high-level sessions on current topics in public health intended to complement the plenary sessions. WLDs are free for delegates, organisers are charged for the costs. Detailed information here.
Early registration
Low cost registration fees are available until 30 November. EUPHA members pay EUR 499 only for the whole conference. From 1 December to 1 May early bird fees of EUR 620 apply. More registration information is available here.
***WARNING***
We received reports that a World Congress on Public Health is being advertised to be held 20 - 21 May 2020 in Berlin, Germany. This conference is reportedly organised by ConferenceEra. We would like to point out that we, as organizers of the 16th World Congress on Public Health, are in no way involved in this event.
4. EUPHA members update
SFSP reflects on an inspiring European Public Health conference
The special news flash of the French society for public health (Société Française de Santé Publique) reflects on the European Public Health conference. This news flash includes key quotes, an interview with Louise Potvin, Director of the Canada Research Chair, on Community Approaches and Health Inequalities, and more.
Read the email Flash Spécial (in French), here.
Finnish presidency event: Innovations in Health and Social Care - Enhancing Health and Wellbeing in Europe
Early December, the Finnish Institute for Health and Welfare (THL) is co-organising an official Finnish presidency event on the economy of wellbeing. The event focuses on enhancing a structured cooperation across Member States to generate evidence for policy making that will support European health and social care systems to meet the challenges of a rapidly changing environment.
The event is organised in collaboration with the European Commission funded TO-REACH initiative, in which both the Finnish Institute for Health and Welfare (THL) and the Academy of Finland are partner institutes. The event will bring together representatives from different policy areas, as well as stakeholders from public and private sector, and academia.
The event is by invitation only.
Welcome to our new Georgian member
We welcome our newest individual member: Elene (Helen) Phagava, Dep of Epidemiology and Biostatistics, Tbilisi State Medical University, Georgia. We look forward to our collaborations.

5. European Journal of Public Health
Digital health supplement
This month, EUPHA published the supplement 'Digitalization: Potentials and Pitfalls from a Public Health Perspective'. This coincides with the establishment of the EUPHA Digital health section and with the European Public health conference, that had a strong focus on digital health: one dedicated track and a full track organised by the Digital Public Health conference. The supplement includes an article on EUPHA vision, action and role in digital public health.
This is an open access supplement to the European Journal of Public Health.
Advanced access articles - November
Surveillance of malaria in mainland Portugal in 2016 after the introduction of an electronic system: is it enough?
Rita Miranda Ferrão, Inês Fronteira, Rita Sá Machado, Eduardo Duarte

Emergence of Lyme disease as a social problem: analysis of discourse using the media content
Clélia Pascal, Jocelyne Arquembourg, Philippe Vorilhon, Olivier Lesens

The organizational domain in HTA reports: towards a technology-oriented assessment
Pasquale Cacciatore, Maria Lucia Specchia, Maria Giuliana Solinas, Walter Ricciardi, Gianfranco Damiani

Perceived gender discrimination at work and subsequent long-term sickness absence among Finnish employed women
Marjut Pietiläinen, Jouko Nätti, Satu Ojala

Is the European Health Interview Survey online yet? Response and net sample composition of a web-based data collection
Elise Braekman, Rana Charafeddine, Stefaan Demarest, Sabine Drieskens, Jean Tafforeau, Johan Van der Heyden, Guido Van Hal

Feasibility and acceptability of an intervention for enhancing reintegration in adults with experience of homelessness
Eva C Sundin, Aleksandra Mrowiec, Graham Bowpitt, Charlotte A Boatman, A J Williams, Mustafa Sarkar, Thom S Baguley

Changes in tobacco-related morbidity and mortality in French women: worrying trends
Valérie Olié, Anne Pasquereau, Frank A G Assogba, Pierre Arwidson, Viet Nguyen-Thanh, Edouard Chatignoux, Amélie Gabet, Marie-Christine Delmas, Christophe Bonaldi

Night work and risk of ischaemic heart disease and anti-hypertensive drug use: a cohort study of 145 861 Danish employees
Ann D Larsen, Reiner Rugulies, Johnni Hansen, Henrik A Kolstad, Åse Marie Hansen, Harald Hannerz, Anne Helene Garde

Uptake and detection rate of a stepwise cardiometabolic disease detection program in primary care—a cohort study
Daphne M Stol, Monika Hollander, Ilse F Badenbroek, Mark M J Nielen, François G Schellevis, Niek J de Wit

Knowledge and beliefs on vaccines among a sample of Italian pregnant women: results from the NAVIDAD study
Fabrizio Bert, Elena Olivero, Paola Rossello, Maria R Gualano, Silvana Castaldi, Gianfranco Damiani, Marcello M D'Errico, Pamela Di Giovanni, Maria P Fantini, Leila Fabiani, Giovanni Gabutti, Ilaria Loperto, Marina Marranzano, Giuseppe Masanotti, Nicola Nante, Annalisa Rosso, Raffaele Squeri, Carlo Signorelli, Roberta Siliquini

Geographical variation in palliative cancer care in a tax-based healthcare system: drug reimbursement in Denmark
Cecilie Daugaard, Mette Asbjoern Neergaard, Anne Høy Seemann Vestergaard, Mette Kjærgaard Nielsen, David C Goodman, Søren P Johnsen

Education and training in public health: is there progress in the European region?
Ulrich Laaser, Vesna Bjegovic-Mikanovic, Dejana Vukovic, Helmut Wenzel, Robert Otok, Katarzyna Czabanowska

Cancer statistics: a comparison between World Health Organization (WHO) and Global Burden of Disease (GBD)
Camilla Mattiuzzi, Giuseppe Lippi

Citizen consultation and organized breast cancer screening
Xavier Gocko, Radia Spiga, Virginie Chel, Anthony Court, Catherine Plotton
6. Call for proposals, job opportunities
Office manager and Internships at Association of European Cancer Leagues (ECL)
The Association of European Cancer Leagues (ECL), a pan-European NGO, has an immediate vacancy for a part- or full-time Office Manager.
Post-Doc researcher
Danish Institute against Torture (DIGNITY) invites applicants for a Post-Doc position for the Safe Communities Safe Schools (SCSS) research project in Indonesia.
7. Interesting news
Drug-resistant staph spreads easily in households
The superbug MRSA (methicillin-resistant Staphylococcus aureus) can spread easily from people to household pets, according to a new study that underscores the importance of frequent handwashing.
https://www.reuters.com/article/us-healt...
Ebola vaccine approved in Europe in landmark moment in fight against a deadly disease
After more than two decades of research, the world finally has an approved Ebola vaccine. The European Commission granted marketing authorization to Merck's vaccine, known as Ervebo, on Monday, less than a month after the European Medicines Agency recommended it be licensed. It is currently being used in the Democratic Republic of the Congo under a "compassionate use" or research protocol similar to a clinical trial.
https://www.statnews.com/2019/11/11/ebol...
Greener, longer life: More trees reduce premature deaths in cities
City dwellers tend to live longer if they are in leafy neighborhoods, according to a study published on Wednesday that linked green areas to lower rates of premature death.
https://www.reuters.com/article/us-globa...
Dangerous bacteria communicate to avoid antibiotics
Researchers have found a new survival mechanism for a commonly known type of bacteria. It can send out warning signals and thus make sure that other bacteria escape 'dangers' such as antibiotics. The researchers hope that the new knowledge can be utilized to make antibiotic treatment more effective.
https://www.sciencedaily.com/releases/20.
. .
Playing board games may help protect thinking skills in old age
People who play games -- such as cards and board games -- are more likely to stay mentally sharp in later life, a study suggests. Those who regularly played non-digital games scored better on memory and thinking tests in their 70s, the research found.
https://www.sciencedaily.com/releases/20...
Two years into the opioid emergency
Two years ago the Trump administration declared the opioid crisis in the United States a public health emergency, positioning federal agencies to respond to what has been called the public health crisis of our time. Congress followed, appropriating billions of dollars to federal agencies and state and local governments to support a variety of programs to address opioid addiction treatment and overdose prevention.What have we accomplished in the two years since the president's declaration? For some answers, read the blog.
https://blog.oup.com/2019/11/two-years-i...
8. Upcoming courses and conferences
Health in Detention
9 Dec 2019 - 13 Dec 2019 / Basel, Switzerland
Organiser: Swiss Tropical and Public Health Institute
Travellers' Health
20 Jan 2020 - 24 Jan 2020 / Basel, Switzerland
Organiser: Swiss Tropical and Public Health Institute
9. Interesting publications
Special Issue 'Hospital Outdoor and Indoor Environmental Impact: Control Measures'


https://www.mdpi.com/journal/ijerph/spec...
Health and climate change: making the link matter


https://www.thelancet.com/journals/lance...
Tuberculosis testing and migrant health


Trends in life expectancy and age-specific mortality in England and Wales, 1970-2016, in comparison with a set of 22 high-income countries: an analysis of vital statistics data
Preventable harm: creating a mental health crisis
Cognitive tips for changing mindsets: improving policies to protect health and environment
Right-wing populism and self-rated health in Europe: a multilevel analysis
Interdisciplinary research in public health: the 'why' and the 'how'
School-based interventions to prevent anxiety and depression in children and young people: a systematic review and network meta-analysis
Offline: Why global health must talk about death
10. European Commission news
The new State of Health in the EU
The State of Health in the EU aims at making health system information, expertise and best practices easily accessible to policymakers and policy influencers. It is steered by the European Commission, but relies on the internationally renowned expertise of the OECD and the Observatory. The cycle pools the latest evidence on health and captures it in a series of concise, digestible reports.
The Country Health Profiles are designed to be a one-stop-shop for knowledge and information on a country's health system, put into the perspective of a cross-EU comparison. Meanwhile, the Companion Report, published alongside the Country Health Profiles, showcases some of the biggest trends in the transformation of health systems.
https://ec.europa.eu/health/state/summary_en
The EU Environmental Foresight System - Final report of 2018-19 annual cycle: emerging issues at the environment-social interface
The EU foresight system for the systematic identification of emerging environmental issues (FORENV) was established in 2017 responding to the need for improved understanding of emerging environmental and climate risks, set out in the 7th Environmental Action Programme. Through a collaborative process, combining expert knowledge and desk based research, each year FORENV identifies, characterises and communicates 10 priority emerging issues and their associated risks and opportunities for Europe's environment and environmental policy.
https://op.europa.eu/en/publication-deta...
Six years of success: the Expert Panel on Effective Ways of Investing in Health
In the editorial of the Health-EU newsletter Professor Jan De Maeseneer, Chair of the Expert Panel, reflects on the Panel's role, work and impact after its 6 years of existence.
https://ec.europa.eu/health/eunewsletter...
New European recommendations for breast cancer
The European Commission Initiative on Breast Cancer aims to improve the quality of breast cancer screening, diagnosis and care. In October, breast cancer awareness month, the Joint Research Centre presented new recommendations for breast cancer healthcare on its new website.
https://ec.europa.eu/jrc/en/news/new-eur...
Eurostat provides an easy-to-understand look at 'Ageing Europe', including health statistics
The European Statistics Office presents a look at various aspects of an ageing Europe, including health, living conditions, working conditions, income and expenditure, social life and population.
https://ec.europa.eu/eurostat/cache/digp...
Plenary at 12th European Public Health Conference (Marseille, 20 - 23 November 2019)
The European Commission co-organised a plenary session at the European Public Health conference with EUPHA. The plenary titled 'Bridging towards the future of public health in Europe. Where can and should we go from here?' addressed the public health priorities in Europe. The strong collaboration between the Commission as EUPHA was highlighted.
https://ephconference.eu/2019-plenary-pr...
18 November: European Antibiotic Awareness Day 2019
European Antibiotic Awareness Day (EAAD) was marked on Monday 18 November 2019, in partnership with WHO's World Antibiotic Awareness Week (18 – 24 November 2019).
What do European healthcare workers know about antibiotics and antibiotic resistance?
ECDC releases the results of the first multi-country and multi-professional study across 30 EU/EEA countries on the knowledge, attitudes and behaviours of healthcare workers regarding antibiotics, antibiotic use and antibiotic resistance.
https://www.ecdc.europa.eu/en/news-event...
State of Health in the EU: shift to prevention and primary care is the most important trend across countries
The European Commission published the reports that depict the profile of health systems in 30 countries. Country Health Profiles are being issued with the Companion Report that shows some of the biggest trends in the transformation of the healthcare systems and draws key conclusions from the Profiles.
https://ec.europa.eu/commission/presscorner/detail/en/IP_19_6336
11. European Centre for Disease Prevention and Control news
Eurosurveillance - Volume 24, Issue 45, 07 November 2019
Eurosurveillance - Volume 24, Issue 46, 14 November 2019
Eurosurveillance - Volume 24, Issue 47, 21 November 2019
Eurosurveillance - Volume 24, Issue 48, 28 November 2019
12. WHO news
Can you dance your way to better health and well-being? For the first time, WHO studies the link between arts and health
Engaging with the arts can be beneficial for both mental and physical health. This is a key conclusion of a new report from the WHO Regional Office for Europe analysing the evidence from over 900 global publications – the most comprehensive review of evidence on arts and health to date.
http://www.euro.who.int/en/media-centre/...
WHO releases new guidance on treating drug-resistant tuberculosis in children and adolescents
WHO/Europe has released an expert opinion on managing drug-resistant tuberculosis in children and adolescents, supported by a commentary in the Lancet.
Drug-resistant tuberculosis is particularly dangerous, and many young people suffering with the disease are undiagnosed. It is estimated that in the WHO European Region, 2000 children under the age of 15 with TB remain undiagnosed each year, a figure that is believed to be higher in the 15–19 years age group.
The guidance is evidence-based and provides updates on recent scientific evidence, as well as region-specific clinical and public health recommendations on tackling DR-TB in children and adolescents.
http://www.euro.who.int/en/health-topics...
Floods across Europe affect thousands: Public health advice on flooding
WHO has published advice for anyone affected by flooding, including measures to take before, during and after a flood to help contain health hazards.
http://www.euro.who.int/en/health-topics...
New WHO report: Ignoring the health of people in prisons now comes at a high cost for society later
The "WHO status report on prison health in the WHO European Region" presents an analysis of data collected on the health status of people in prison and prison health systems for 39 countries in the Region. The WHO survey collected data from Member States between 2016 and 2017 to enable monitoring and surveillance of health in prisons.
The report reveals that the general state of monitoring and surveillance systems for health in prisons is poor. This affects the development of evidence-based policies that effectively target the needs of the prison population.
http://www.euro.who.int/en/media-centre/...
World Antibiotic Awareness Week - Antibiotics: Handle with Care
World Antibiotic Awareness Week (WAAW) aims to increase awareness of global antibiotic resistance and to encourage best practices among the general public, health workers and policy-makers to avoid the further emergence and spread of antibiotic resistance. This year the week was 18-24 November 2019.
The overall theme of the campaign, Antibiotics: Handle with Care, reflects the overarching message that antibiotics are a precious resource and should be preserved. They should be used to treat bacterial infections, only when prescribed by a certified health professional. Antibiotics should never be shared and the full course of treatment should be completed – not saved for the future.
http://www.euro.who.int/en/health-topics...
This newsletter received co-funding under an operating grant from the European Union's Health Programme (2014-2020). The content of this newsletter represents the views of the author(s) only and is his/her sole responsibility; it cannot be considered to reflect the views of the European Commission and/or the Consumers, Health, Agriculture and Food Executive Agency or any other body of the European Union. The European Commission and the Agency do not accept any responsibility for use that may be made of the information it contains.
Unsubscribe
If you would like unsubscribe from the EUPHA newsletter then please click here.