Advocacy by EUPHA
EUPHA is dedicated to letting the voice of public health professionals be heard in Europe. Join us in our efforts by contacting us. Please find below our latest activities to influence public health policy at European and national level. Please feel free to distribute and support.
30 October 2017 (updated on 13 November)
EUPHA and Swedish Association for Social Medicine publish the Stockholm Declaration
The Stockholm Declaration on sustaining health and resilient communities is published at the Stockholm 2017 conference. This Declaration was set up by the European Public Health Association and the Swedish Association for Social Medicine and invites other NGOs to fully engage in collaboration across professions to promote sustainable and healthy communities throughout Europe and beyond.
If you are interested in joining the Stockholm Declaration, contact us at office@eupha.org
7 September 2017
Statement: Towards a sustainable workforce in the European region: a framework for action
EUPHA has joined up with EHMA and ASPHER to produce a statement Towards a sustainable workforce in the European region: a framework for action, presented to the Regional Committee Meeting of WHO Europe in week 37, 2017, in Budapest, Hungary.
9 June 2017
Statement EUPHA, EuroHealthNet and EPHA on the continued need for public health research in Europe
On the 9th of June 2017, the EU's Scientific Panel for Health is organising its second annual conference on: 'Health research in a connected and participative society'. The European Public Health Association – EUPHA, EuroHealthNet and the European Public Health Alliance - EPHA, welcome this conference, and especially the priority it will give to participative and collaborative research. However, having read the programme, with its focus on health technology, digital innovation and health care, it risks missing an opportunity to promote research that could bring major benefits to the health of Europe's citizens. Specifically, we are concerned that there is insufficient attention to public health research. Such research, seeking to develop population-level responses to the growing burden of diseases, and especially of multi-morbidity, can offer innovative means to prevent and protect health by tackling some of the major drivers of the overall burden of disease. Please click here for the full statement.
20 May 2017
EUPHA launches report on Healthy and Sustainable diets for European countries
Today, 20 May 2017 – European Obesity Day – EUPHA is proud to present its report on Healthy and Sustainable Diets for European Countries. This report – set up by a working group within the EUPHA section on Food and nutrition – calls for all European states to establish a statutory Sustainable Nutrition Task Force, that considers and includes the wider aspects of food.
Please click here for the press release.
29 March 2017
EUPHA comments on European Commission's White Paper on the Future of Europe
EUPHA welcomes the Commission's White Paper on the Future of Europe as an opportunity to reflect on the direction that the European Union might take in the coming years. EUPHA calls upon the EU institutions to ensure that public health and health systems research are given due importance in order to enable European solutions, informed by evidence, to assist policy making in these challenging times.
Read the full statement here
21 October 2016 (updated on 2 June 2017)
EUPHA and ÖGPH publish the Vienna Declaration reiterating their commitment to the principles of the Ottawa Charter on Health Promotion
EUPHA and ÖGPH have set up the Vienna Declaration to reiterate their commitment to the principles of the Ottawa Charter on Health Promotion, taking into account new and emerging threats to public health that have arisen in the three decades since the adoption of the Ottawa Charter. The Vienna Declaration calls on all parts of the public health community, in Europe and beyond, working at all levels, local, national, regional and global, to recognise the multi-tiered determinants of health and opportunities for action.
Click here for the Vienna Declaration and the supporting organisations
How to support the Vienna Declaration
EUPHA and ȪGPH are actively looking for organisations to support the Vienna Declaration and acknowledge the Ottawa Charter. Please join us!
As an international/European NGO:
As a national NGO/public health or health promotion institute:
Please send us an email (to office@eupha.org) stating your support and include your logo. We will include this in our list of supporting organisations.
Spread the Vienna Declaration: we invite you to distribute the Vienna Declaration within your networks.
27 October 2016
Public health groups call for EU target and action on serious road injuries
The European Union should urgently come forward with a new target and measures to cut serious road injuries, according to public health and medical experts from across Europe in a letter sent today to the president of the European Commission Jean Claude Juncker.
The full letter can be found here and has been coordinated by the European Public Health Alliance in cooperation with the European Transport Safety Council and is co-signed by EUPHA.
12 September 2016
EUPHA Statement on: 5(i) Action Plan for Sexual and Reproductive Health - towards achieving the 2030 Agenda for Sustainable Development in Europe – leaving no one behind
66th Session of the WHO Regional Committee for Europe
The European Public Health Association congratulates the WHO Regional Office for Europe on the development of the new Action Plan for Sexual and Reproductive Health - towards achieving the 2030 Agenda for Sustainable Development in Europe – leaving no one behind. The guiding principles of the Action plan are in line with our four pillars: research, policy, practice, training and education. We cannot invest in future generations while ignoring the sexual and reproductive health needs of all people – young and old, rich and poor.
Including sexual and reproductive health in the Agenda 2030 confirms the importance of this aspect of health. Public health activities in the European Region must create the conditions under which people can improve their health and wellbeing, as set out in this Action Plan.
EUPHA supports the vision, goals and objectives of the Action Plan, which are consistent with a public health approach to the entire spectrum of health and wellbeing and not only sexual and reproductive health.
EUPHA calls on European Member states to:
work towards achieving consensus so as to endorse without delay the Action Plan for Sexual and Reproductive Health - towards achieving the 2030 Agenda for Sustainable Development in Europe – leaving no one behind,
ensure broad cross-sectoral collaboration in its implementation.
EUPHA offers its full support for making the vision of the Action Plan a reality.
14 July 2016
EUPHA support UK public health following Brexit referendum
EUPHA wishes to express its solidarity with public health practitioners and researchers in the United Kingdom following the outcome on the Brexit referendum. EUPHA calls upon political leaders to ensure that during ensuing negotiations, safeguarding the health of citizens in the UK and in the rest of the European Union is considered as a priority.
Read the statement here.
9 June 2016
Mexico Declaration for circulatory health
The Mexico Declaration is a historic circulatory health declaration that was signed by leading global organisations at the World Congress of Cardiology & Cardiovascular Health 2016.
The Declaration, reproduced in full below, is a firm commitment to tackle cardiovascular disease (CVD), the world's leading cause of premature death, recognizing that global action, national plans and a common vision are needed to achieve this.
EUPHA has co-signed a letter to the editor of the Times newspaper in the UK on 9 June 2016, adding further support to the Mexico Declaration. You can read the letter by clicking here.
31 May 2016
World No Tobacco Day - We Care
May 31 is World No Tobacco Day, and EUPHA and EUPHAnxt would like you to contribute to build a smoke-free world.
To do so, we would like to ask you to talk at least to one smoker (a friend, a relative, or even a stranger) and:
inform him/her how important he/she is for future society; and
suggest him/her to stop smoking.
Spread the voice, we need your help!
You can check out the WHO website here.
22 May 2016
WFPHA General Assembly
EUPHA joined the WFPHA general assembly in Geneva on 22 May 2016.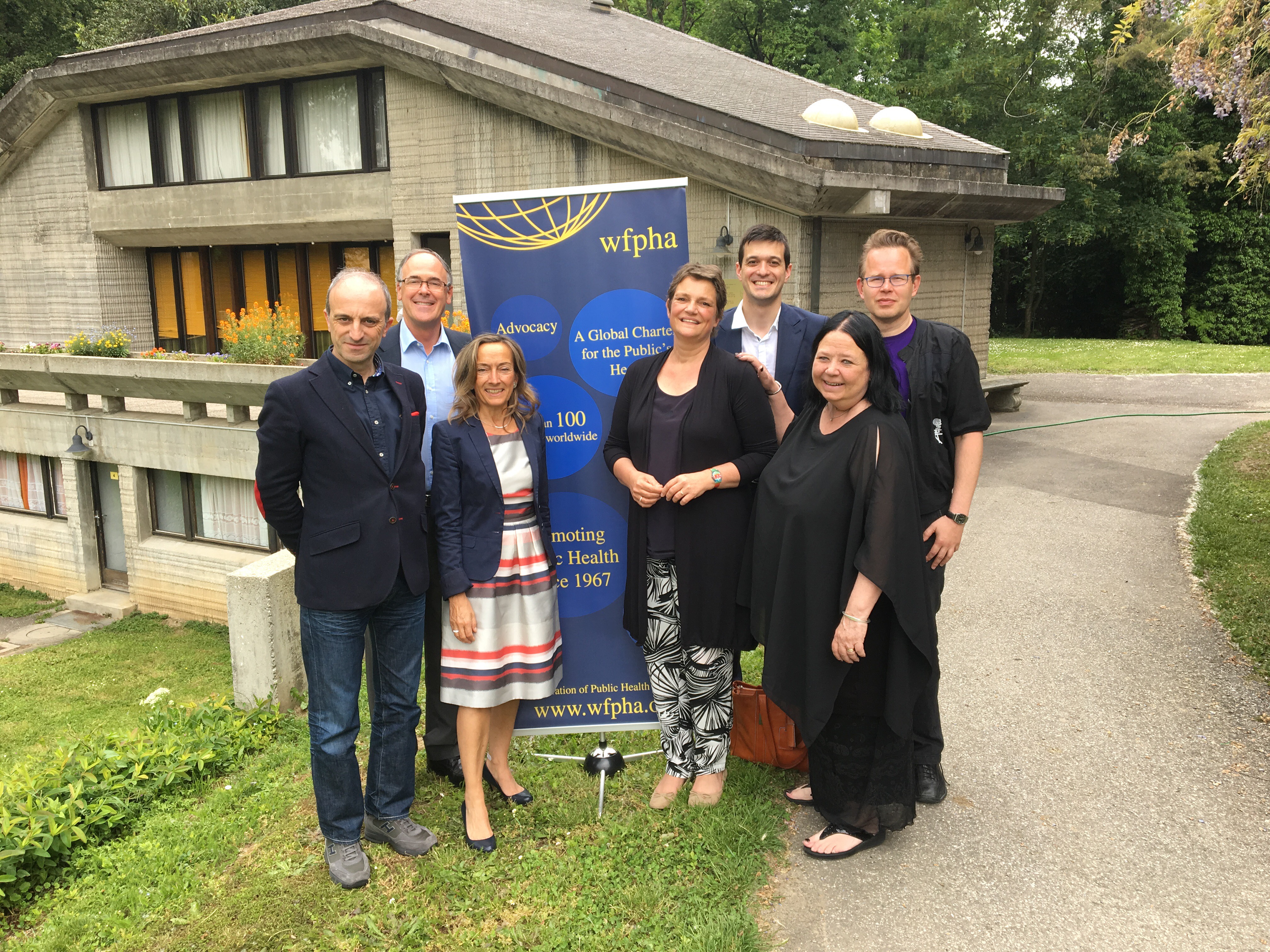 In de picture from left to right:
Carlo Signorelli, Italian Society, Ildefonso Hernandez, Spanish Society, Bettina Borish, World Federation of Public Health Associations, Dineke Zeegers Paget, EUPHA, Stefan Buttigieg, Maltese Association, Jorid Grimeland, Norwegian Association, Mika Gissler, Finnish Association
21 March 2016
EUPHA calls for the widespread adoption of sugar taxes in Europe
EUPHA enthusiastically welcomes the decision by the United Kingdom government to implement a tax on sugar sweetened beverages, adding to the welcome already expressed by our member organisation, the UK Faculty of Public Health. EUPHA calls upon European governments to follow the approach taken by the UK government, as part of a comprehensive strategy against obesity and encourages the European public health community to learn from those activists in Berkeley who were so successful in standing up to powerful vested interests.
Read the Press Release here. We encourage our member associations to distribute the press release in their own countries.
16 March 2016
EUPHA calls upon institutional investors to disinvest from the tobacco industry
The tobacco industry manufactures a product that will kill half of those who use it in the way that is intended. Many institutional investors continue to invest in the tobacco industry. EUPHA believes that such engagement with the tobacco industry is futile. We see no evidence that the industry has changed its ways. Following the success of Tobacco Free Portfolios in Australia, we call upon institutional investors in Europe to follow the lead of a growing number of investors in Australia and publically disinvest in this disreputable and ultimately doomed industry.
Read the Press Release here. We encourage our member associations to distribute the press release in their own countries.
27 January 2016
EUPHA joins European Health Information Initiative (EHII)
EUPHA has joined the Steering Group of the European Health Information Initiative (EHII). EHII is a multi-stakeholder WHO network aimed at creating an integrated, harmonized health information system for the entire European Region by fostering international cooperation.
EUPHA will be represented by the President of the EUPHA Section on Public Health Monitoring and Reporting, Dr Nicole Rosenkötter from the NRW Centre for Health in Germany. Other members of the EHII Steering Group are Member States, WHO-collaborating centres, multi-country information networks. In addition, the European Commission and OECD participate in the Steering Group. The Steering Group is chaired by Annemiek van Bolhuis, National Institute for Public Health and the Environment, The Netherlands.
Click here for more information about EHII.
19 November 2015
Letter on EU Data Protection Regulation published in The Times
The letter signed by Martin McKee, President EUPHA, and more than one hundred European researchers on the Data Protection Regulation was published in The Times on Thursday 19 November. The letter is behind a pay wall, but it is also published in full here.
We invite our members to share the letter with their relevant ministries and government institutions. Ask them to urge the European institutions to ensure that the Regulation strikes an appropriate balance that protects the interests of individuals while enabling research that benefits us all.
The initiative has reached nearly 6,000 signatories on the public petition.
17 November 2015
EUPHA President Martin McKee reacts to the Paris attacks
Martin McKee, EUPHA President, reacts to the Paris attacks of 13 November in his column for the European Journal of Public Health. Read the full column here (European Journal of Public Health, 2015, Vol 25, No. 6)
14 September 2015
EUPHA welcomes call by WHO EURO
EUPHA welcomes the call by Dr Zsuzsanna Jakab, WHO Regional Director for Europe, for Europe to ensure that refugees can find safe, hospitable environments and access to high quality health care , free from discrimination. We again call upon the governments of Europe to make this a priority at this challenging time, working individually and together to find an enduring solution to the crisis that has affected so many vulnerable people.
http://www.euro.who.int/en/health-topics/health-determinants/migration-and-health/news/news/2015/09/population-movement-is-a-challenge-for-refugees-and-migrants-as-well-as-for-the-receiving-population
28 August 2015
EUPHA concerned about TTIP negotiations
The European Public Health Association (EUPHA) has previously noted its concerns about the secrecy surrounding negotiations on the Transatlantic Trade and Investment Partnership (TTIP). This week, following a freedom of information request by the Corporate Europe Observatory, the European Commission published an almost completely redacted set of documents relating to its discussions with global tobacco companies. The story is reported in detail in the UK newspaper The Independent.
http://www.independent.co.uk/news/uk/home-news/ttip-controversy-the-european-commission-and-big-tobacco-accused-of-coverup-after-heavily-redacted-documents-released-10473601.html
The European Commission argues that this redaction is necessary to protect its negotiating position. While there may be a case for withholding internal Commission documents, this argument is simply not credible in relation to correspondence with the tobacco industry.
EUPHA regards the Commission's actions as unacceptable and calls for the full release of this correspondence as soon as possible.
31 July 2015
Climate change is a public health issue: Global Summit (COP21) Paris
EUPHA supported a petition of the French Public Health Association (SFSP) urging the French government to explicitly include health in the final negotiations and commitments of the Conference on Climate Change (COP21) which will be held in Paris from 30 November to 11 December 2015. Health professionals should take an active role in preparing society for these challenges as well as helping to tackle the consequences. The official COP21 agenda must therefore increase the focus on health challenges and increase the involvement of health professionals.
The petition of the SFSP can be downloaded here. Health colleagues in other countries are encouraged to lobby with their governments to include health consequences in their preparations for the Summit later this year.
28 July 2015
EUPHA President Martin McKee on the humanitarian crisis in the Mediterranean in the PHAME Newsletter
Resolving the crisis requires a coordinated process across governments, addressing both pull factors in migration, for example by investing in training for those without skills in the existing European population, thereby reducing the need for migration, but also the push factors, working with renewed vigour to achieve peace in war-torn countries.
Read the full article and Newsletter here.
12 May 2015
EUPHA welcomes OECD work for action to tackle the health consequences of heavy and overall alcohol consumption
EUPHA welcomes the work that OECD has done to assemble the evidence base for action to tackle the severe health consequences of alcohol. In particular it strongly endorses the call for a combination of policies addressing both individual heavy drinkers and the overall level of consumption in the population.
[Read the press release here]
7 May 2015
EUPHA calls on European governments to do more to respond to the humanitarion crisis in the Mediterranean
EUPHA is calling upon European Governments to demonstrate leadership in committing to meaningful sustainable development aid since this is the only manner in which desperate mass migration can be addressed in the medium to long term.
[Read the press release here]
15 April 2015
25 March 2015
EUPHA calls upon the JURI Committee to make major changes to the proposed directive along the lines proposed by the Corporate Europe Observatory, Medicines in Europe Forum, and the International Society of Drug Bulletins.
13 March 2015
The UK Faculty of Public Health (FPH) and the European Public Health Association (EUPHA) are calling on the EU to oppose the Transatlantic Trade and Investment Partnership (TTIP), a proposed free trade agreement between the European Union and United States.
Professor Martin McKee, President of EUPHA, said: "TTIP will take the power to make decisions away from democratically elected politicians and put it in the hands of a mechanism that is beyond public scrutiny and outside the UK court system. EUPHA and FPH are calling on the European Union to put health before profit and reject TTIP. We need healthy communities for economic growth."
22 January 2015
2 December 2014
EUPHA calls on European governments to move rapidly to implement standardised packaging for cigarettes
EUPHA believes that the case for introducing standardised packaging for cigarettes is now overwhelming and calls on Europe's governments to implement it without delay as part of their tobacco control programmes.
[Read the press release here]
28 November 2014
EUPHA calls on Europe's governments to do more to respond to the humanitarian and health crisis facing Ukraine
EUPHA calls on all European citizens to recognize the scale of the crisis on their doorstep and for their governments to act urgently in ways that reduce the massive toll of suffering.
[Read the press release here]
2 October 2014
EUPHA joins European health organisations in call on European Governments to reverse decision to move DG Health's competence for medical products to DG Internal Market
To Heads of State and Government of the European Union Member States on Pharmaceutical Policy in the Public Interest
Brussels, 2 October 2014 - We are writing to support Member States who have already expressed their concerns [1] on the decision of European Commission President Elect Jean-Claude Juncker to move the competence for medicinal products and health technologies from the Commissioner in charge of Health to the Commissioner in charge of Internal Market and Industry within the new Commission. We would like to ask for your full support to have that decision reversed. [Read the full letter here]
18 September 2014
EUPHA shares concern on decision to decrease DG Health portfolio
EUPHA shares the widespread concern that has been voiced by civil society organisations at the decision to transfer responsibility for drugs policy and the European Medicines Agency back to the Directorate-General for Enterprise and Industry, reversing the 2009 transfer of these responsibilities to the Directorate-General for Health. We regard this as an alarming and retrograde step with potentially profound implications for public health, quality of medicines, and the security of European citizens. EUPHA believes that these proposals are bad for health, bad for trust in politics, and bad for Europe.
10 September 2014
EUPHA welcomes new EU Commissioner for Health
EUPHA welcomes the nomination of Dr Vytenis Andriukaitis as the next European Commissioner for Health and Food Safety. Dr Andriukaitis has a very distinguished career as a physician and politician and, as Lithuanian Health Minister, has been a powerful advocate for public health. EUPHA looks forward to working with him during his tenure in the Commission.
5 September 2014
EUPHA supports WHO evidence-based publication on electronic cigarettes
Press release: EUPHA strongly supports the evidence-based position taken by the World Health Organization (WHO) following publication of its report on electronic cigarettes. EUPHA shares the concerns expressed by the WHO about the safety of these products and endorses the WHO's call for regulations.
September 2014
20 August 2014
EUPHA supports the joint WFPHA - AFPHA statement regarding the current Ebola situation
On 20 August, the World Federation of Public Health Associations (WFPHA) and the African Federation of Public Health Associations (AFPHA) issued a joint statement regarding the current Ebola situation emphasizing the need to mobilize public health resources and revitalize primary health care for a sustainable response to the public health emergencies. EUPHA is fully supporting this call for action.
5 August 2014
Letter to Elsevier re: Gaza letter in The Lancet by Dr Richard Horton
Dear Sirs,
I write as President of the European Public Health Association, representing over 17,000 public health professionals across Europe. We understand that a complaint has been made against Dr Richard Horton in respect of a letter he recently published in the Lancet on the situation in Gaza. I write on behalf of the association to offer our full support for Dr Horton. We do not take a collective view, as an association, on the situation in Israel and Gaza. However, we are very concerned at any threat to Dr Horton who, in our view, has led the Lancet to a position where it is now the most respected international medical journal and the premier forum for discussions on global health. We know Dr Horton to be someone of the highest integrity, committed to the welfare of humanity. We note that the Lancet has published online many responses to the letter in question, many of which take a contrary view, something we regard as prima facie evidence of balance. To lose him would, in our view, cause the Lancet inestimable damage as it would signify that the publishers were giving in to what, in our view, is an entirely unjustified attack on editorial freedom.
Yours faithfully
Walter Ricciardi
President, EUPHA
20 March 2014
EUPHA supports manifesto: From public to planetary health
In a recent commentary in the Lancet (8 March 2014), several renowned public health researchers – including our President-elect – call for a social movement to support collective public health action at all levels of society – personal, community, national, regional, global and planetary. "The role of public health professionals as the independent conscience of planetary health fits perfectly within the future strategy of EUPHA, where investing in a future generation of connected and engaged public health professionals is one of the priorities", says Walter Ricciardi, EUPHA President.
27 February 2014
EUPHA Press Release: EU Tobacco Products Directive, accepted but more to be done!
EU DATA PROTECTION REGULATION
EUPHA Factsheet on the EU Data Protection Regulation (18 December 2013)
EUPHA's response to the Report by the European Parliament's Committee on the proposal for the EU Data Protection Regulation (21 February 2013)
HORIZON 2020 - EC RESEARCH PROGRAMME
Joint statement EUPHA/IEA/ISEE on Horizon 2020, the European Commission's Research Programme for the period 2014-2020.
Comment in The Lancet by EUPHA and other European public health organisations and networks (The Lancet, 18 March 2013)