European Public Health Week

17-21 May 2021

Joining forces for healthier populations




The European Public Health Week (EUPHW) aims to:

Make the case for public health and a more inclusive society across Europe

Raise awareness and amplify existing messages on five specific public health themes, in line with key organisations at European level

Create trust and innovative ways of collaboration among all professionals contributing to public health at local, national, regional and European level.
The themes for the 2021 edition are:
We encourage you to look at each of the themes and become an Event Host, Disseminator or Participant on one or more of the days. Learn how to get involved.
Are you hosting an event?
Don't forget to submit the details here by 9 May to ensure it is listed on the official EUPHW calendar.
For resources to help you spread the word or promote your event, visit our media toolkit.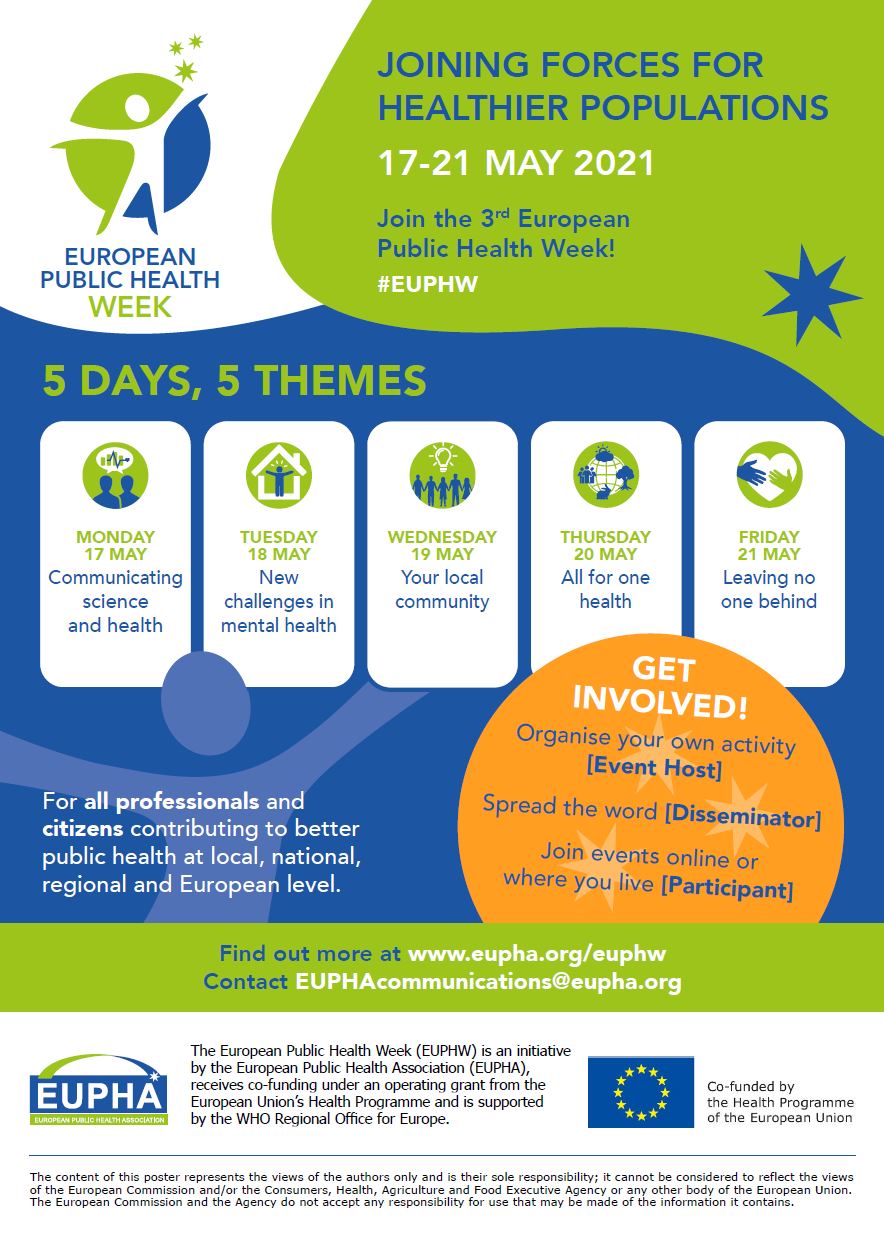 If you wish to be added to the EUPHW mailing list for updates, please email euphacommunications@eupha.org with the subject "subscribe EUPHW".
Learn about the EUPHW 2019 and 2020 editions.
The European Public Health Week team
Débora Miranda
EUPHW Coordinator

Maaike Droogers
EUPHA Deputy Director

Dineke Zeegers Paget
EUPHA Executive Director

Marie Guichardon
EUPHA Policy Officer
For any questions please contact EUPHAcommunications@eupha.org.
Steering Committee
Alastair Leyland (EUPHA Section Council)
Anna Cichowska Myrup (WHO Regional Office for Europe)
Isabel de la Mata (European Commission)
Iveta Nagyova (EUPHA President)
Marieke Verschuuren (Secretary of the EUPHA Executive Council)
Monica Brinzac (EUPHAnxt)
Ramón Anulfo López (Alliance of Public Health Associations of the Americas - Observer)
Thomas Dorner (EUPHA member, Austrian Public Health Association)
The European Public Health Week (EUPHW) is an initiative by the European Public Health Association (EUPHA) supported by the WHO Regional Office for Europe.
Co-funded under an operating grant from the European Union's Health Programme.