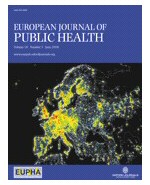 The European Journal of Public Health is a multidisciplinary journal in the field of public health, publishing contributions from social medicine, epidemiology, health services research, management, ethics and law, health economics, social sciences and environmental health. The EJPH is fully open access and is published bimonthly. The journal provides a forum for discussion and debate of current international public health issues with a focus on the European region. The 2022 impact factor of the journal is 4.4, and the 5-year impact factor is 4.2.
EUPHA members can benefit from a 20% reduction on the Open Access charges. You will need your membership ID which can be found by logging onto your account. You can find the ID under "Membership status". If you are not sure you are a EUPHA member, please contact your national association.
If you are interested in Advertising, Supplements, Reprints and ePrints or translated excerpted Local Editions, please contact Oxford University Press at: CorporateServices@oup.com.
If you wish to submit a paper to the journal, please go to:
http://www.oxfordjournals.org/our_journals/eurpub/for_authors/index.html