The European Public Health Association
Newsletter - October 2019
| | | |
| --- | --- | --- |
| | Newsletter - October 2019 | |
1. Editorial
October has been a busy month. Not only because of the preparations for Marseille 2019, but also because of the large number of health events that were organised throughout Europe. As you can see, EUPHA representatives have been busy participating in several of these events.
If you wish to remain informed on the European Public Health Conference in Marseille next month, follow us on twitter @EUPHActs and @EPHconference and use our tags #eph2019 and #EUPHAateph2019 to find out more.
We hope to see many of you next month in Marseille.
Wishing you pleasant reading,
Natasha Azzopardi-Muscat, EUPHA president, and Dineke Zeegers Paget, Executive director EUPHA
2. EUPHA update
Walter Ricciardi appointed as chair of Horizon Europe cancer mission board
We are very pleased that Prof Walter Ricciardi, past president of EUPHA and president-elect of the World Federation of Public Health Associations, has been appointed as chair of Horizon Europe mission board for cancer.

Public health ethics survey
Public health ethics is a core public health competency and there is growing recognition of its importance in decision making, policy and practice.
EUPHA, in collaboration with other colleagues, is carrying out a brief survey to better understand current activities, views and perspectives on the issue. This understanding will assist in considering options for further development of education and training in public health ethics. The EUPHA Ethics in Public Health section is continuously working on the issue of public health ethics competence and training.
We should be grateful if you could assist in completing the following online questionnaire through the link below. This will take no more than ten minutes to complete and your kind assistance will be much appreciated. This survey is complementary to a survey we recently disseminated via ASPHER. The ASPHER one surveys institutional educational offers, this one is focusing on individual experts. We will get a good overview, thus, to potentially present at the EPH conference in Rome 2020.
The survey can be accessed via your computer, tablet or mobile phone at: https://www.surveymonkey.co.uk/r/EUPHA_ethics

Contact person is Dr Frances Butcher, frances.butcher@oxsph.org.

Successful Public Mental Health Summer School in Vilnius
The Public Mental Health Summer School, co-organised by EUPHA, took place 7-11 October 2019 in Vilnius, Lithuania. No health without mental health. Even though the burden of mental ill – health is well known, there are still few learning opportunities in the Public Mental Health field. Accordingly, there is an urgent need to increase knowledge and research capacities in the field of Public Mental Health.
Therefore, for the fourth time a Public Mental Health summer school was organized by the president (Prof. Dr. Jutta Lindert, University of Applied Sciences Emden/Leer, Germany) and the vice-president (Dr. Marija Jakubauskiene, Vilnius University, Vilnius, Lithuania) of the EUPHA Public mental health section in cooperation with the respective universities and with EUPHA. This year`s Public Mental Health summer school was hosted by Vilnius University. The summer school explored the short and long term effects of violence (including suicide) on mental health and the burden of psychopathologies in Europe, supported by mental health research ethics and scientific writing. Public Mental Health Summer school was attended by participants from many countries, including Croatia, Germany, Lithuania, Ireland, Poland, Portugal, Sweden, Turkey, and the UK.
We will continue the tradition of the Public Mental Health summer school in 2020 in in Porto, Portugal. The host of this summer school in 2020 will be Instituto de Saúde Pública da Universidade do Porto (ISPUP), Porto, Portugal.
https://eupha.org/repository/sections/pm...
EUPHA supported the Law enforcement and public health conference
The fifth Law enforcement and public health conference took place 21-23 October in Edingburgh. EUPHA was a supporting organisation of this event and contributed by co-financing the keynote lecture by Prof John Middleton, president of ASPHER.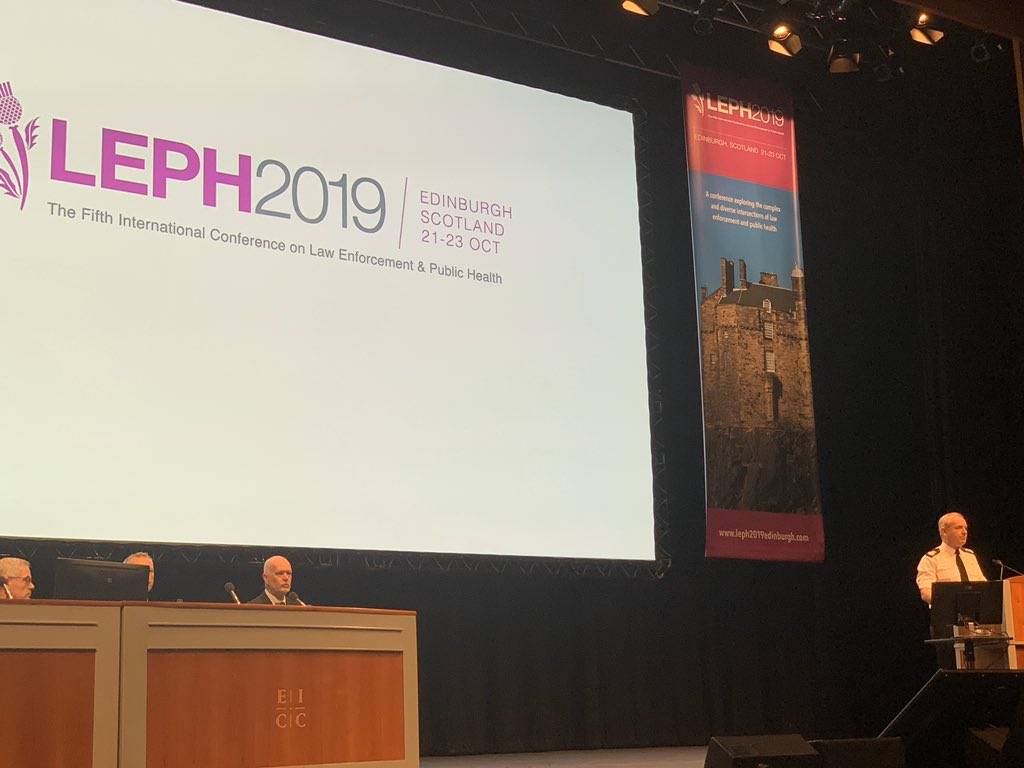 https://leph2019edinburgh.com/
Interesting two-day conference on Chronic Diseases and Integrated Care in Kosice, Slovakia
EUPHA co-organised the International conference on Chronic Disease, held 24-25 October 2019, Kosice, Slovakia. The conference theme was Chronic Diseases and Integrated Care: Rethinking Health and Welfare Systems. The conference was organised by the PJ Safarik University, Dr Iveta Nagyova, EUPHA president-elect, and Dr Zuzana Katreniakova, president of SAVEZ.
Dr Dineke Zeegers Paget, EUPHA Executive Director, shared a very powerful message and her personal view on rethinking health and welfare systems from a patient perspective.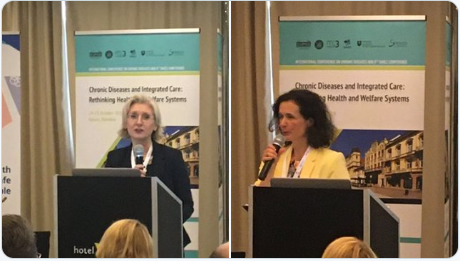 Iveta Nagyova and Zuzana Katreniaková at the International conference on Chronic Disease, October 2019 in Kosice, Slovakia.https://conference2019.mc3.sk/
European Health Forum Gastein looks at the potential impact of disruption on health
At the beginning of this month the 'disruptive' edition of the European Health Forum Gastein took place. The theme of the forum was disruption, and its potential impact on health. EUPHA participated in both the forum programme, as well as the hackthon that took place at the same time.
Martin McKee, EUPHA past president, moderated an afternoon session asking the audience 'true or false?' of public health issues in the era of fake news. Natasha Azzopardi Muscat, EUPHA president, was speaker at the health inequalities session and noted that there remains more to be done. She called for more awareness about the link between poor environments and health inequalities, as well as the drivers of inequalities. Maaike Droogers, EUPHA scientific officer, participated in a closed meeting with Commissioner for Health, Vytenis Andriukaitis, to discuss the role of NGOs in European policy making. http://www.euro.who.int/en/media-centre/...
SItI's 52nd conference
The 52nd National Congress of the Italian Society of Hygiene, Preventive Medicine and Public Health (SItI) took place from 16 to 19 October. The conference was on the scientific evidence for Public Health: from emergencies to health promotion. Stefania Boccia, president of the EUPHA Public health epidemiology section, presented the PRECeDI project, where EUPHA is a partner.
Natasha Azzopardi-Muscat at a To-Reach workshop in Bern, Switzerland
On 25 October, Natasha Azzopardi-Muscat, spoke at the To-Reach workshop organised in Bern, Switzerland. EUPHA is one of the disseminating partners of this project.

3. European Public Health Conference
European Public Health Conference, 20-23 November 2019 in Marseille, France
Lunch symposiums
Thursday 21 November, 12:30 – 13:30, Endoume 1
How can we join forces to engage in multi-stakeholder actions to reach optimal influenza Vaccination Coverage Rates in Europe?
Martin McKee, European Observatory on Health Systems and Policies, will present the recent Report on Organisation and Delivery of Vaccination Services, prepared for the European Commission. Panellists: George Kassianos, GP and National Immunisation Lead RCGP, United Kingdom; Litjen Tan, Immunization Action Coalition, United States ; Anne-Sophie Joly, Présidente Projet vaccination grippe, France; Florence Baron Papillon, Sanofi Pasteur. Moderator: Natasha Azzopardi Muscat, EUPHA President
Friday 22 November, 12:30 – 13:30, Endoume 1
Working together - The EU 3rd Health Programme as the enabler towards success
This round table looks into how countries work together to respond to different challenges of EU public health. The EU 3rd Health Programme proves to be an enabler towards success ensuri