The European Public Health Association
Newsletter - May 2019
1. Editorial
In this month, the first ever European public health WEEK took place. With more than 145 events from 35 countries, we were overwhelmed with its success. At the moment, we are evaluating this week, but we can already announce that we will organise the 2nd European public health week next year in May. We also had the 9th European parliamentarian elections taken place. It was indeed a busy month for Europe and for public health, which is reflected in this newsletter.
Wishing you pleasant reading,
Natasha Azzopardi Muscat, EUPHA president, and Dineke Zeegers Paget, EUPHA executive director
2. EUPHA update
What are the European Union political parties planning for your health?
The EUPHA statement 'What are the European Union political parties planning for your health?' is a response to the European Union parties' manifestos. The manifestos of the political parties seem not to prioritise health. Read our full analysis of the manifestos and our calls for action in the EUPHA statement.
https://eupha.org/repository/advocacy/EU...
Discover the TO-REACH Strategic Research Agenda

The TO-REACH Consortium is pleased to share its draft Strategic Research Agenda (SRA). The SRA has the ambition to address the increasing challenges faced by health systems, directed to those research areas of major relevance in the coming years.
In particular, the TO-REACH SRA provides a European strategy to advance our knowledge and understanding of the adoption, implementation and potential scale-up of service and policy innovations while also addressing their translation to other settings within and across countries.
TO-REACH is also launching an online consultation on its SRA. The aim of the consultation is to gather inputs on the document from a wide range of stakeholders to move towards the development of a future EU joint research programme on health services and health systems research.
The consultation will be open until 28th June 2019!
https://to-reach.eu/our-strategic-resear...
Your answers
In our previous newsletter the question 'to which do you identify the most; Researcher, Policymaker, or Practitioner?'
The responses (n=170):
1) Researcher 66%
2) Policymaker 14%
3) Practitioner 20%
Thank you for your feedback!
Third Forum of the EU Scientific Panel for Health
On 6 May in Brussels, the third forum of the EU Scientific Panel for Health was organised. The EUPHA research pillar lead, executive director and scientific director attended this meeting to discuss current and future health research priorities. It was the first time that public health research was discussed. Prof. Mark McCarthy, leader of the STEPS, PHIRE and SPHERE projects where EUPHA was involved, gave a presentation on lessons learned from these public health research projects.
WFPHA General Assembly meeting
On 26 and 26 May, the General Assembly of the World Federation of Public Health Associations took place in Geneva, Switzerland. Several of our members were represented as well as our president and executive director. Prof Charles Agyemang (vice president of EUPHA MIG) gave a presentation on the Global Society on Migration, Ethnicity, Race and Health, that will be established in 2020.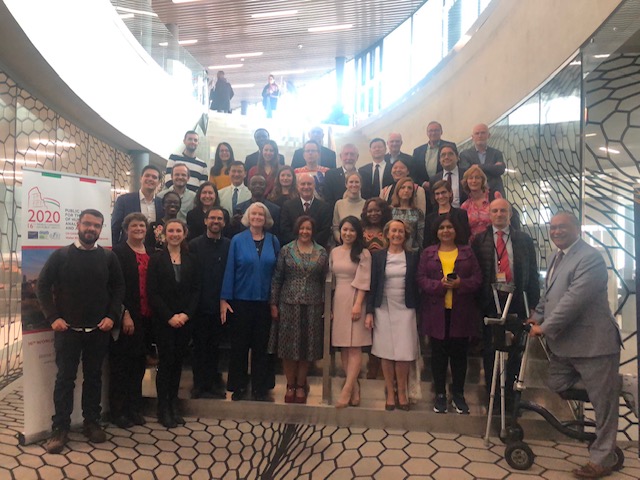 ASPHER Deans and Directors meeting
On 26-28 May, ASPHER organised its annual Deans and Directors meeting and we were happy to be there both at their General Assembly as well as the two-day meeting that followed. The meeting was organised by Carlo Signorelli (EUPHA treasurer) and presentations were given by Martin McKee (immediate past president), Natasha Azzopardi Muscat (president) and Dineke Zeegers Paget (executive director). The meeting confirmed the strong links between EUPHA and ASPHER.
Summary of WHO Euro-EUPHA workshop on digital health available
The summary of the WHO Europe and EUPHA joint session on the beautiful marriage between digitilization and public health, organised during the WHO Symposium on the Future of Digital Health Systems in the European Region in February 2019 is now available here.
President-elect at Chrodis-Plus conference in Budapest
Dr Iveta Nagyova, president-elect of EUPHA, attended the CHRODIS-PLUS Conference- Tackling the challenges of chronic diseases in Europe on14-15 May 2019 in Budapest.
CHRODIS-PLUS is a joint action funded by the 3rd EU Programme of health and it aim is to promote the implementation in several countries of innovative policies and practices for patient empowerment, health promotion and prevention, and fostering quality management of CD and multimorbidity as well as for improving the adaptation of the employment sector to chronic patients, in pilot actions that can be validated before scaling them up.
EUPHA CHR partnering up for a conference in Slovakia
The International Conference on Chronic Diseases "Chronic Diseases and Integrated Care: Rethinking Health and Welfare Systems" - organized by the EUPHA section on Chronic diseases in collaboration with local partners, national public health associations of Visegrad 4 countries, and the SCIROCCO Exchange consortium, will take place fon 24-25 October 2019 in Kosice, Slovakia.

The main aim of this event is to provide a multi-stakeholder platform bringing together researchers, policymakers, practitioners, and interest groups to explore ways to tackle chronic noncommunicable diseases effectively in the European region.
Deadline for abstract submission: 15 June 2019
For more information please check the conference web-site: https://conference2019.mc3.sk/
Public mental health in 2018 - report
On the 5th day of the European Public Health WEEK, EUPHA published the 'Public mental health in 2018' report, summarizing the mental health track from the 11th European Public Health Conference, held 28 November till 1 December 2018 in Ljubljana, Slovenia. It reports on key messages from the sessions and discussions in Ljubljana.
EUPHA HWR publishes 'Who cares for the workforce?'
On the 3rd day of the European Public Health Week, EUPHA HWR published a statement on the question 'who cares for the workforce?', urging future parliamentarians and future commissioners to consider supporting Member States' efforts to build a health workforce fit to 'Ensure healthy lives and promote wellbeing for all at all ages', the Sustainable Development Goal, which all Heads of States have committed to pursue.
http://https://eupha.org/repository/advo...

3. EUPHW
Thanks to all of you, the first ever EUPHW exceeded all our expectations! During one week there were 145 events in 35 countries to promote
physical activity, healthy environments, healthcare systems, sustainable diets and youth mental health. You can find a summary of each day here.
Thank you for celebrating healthy populations and raising awareness of important public health issues with us!


Physical activity, health and energy in all ages event - by University of Ruse, Bulgaria

4. European Public Health Conference
Abstracts
We thank all colleagues for submitting their abstracts. We received an all-time record of 2,025 abstracts for individual presentations (oral, pitch, e-posters) and 150 abstracts for workshops. Abstracts have been reviewed by the 90 members of our International Scientific Committee (ISC). The review results will be announced by mid-June. Check your emails.
Registration
Registration for the 12th EPH Conference is open. We are expecting over 1,500 delegates. Don't miss the largest public health event in Europe and register early to benefit from the reduced rates. Early bird registration fees for EUPHA members are EUR 600. Non-members pay EUR 680, students EUR 420 (all including VAT). Registration here.
Theme
Main theme of the conference is 'Building bridges for solidarity and public health'. More information. Plenary sessions:
Building bridges for migration in a planetary context
Health as a tool for better integration of migrants
Bridging for an interdisciplinary approach to public health to implement the Sustainable Development Goals
Migrant and refugee inequalities in urban settings and changing public health practice
Building global bridges between public health communities
Plenary sessions are organised in collaboration with our partners: EUPHA, EuroHealthNet, ASPHER, EHMA, European Observatory on Health Systems and Policies, European Centre for Disease Prevention and Control, European Commission, WHO Regional Office for Europe.
5. EUPHA members update
Maltese Association for Public Health Medicine celebrates its 20th anniversary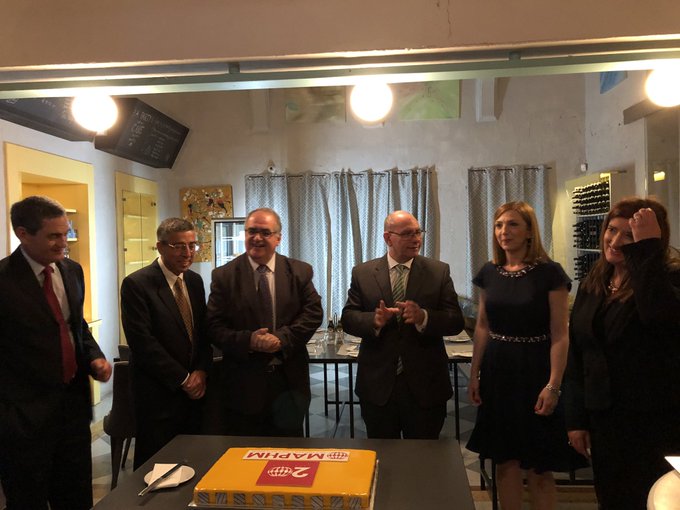 For this celebration, all members of the MAPHM were invited to reflect upon the main public health issues facing Malta and the added value of a vibrant public health community that has shaped the development of health and health systems in Malta during this period. The result is an overview of public health in Malta encompassing simultaneously a unique collection of historical processes and events made available in the public domain for the first time, together with the evidence-base needed to address the key challenges foreseen in the coming years.
https://maphm.org/publications/
French Society launches anti-tobacco project
This three-year project - D-CAP- is funded by the Tobacco Control Fund the D-CAP project and aims to build an experiential knowledge of smoking prevention actions for young people aged 12 to 25 and vulnerable people. This choice is part of a contribution to reducing social inequalities in health.

https://www.sfsp.fr/content-page/item/14...

6. European Journal of Public Health
Volume 29, Issue 3, June 2019
EDITORIAL
MISCELLANEOUS
7. Call for proposals, job opportunities
Call for Papers for Two new Sections!
BMC Public Health will be launching two new Sections:
Social determinants of health

Mental health
8. Interesting news
Doctors are prescribing the great outdoors, but that's not great for everyone
https://www.popsci.com/nature-prescripti...
'Always read the small print': a case study of commercial research funding, disclosure and agreements with Coca-Cola
https://www.ncbi.nlm.nih.gov/pubmed/3106...
The World Health Organization knows 'burnout' is a problem--but is it a disease?
https://www.popsci.com/burnout-icd-medic...
Busting the myth that depression doesn't affect people in poor countries
https://www.theguardian.com/society/2019...
Exclusive: Philip Morris suspends social media campaign after Reuters exposes young 'influencers'
https://www.reuters.com/article/us-phili...
Study pulls back curtain on contracts between Coca-Cola and the researchers it funds
https://www.statnews.com/2019/05/07/coca...
Dietary cholesterol or egg consumption do not increase the risk of stroke, Finnish study finds
A new study Finland shows that a moderately high intake of dietary cholesterol or consumption of up to one egg per day is not associated with an elevated risk of stroke. Furthermore, no association was found in carriers of the APOE4 phenotype, which affects cholesterol metabolism and is remarkably common among the Finnish population.
https://www.sciencedaily.com/releases/20...
Heated tobacco and politics: highlights from Italy
In Italy, a "sunshine act" proposal to make financial links between health care professionals and Industry more transparent has been approved by the Chamber of Deputies and is currently being discussed by the Senate for definitive approval.
https://www.bmj.com/content/365/bmj.l216...
The EU adopts a new Regulation that strictly limits the amount of industrially produced trans fat in all foods sold to EU consumers
The maximum limit corresponds to 2 grams of industrially produced trans fats per 100 grams of fat in food intended for the final consumer and food intended for the supply to retail. Foods must comply by 2 April 2021. See the factsheet for more!
https://ec.europa.eu/food/sites/food/fil...
What do you know about Direct-To-Consumer Genetic Testing?
The present survey evaluates the public health professionals' knowledge, attitudes and behaviours towards Direct-To-Consumer Genetic Testing (DTC-GT). DTC-GTs are defined as genetic tests that are both marketed and sold directly to the public, including over the counter, without the supervision of a healthcare professional.
The survey takes part in The Innovative Partnership for Action Against Cancer (iPAAC) Joint Action, Grant Agreement No. 801520 - HP-JA-2017, aninitiative that is co-funded under the Third Health Programme 2014–2020 of the EU commission and includes 44 partners from 24 European countries. The overall aim of iPAAC is to develop innovative approaches to advance in cancer control, while the key focus is placed on the implementation process among the local, regional and national policymakers. The "Università Cattolica del Sacro Cuore, Rome, Italy, is supporting Istituto Superiore di Sanità (the Italian National Institute of Health) in the task on DTC-GTs.
Our institution has designed the present questionnaire in line with the published literature. Previous studies focused mainly on investigating physicians' or geneticists' knowledge, attitudes and behaviours regarding DTC-GT. Since the implementation of precision genomics may have profound impact on individuals' health behaviours as well as preventive healthcare practices, it remains crucial to gather the perspectives of public health professionals about DTC-GT.
This anonymous questionnaire includes a first part on personal information and professional activity. In the next sections, you are asked about your knowledge, opinion and behaviour regarding DTC-GTs.
You can start the survey by clicking on the following link:
https://forms.gle/Dr1mQWHrYxwvgy9e9
Thank you for taking the time to participate in this survey. Your response will be greatly appreciated.
Royal Society of Public Health publishes public mental health report
A report entitled 'Public Mental Health: Evidence, practice and commissioning' was recently published at https://www.rsph.org.uk/about-us/news/launch-of-public-mental-health-evidence-practice-and-commissioning.html
It summarises the evidence for impacts of mental disorder (including 7-25 year reduced life expectancy) and wellbeing, risk factors for mental disorder, protective factors for mental wellbeing and higher risk groups as well as interventions to treat mental disorder, prevent associated impacts, prevent mental disorder and promote mental wellbeing.
It also highlights that most people with mental disorder receive no treatment and the even larger size of the implementation gap for cost effective interventions to prevent mental disorder, associated impacts and promote wellbeing. It covers the reasons for the gap, the impacts and economic savings from improved coverage, and provides recommendations to close the implementation gap.
The report has been endorsed by Association of Directors of Public Health, Faculty of Public Health, Health Education England, Local Government Association, Royal College of General Practitioners, Royal College of Psychiatrists and Royal Society for Public Health.
https://www.rsph.org.uk/about-us/news/la...
European Observatory: Averting the AMR crisis
This new policy brief summarizes some of the key policy avenues for tackling antimicrobial resistance (AMR). Following the widely accepted 'One Health' approach to combating AMR, the brief aims to support the implementation of national action plans (NAPs) on AMR, drawing on numerous examples of effective policies implemented by European Union Member States and involving the human, animal and environmental health sectors.
This policy brief was prepared to support the Romanian EU Council Presidency, which hosted a conference on 'Next Steps to Making the EU a Good Practice in Combating Resistance to Antimicrobials' (Bucharest, 1 March 2019). It draws significantly on a forthcoming study, Challenges in Tackling Antimicrobial Resistance: Economic and Policy Responses, being co-produced by the Observatory and the Organisation for Economic Co-operation and Development (OECD).
http://www.euro.who.int/en/about-us/part...
The first year of the Joint Action on Tobacco Control
The Joint Action on Tobacco Control (JATC) was launched in October 2017. This comprehensive EU funded project aims to provide support for the implementation of the Tobacco Products Directive (TPD)* across the 28 EU Member States and to improve the protection of EU Public Health.

The TPD is a complex legislative document that lays down the rules governing the manufacture, presentation and sale of tobacco and related products, while also supporting the functioning of the internal market of tobacco products in the EU. The JATC addresses the issue of tobacco product monitoring at an EU wide level – an activity that would be impossible to be done by one, or a few EU MS by themselves.

This 36-month project constitutes of 9 Work Packages and involves 30 Partners and additional 13 Collaborating Partners, who have an observing and counseling role. Work packages 1-4 have a horizontal structure within the project, aiming at the internal organization, information dissemination and integration of the final outcomes into national policies, while the remaining core work packages target on other functional subjects on tobacco control between member states.

http://http://jaotc.eu/
9. Upcoming courses and conferences

Going International is the first source for finding courses, seminars, congresses and other events in the fields of medicine & health. Going International is Europe's biggest service provider and information platform and serves as an interface between organisers and participants of events. Going International is an official partner of EUPHA.
Leadership (Module 10)
17 Jun 2019 - 21 Jun 2019 / Basel, Switzerland
Organiser: Swiss Tropical and Public Health Institute (Swiss TPH)
EU-safety 2019
3 Oct 2019 - 4 Oct 2019 / Luxembourg
Organiser: EuroSafe and Luxembourg Institute of Health
11. European Commission news
EU Health Programme supports OECD report and EU/EEA Country Notes on "Improving Forecasting of Pharmaceutical Spending"
With the support of Health Programme, the OECD has published the report on "Improving Forecasting of Pharmaceutical Spending" and the 23 EU/EEA Country Notes. The report explores the different approaches to track pharmaceutical utilisation and expenditure and to anticipate changes in pharmaceutical market dynamics. It examines how EU/EEA countries use them to inform the setting of budgets and spending caps, and as inputs to modelling future expenditure.
https://ec.europa.eu/newsroom/sante/news...
European system of tobacco traceability and security features
The European system of tobacco traceability and security features has become operational as of 20 May. The first producers in the EU have requested and received traceability markings for cigarettes and roll-your-own tobacco products.
https://ec.europa.eu/commission/news/eur...
Statement by Vytenis Andriukaitis, Commissioner for Health and Food Safety on World No Tobacco Day: Let's work together to leave smoking in the past
On 31 May, we celebrate World No Tobacco Day by raising awareness about the harmful and deadly effects of smoking and the use of tobacco products. On a global level, the figures are staggering - there are more than 7 million tobacco-associated deaths around the world each year. This is one of the main reasons why the EU and its Member States are active supporters of a global health treaty – the Framework Convention on Tobacco Control of the World Health Organisation.
http://europa.eu/rapid/press-release_STA...
Shopping around... for Mental Health best practices!
Irene Norstedt, Acting Director for Health research at the Commission's Directorate General for Research and Innovation, and John F. Ryan, Director of Public Health at the Directorate General for Health and Food Safety, talk about the Third Marketplace of Best Practices in Ispra, Italy, which was organised by the Steering Group on Prevention and Promotion. This year's best practices focused on mental health.
https://ec.europa.eu/health/eunewsletter...
Global Vaccination Summit to take place on 12 September 2019 in Brussels
The Summit, organised by the Commission and the WHO, will bring together around 400 participants from around the globe, including high-level political decision makers, health ministers, UN organisations, NGOs, researchers, healthcare professionals and others.
https://ec.europa.eu/health/vaccination/...
Special Eurobarometer results - 85% of EU citizens say vaccination is effective at preventing infectious disease
This Eurobarometer published by the Commission showed mostly great confidence in vaccines, but also that 48% Europeans believe – incorrectly – that they can often produce severe side effects, and 38% think vaccines can cause the diseases against which they protect.
https://ec.europa.eu/health/vaccination/...
Insufficient vaccination coverage in EU/EEA fuels continued measles circulation
A large measles epidemic has affected the EU/EEA Member States in the past three years, with 44 074 cases reported by 30 Member States between 1 January 2016 and 31 March 2019.
https://ecdc.europa.eu/en/news-events/ec...
Promoting Vaccine Confidence: Commissioner Andriukaitis Attends the 72nd World Health Assembly
Currently, the EU is the region with the lowest confidence in the safety and effectiveness of vaccines. This confidence is influenced by a number of factors, including how important, safe and effective citizens perceive vaccines to be. We urgently need to do more to reinforce the truth about both vaccines and diseases.
https://ec.europa.eu/commission/commissi...
13. WHO news
Over 100 000 people sick with measles in 14 months: with measles cases at an alarming level in the European Region, WHO scales up response
Since 1 January 2018, 47 of the 53 countries in the WHO European Region have together reported over 100 000 measles cases and over 90 measles-related deaths. WHO scales up its response to curb this alarming trend.
http://www.euro.who.int/en/media-centre/...
New WHO guidelines promote healthy lifestyle to reduce risk of dementia
The guidelines, advocate a healthy lifestyle and in particular physical activity as a way to help prevent dementia. In the WHO European Region, some 10 million people are estimated to have dementia, but few countries in the Region have a national action plan for dementia.
http://www.euro.who.int/en/health-topics...
Fast track to strong primary health care
Universal health coverage – the ideal that all people can access health services where and when they need them, without financial hardship, is a WHO priority.
http://www.euro.who.int/en/health-topics...
Nurse and midwife leaders delivering health for all in the WHO European Region
Nurse and midwife leaders in the WHO European Region work at all levels of health systems and across diverse contexts delivering quality care, leading teams, conducting research, educating the next generation of nurses and midwives, strengthening the workforce through training or by empowering management, and influencing policy.
http://http://www.euro.who.int/en/health...
Opinion: a coalition for more innovation in public health
In her April 2019 column for the European Journal of Public Health, Dr Zsuzsanna Jakab, WHO Regional Director for Europe, writes about the recently established Coalition of Partners (CoP) for strengthening public health services.
http://www.euro.who.int/en/health-topics...
New WHO report on Traditional and Complementary Medicine
WHO organised a meeting at the WHO Headquarters in Geneva on 21 May that was dedicated to the official release of the "WHO Global Report on Traditional and Complementary Medicine 2019".
The report is the most comprehensive one on Traditional & Complementary Medicine (T&CM), with 179 of the 194 Member States officially contributing information, capturing the three phases of progress made by Member States, covering not only policy and regulation but also products, practices and practitioners of T&CM, and it is the most current and up-to-date report, based on information from most Member States across the six WHO regions.
This newsletter received funding under an operating grant from the European Union's Health Programme (2014-2020). The content of this newsletter represents the views of the author(s) only and is his/her sole responsibility; it cannot be considered to reflect the views of the European Commission and/or the Consumers, Health, Agriculture and Food Executive Agency or any other body of the European Union. The European Commission and the Agency do not accept any responsibility for use that may be made of the information it contains.