The European Public Health Association
Newsletter - April 2023
1. Editorial
This April edition of the EUPHA Newsletter is the last edition before the European Public Health Week! Do not miss out on the opportunity to get involved: check out the item on the Week below for more information. Furthermore, in this Newsletter we welcome a new EUPHA member from Portugal and share several updates on EUPHA activities, including a visit by EUPHA's strategic advisor Dineke Zeegers to Latvia. Among other things, Dineke visited the Institute of Public Health there. And as usual, you can find in this Newsletter updates and interesting news from WHO, the European Commission and other European institutes, and our wider network.
Enjoy the read!
Iveta Nagyova, EUPHA president and Marieke Verschuuren, Executive Director
2. EUPHA update
New EUPHA member: Portuguese Society of Public Health
We warmly welcome new full member, the Portuguese Society of Public Health, to the EUPHA network. We look forward to a fruitful collaboration.
EUPHA supports European Citizens' Initiative to achieve 1st tobacco-free generation
Tobacco still is a major cause of - preventable - death and disease. Therefore, EUPHA supports this European Citizens' Initiative, which calls to:
Promote the first tobacco-free European generation by 2028, ending the sale of tobacco and nicotine products to citizens born since 2010.
Create a European Net of tobacco-free and butts-free beaches and riverbanks and National Parks.
Eliminate tobacco advertising and presence in audiovisual productions, social media, specially addressing covert advertising through influencers and product placement.
Extend outdoor smoke and vapor free spaces, especially those frequented by minors (parks, swimming pools, sports events and centers, shows and restaurants terraces).
Finance R&D projects for diseases caused by tobacco use to improve their prognosis and make them curable.
Join us in supporting this call. As a European Citizen you can use your right as defined by the EU Constitution to make a change for you, for your loved ones and for the next generation. By signing this initiative you could actively contribute to a healthy population, a healthy environment, a healthy Europe.
Progress report - Climate Action pledge
Sustainability Mission: EUPHA is dedicated to environment and health issues in all activities and action, especially through EUPHA Conferences and European Public Health week activities. EUPHA seeks to advocate for targeted climate action using evidence-based policies. Going beyond business-as-usual activities to address climate change through targeted discussions, workshops and meetings for medical professionals.
Read the report here.
Last years' pledge can be found here.
EUPHA's strategic advisor in Riga, Latvia
EUPHA's strategic advisor, Dineke Zeegers Paget, was in Riga, Latvia visiting the Institute of Public Health to discuss opportunities to jointly improve public health in Europe. EUPHA is thankful for the invitation from the Institute and we look forward to future collaborations.
Dineke Zeegers-Paget also gave a keynote speech at the opening of the Rīga Stradiņš University Research Week 2023. She reflected on what public health is in our current complex era and what that means for public health professionals.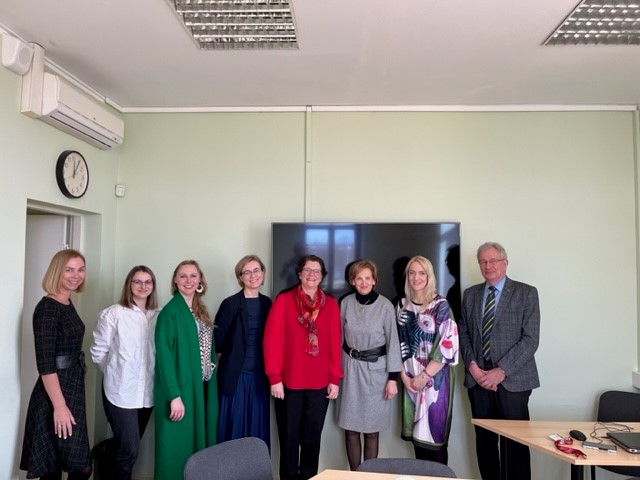 EUPHA endorses two joint statements from the 2022 Thematic networks of the EU Health Policy Platform
EUPHA participated in two of the 2022 thematic networks that were hosted on the EU Health Policy Platform and undersigns these:
The 'DisQo anti-discrimination & health equity' joint statement was led by the European Public Health Alliance. The statement addresses that despite increasing evidence showing that structural, institutional, and interpersonal racism and discrimination impact both physical and mental health inequities in multiple ways, the issue has gained too little attention in the public health domain thus far. The statement identifies five key priorities for addressing the issue in a constructive, respectful, and participatory way.
The Mental Health in All Policies joint statement was led by Mental Health Europe. This joint statement calls for a Mental Health in All Policies approach, i.e., for public policies across sectors to promote population mental health and wellbeing by initiating and facilitating action within different non-health public policy areas and describes the win-win situation for such an approach.

3. European Public Health Week
We are only weeks away from the 2023 edition of our annual European Public Health Week! Make sure to leave some room in your calendars - between May 22nd and 26th - and get involved by:
Organising an event
Organising an event during the European Public Health Week (EUPHW) is an excellent way to promote your work and your passion. Webinars, social media campaigns, in-person lectures, yoga lessons or walks in the park… Almost anything is suitable, as long as it helps raise awareness about public health and promotes collaboration among the public health community in Europe. You can still submit your event; don't miss out on the opportunity!
Participating in other EUPHW events
Watch this space! Over 50 events have already been announced for this year's EUPHW and many more will be added to our events calendar in the coming weeks.
Spreading the word
Help us disseminate the news about the EUPHW. Follow, like and share our website and social media posts on LinkedIn, Twitter and Facebook.
Staying up-to-date and getting in touch
If you wish to receive all the relevant updates on the EUPHW, just send us a quick email to euphacommunications@eupha.org and we will subscribe you to our special EUPHW-dedicated newsletter. For any other questions, feel free to use the same email or contact our EUPHW coordinator directly.

4. European Public Health Conference
16th EUROPEAN PUBLIC HEALTH CONFERENCE, DUBLIN, IRELAND,
8 - 11 NOVEMBER 2023
OUR FOOD, OUR HEALTH, OUR EARTH: A SUSTAINABLE FUTURE FOR HUMANITY
1 May: Last day to submit your abstract
Hurry, hurry, abstract submission for the 16th EPH Conference in Dublin is open until 1 May 2023, 18:00 CET. Abstracts are invited for workshops, oral presentations and E-posters. Prizes will be awarded for the best oral, poster and early career professional's presentation. Abstracts do not have to be confined to the conference theme but can cover any aspect of public health. Check the submission topics here.
All sessions will be 60 minutes. Accepted abstracts are published in the Abstract Supplement of the European Journal of Public Health. Do not miss the opportunity to be recognised for your hard work. Abstract submission starts here
Registration is open with benefits for EUPHA members
Registration for the in-person 16th EPH Conference is open. You can benefit from early bird registration fees until 1 September. We are expecting over 1,500 delegates in Dublin. Meet your colleagues at the largest public health event in Europe during four fully packed conference days. EUPHA members and delegates from Ireland pay € 690 before 1 September, non-members € 775, Students, trainees and colleagues from low- and middle-income countries pay € 400 (all including VAT). More information here.
Pre-conferences
Pre-conferences are held on Wednesday 8 November. The full programme will be announced early June. Pre-conferences are held for half day (morning or afternoon) or full day. Attending a pre-conference requires separate registration. This can be done while registering for the main conference but can also be added to your existing registration at a later time. Registration fees are €75 and €150. Sponsored pre-conferences are €20. (Inclusive network buffet lunch and VAT).
Win a waiver for the next EPH Conference
Submit an abstract for Dublin 2023 and win a waiver for the next EPH Conference in Lisbon in 2024. Each year the EPH Conference offers a prize for the best single abstract. The prize is determined by the scoring of the EPH Conference International Scientific Committee. The winner will be awarded a certificate and waiver of registration fees for the next EPH Conference.
Take part in the 'Ferenc Bojan Young Investigators Award' Competition
The best five abstracts, submitted by young researchers (under 35y), will be presented in the Ferenc Bojan Young Investigators Award session. The Ferenc Bojan session is an oral session, but with a jury consisting of experienced researchers to select the best abstract/ presentation combination. The winner will be awarded a certificate and waiver of registration fees for the next EPH Conference in Lisbon. Read more.
Theme and programme
The 16th EPH Conference will be held in Dublin, Ireland, from 8 – 11 November 2023. Theme of the EPH conference 2023 is: Our Food, Our Health, Our Earth: A Sustainable Future for Humanity. Read more.
Conference venue
The 16th EPH Conference will be held in The Convention Centre Dublin. The CCD is one of Europe's most environmentally-friendly venues. In 2021, the CCD secured ISO 20121 accreditation, which is a recognised international accreditation that demonstrates commitment to running sustainable events. With a structured approach addressing climate change, waste and biodiversity, The CCD is committed to achieving its sustainability vision. Read more.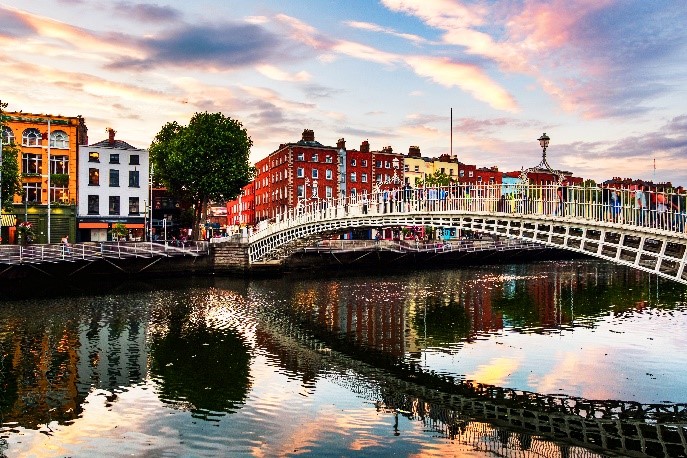 5. EUPHA members update
The Spanish Society of Public Health and Health Administration (SESPAS) publishes technical report on "Climate Change and Health: an Ibero-American Vision"
The impact of climate change on human health is a significant concern, and action is needed to mitigate its effects. However, adaptation efforts are equally important to minimize the vulnerability of people to climate change-related health problems. This report, comprising of 16 chapters, provides a comprehensive overview of the key issues surrounding this critical public health concern.
The full report is available here.


6. European Journal of Public Health
Volume 33, Issue 2, April 2023
EDITORIAL
Quality, integrity and utility of COVID-19 science: opportunities for public health researchers
Angelo Maria Pezzullo, John P A Ioannidis, Stefania Boccia
Brexit: reality bites for health on the island of Ireland
Martin McKee and Anthony Staines
HEALTH SERVICES RESEARCH
Emergency department outcomes for patients experiencing homelessness in England: retrospective cross-sectional study
Charlie Moss, Laura Anselmi, Matt Sutton
French national addictovigilance follow-up of zolpidem between 2014 and 2020: evolution of drug abuse, misuse and dependence before and after the regulatory change
Aurélie Aquizerate, Edouard-Jules Laforgue, Marion Istvan, Morgane Rousselet, Marie Gerardin, Emilie Jouanjus, Frédéric Libert, French Addictovigilance Network , Marylène Guerlais, Caroline Victorri-Vigneau
The urgent need for valid data on access to healthcare in Europe
Caterina Francesca Guidi and David Ingleby
SOCIAL DETERMINANTS
Socioeconomic inequalities in paediatric metabolic syndrome: mediation by parental health literacy
Alexander Lepe, Marlou L A de Kroon, Sijmen A Reijneveld, Andrea F de Winter
Is there a peer status gradient in mortality? Findings from a Swedish cohort born in 1953 and followed to age 67
Ylva B Almquist, Viveca Östberg, Bitte Modin
COVID-19
Veneto Region dementia-related mortality during the COVID-19 pandemic: multiple causes of death and time series analysis
Cristina Basso, Claudio Barbiellini Amidei, Veronica Casotto, Elena Schievano, Matilde Dotto, Silvia Tiozzo Netti, Manuel Zorzi, Ugo Fedeli
Trends in and relations between children's health-related behaviors pre-, mid- and post-Covid
Anne G M de Bruijn, Sanne Cornelia Maria te Wierike, Remo Mombarg
Occupational role and COVID-19 among foreign-born healthcare workers in Sweden: a registry-based study
Chioma Nwaru, Huiqi Li, Carl Bonander, Ailiana Santosa, Stefan Franzén, Maria Rosvall, Fredrik Nyberg
A descriptive study of COVID-19 cases in primary and secondary schools in the Maltese islands: a nationwide experience
Liliana Cuschieri, Michelle Deguara, Dale Bartolo, Neville Calleja, Charmaine Gauci
VACCINATION
EDITOR'S CHOICE The far-right and anti-vaccine attitudes: lessons from Spain's mass COVID-19 vaccine roll-out
Manuel Serrano-Alarcón, Yuxi Wang, Alexander Kentikelenis, Martin Mckee, David Stuckler
Vaccination barriers and drivers in Romania: a focused ethnographic study
Eve Dube, Adriana Pistol, Aurora Stanescu, Cassandra Butu, Sherine Guirguis, Oana Motea, Anca Elvira Popescu, Alexandra Voivozeanu, Miljana Grbic, Marie-Ève Trottier, Noel T Brewer, Julie Leask, Bruce Gellin, Katrine Bach Habersaat
Consumption and tax gains attributable to Covid-19 vaccinations in 12 EU countries with low vaccination rates
Jonathan Cylus, Jessica Walters, Martin McKee, Peter Cowley
MENTAL HEALTH
The effectiveness of interventions to prevent loneliness and social isolation in the community-dwelling and old population: an overview of systematic reviews and meta-analysis
Ludwig Grillich, Viktoria Titscher, Pauline Klingenstein, Eva Kostial, Robert Emprechtinger, Irma Klerings, Isolde Sommer, Jana Nikitin, Anton-Rupert Laireiter
Gender and socioeconomic patterning of self-reported sleep problems across European countries
Mariusz Baranowski and Piotr Jabkowski
Co-occurring homelessness, justice involvement, opioid dependence and psychosis: a cross-sectoral data linkage study
Emily J Tweed, Alastair H Leyland, David S Morrison, S Vittal Katikireddi
WORK AND HEALTH
Single and cumulative exposure to psychosocial work conditions and mental health among young adults
Samira de Groot, Karin Veldman, Benjamin C Amick, III, Ute Bültmann
Childhood adversity and risk of later labor market marginalization in young employees in Sweden
Emma Björkenstam, Magnus Helgesson, Ellenor Mittendorfer-Rutz
Time period effects in work disability due to common mental disorders among young employees in Sweden—a register-based cohort study across occupational classes and employment sectors
Ridwanul Amin, Ellenor Mittendorfer-Rutz, Emma Björkenstam, Marianna Virtanen, Magnus Helgesson, Niklas Gustafsson, Syed Rahman
Central and Eastern European migrant worker status, co-living situation and SARS-CoV-2 exposure and transmission risk
L H Boogaard, J L A Hautvast, A Timen, C H M van Jaarsveld
NUTRITION
Association between social jetlag and sugar-sweetened beverages (SSBs) in adolescents in Western Canada
Kexin Zhang, Martin Guhn, Annalijn I Conklin
Comparative understanding and preference of Nutri-Score and NutrInform Battery in a sample of Spanish consumers
Morgane Fialon, Nancy Babio, Jordi Salas-Salvadó, Pilar Galan, Emmanuelle Kesse-Guyot, Mathilde Touvier, Mélanie Deschasaux-Tanguy, Barthélémy Sarda, Serge Hercberg, Nadine Khoury, Lydiane Nabec, Chantal Julia
Public perceptions of responsibility for recommended food policies in seven countries
Ana-Catarina Pinho-Gomes, Leon Booth, Simone Pettigrew
ALCOHOL
A comparative study of industry responses to government consultations about alcohol and gambling in the UK
Saloni Bhuptani, Sadie Boniface, Katherine Severi, Greg Hartwell, Elizabeth McGill
Children with problem-drinking parents in a Swedish national sample: is the risk of harm related to the severity of parental problem drinking?
Mats Ramstedt, Jonas Raninen, Peter Larm, Michael Livingston
A mystery-shopping study to test enforcement of minimum legal purchasing age in Lithuania in 2022
Laura Miščikienė, Alexander Tran, Janina Petkevičienė, Jürgen Rehm, Justina Vaitkevičiūtė, Lukas Galkus, Shannon Lange, Mindaugas Štelemėkas
Support for evidence-based alcohol policy in Ireland: results from a representative household survey
Susan Calnan, Seán R Millar, Deirdre Mongan
CANCER SCREENING
Sex variation in colorectal cancer mortality: trends and implications for screening
Gavin R C Clark, Callum G Fraser, Judith A Strachan, Robert J C Steele
Optimization of screening strategies for colorectal cancer based on fecal DNA and occult blood testing
Tingting Yao, Qin Sun, Kangwei Xiong, Yuan Su, Qian Zhao, Chenhong Zhang, Lijiu Zhang, Xuejun Li, Haiming Fang
REPRODUCTIVE HEALTH
Impact of the EURO-PERISTAT Reports on obstetric management: a difference-in-regression-discontinuity analysis
Leonie A Daalderop, Jasper V Been, Eric A P Steegers, Loes C M Bertens
EUROPEAN PUBLIC HEALTH NEWS
European Public Health News
Marieke Verschuuren, Peter Geller, Laura T Murphy, Hanni Stoklosa, Jozef Bartovic, Hedinn Halldorsson, Marie Wolf, Isabel Yordi Aguirre, Anthony Staines, Floris Barnhoorn
7. Call for proposals, job opportunities
DARWIN EU® call for new data partners
DARWIN EU®, the Data Analysis and Real-World Interrogation Network, has accomplished its first year of establishment. Following the set-up of the DARWIN EU® Coordination Centre in February 2022, the first ten data partners were onboarded. The network also initiated its first four studies using real-world data (RWD) from across Europe to better understand diseases, populations and the uses and effects of medicines.
The network will onboard ten additional data partners this year. The DARWIN EU® Coordination Centre, in collaboration with the European Medicenes Agency, has launched an open call for expression of interest from potential data partners. Find more information about this call for data partners here.
This is a continuously open call, but please bear in mind the cut-off dates (30th April, 31st October) for review and selection.
Scholar applications are now being accepted for the SPHeRE PhD Programme
The Structured Population and Health-services Research Education (SPHeRE) PhD Programme is for those applying for one of the six HRB funded SPHeRE Scholarships, or those who are self-funded.
Applicants who wish to apply for a SPHeRE funded Scholarship must submit an application form and select their preferred project (or projects). Six scholarships are available for the 2023-2024 academic year. Out of the eight advertised projects, six projects will receive a SPHeRE funded Scholarship. Further details are available on the SPHeRE Website through the link here.
The deadline for SPHeRE funded Scholarship applications, and self-funded applications, is Friday 9th June 2023 at 12 noon.
Successful non-EU applicants for funded positions will be liable for fees above that for European applicants. Fees vary, but further information on fees can be found on the websites of the individual institutions.
Alternatively funded applications will be assessed on a rolling basis.
8. Interesting news
A set of three interesting policy briefs on workforce by the European Observatory for Health Systems and Policies
Policy Brief 1: What did the COVID-19 pandemic teach us about future workforce development? Policies and practices to recruit, retain, reskill and support health and care workers.
Policy brief 2: What can intersectoral governance do to strengthen the health and care workforce? Structures and mechanisms to improve the education, employment and retention of health and care workers.
Policy brief 3: What steps can improve and promote investment in the health and care workforce? Enhancing efficiency of spending and rethinking domestic and international financing.
Related and other Observatory webinars can be found here.
NEW Finland: health system review
After two decades in the making, the major structural reform has centralized responsibility for the organisation of health and social services from municipal to regional level, and health system financing has moved to the national level. Read all about this in the newly published 'Finland: health system summary' by the European Observatory on Health Systems and Policies
9. Upcoming courses and conferences
Scientific Reporting and Writing
4 May 2023 - 6 May 2023 / Online event
Organiser: Institute of Public Health, Medical Decision Making and Health Technology Assessment UMIT TIROL - University for Health Sciences and Technology
Connecting Health & Climate Change
11 Oct 2023 - 12 Oct 2023 / Stockholm, Sweden
Organiser: EU funded ENBEL project by Umeå University, University of Tartu and CICERO Center for International Climate Research
10. Interesting publications
SDG5 "Gender Equality" and the COVID-19 pandemic: A rapid assessment of health system responses in selected upper-middle and high-income countries
Front Public Health | February 2023
The COVID-19 pandemic disrupted healthcare and societies, exacerbating existing inequalities for women and girls across every sphere. This study explores health system responses to gender equality goals during the COVID-19 pandemic and inclusion in future policies and found that pandemic policies strongly cut into women's health, constrained prevention and support services, and weakened reproductive rights, while essential maternity care services were kept open. Read the full paper here.
The Challenges of Regulating Artificial Intelligence in Healthcare
Int J Health Policy Manag. | 2023
Regulation of health technologies must be rigorous, instilling trust among both healthcare providers and patients. This is especially important for the control and supervision of the growing use of artificial intelligence in healthcare. This commentary outlines key challenges that regulators face in dealing with these modern-day technologies.
Working together across WHO's regions in an increasingly complex world
The Lancet | April 2023
WHO is unusual within the UN system in having a strong regional structure. Every 5 years all of WHO's member states meet at the World Health Assembly in Geneva, Switzerland to elect a Director-General. Each member state is also a member of one of WHO's six regions, which in turn elect Regional Directors. Read Prof. McKee's full reflections here.
Global financing for health policy and systems research: a review of funding opportunities
Health Policy and Planning | April 2023
The Covid-19 pandemic has shown why investing in health policy and systems research is more important than ever to enable the delivery of effective health interventions and avoid costly implementation failures. The evidence presented in this article highlights the need to scale up efforts to convince global health funders to institutionalize the inclusion of HPSR components in all funding calls.
11. European Institutes news
Policy podcast: Mapping the cost of non-Europe: Towards a joint EU health policy
Joint EU action could be especially beneficial when negotiating contracts for medicines, investing in medical research, & responding to public health threats. Listen the podcast by the European Parliamentary Research Service here.
EU Health Policy Platform annual meeting
On 19 April the annual meeting of the EU Health Policy Platform took place. On the agenda were the presentation of the joint statements produced by the thematic networks i.e.:
DisQo anti-discrimination & health equity
HIV, Tuberculosis, Viral Hepatitis and Sexually Transmitted Infections
Mental Health in All Policies
Navigating Health Inequalities in the EU through Artificial Intelligence
Furthermore, the first results of the EU Health Policy Platform study and possible improvements to the Platform were discussed. It was a hybrid event with some participants participating in-person from Luxembourg. The flash report of the meeting is available here.
European Commissioner for Health and Food Safety Stella Kyriakides presenting to European Parliament the Pharmaceutical Package proposal
Following the adoption of the proposal by the College of Commissioners scheduled on 26 April, the Commissioner will present the package which will revise the EU regulatory framework for pharmaceuticals and also include proposals regarding medicines for rare diseases and children. The European Parliament has called for this long awaited revision in several occasions, including in its resolution on "A pharmaceutical strategy for Europe" of November 2021 outlining the Parliament's recommendations for the revision.
12. European Centre for Disease Prevention and Control news
Eurosurveillance - Volume 28, Issue 14, 06 April 2023
Eurosurveillance - Volume 28, Issue 15, 13 April 2023
Eurosurveillance - Volume 28, Issue 16, 20 April 2023
Eurosurveillance - Volume 28, Issue 13, 30 March 2023
13. WHO news
European Immunization Week 2023
From 23 till 29 April the WHO European Region celebrates European Immunization Week (EIW) to raise awareness of the importance of immunization in preventing diseases and protecting life. This year's campaign will work to improve vaccine uptake in the context of the European Immunization Agenda 2030 and a global backslide in vaccination rates due to the COVID-19 pandemic.
"Being able to listen, having a true interest in what other people are saying" - mental health experts reflect on their work in refugee-receiving countries
"An emergency makes you forget everything you were taught about how health care is delivered," says Rut Erdelyiova, a mental health and psychosocial support (MHPSS) consultant working in Slovakia. "It's no longer that sterile environment where you know what you need to deliver. It's about going out there to meet people who just experienced something that completely reshaped their realities, trying to understand how they're feeling and what we can do for them in that situation."
Rut is one of a small but driven team of WHO/Europe experts who have devoted most of their waking hours since the start of the war in Ukraine to coordinating MHPSS activities, which are critical for alleviating suffering and preventing long-term impacts on mental health, such as post-traumatic stress disorder.
WHO/Europe's coordination of this group of experts enabled the real-time exchange of essential information and mutual support and learning. They shared their experiences on a wider scale, including at a high-level consultation in Bratislava, Slovakia on 18–19 April 2023.
WHO/ECDC report: antimicrobial resistance threatens patient safety in European Region
The second "Surveillance of antimicrobial resistance in Europe" report, published jointly by the European Centre for Disease Prevention and Control (ECDC) and WHO/Europe on 14 April 2023, shows high percentages of resistance to last-line antibiotics, such as carbapenems, in several countries of the WHO European Region. More information about this report is available here.
Longer, healthier lives for all: WHO at 75
On 7 April, World Health Day, the World Health Organization celebrated 75 years of continuous work dedicated to improving human health. Over this time, WHO has made extraordinary advances in public health: average life expectancy across the WHO European Region's 53 Member States in Europe and central Asia has increased by 16 years.

Funded by the European Union. Views and opinions expressed are however those of the author(s) only and do not necessarily reflect those of the European Union or HaDEA. Neither the European Union nor the granting authority can be held responsible for them.
Unsubscribe
If you would like unsubscribe from the EUPHA newsletter then please click here.