The European Public Health Association
Newsletter - October 2018
| | | |
| --- | --- | --- |
| | Newsletter - October 2018 | |
1. Editorial
Welcome to our October newsletter, including information from EUPHA, EUPHA members, European Commission, ECDC and WHO. We hope the information is useful to further your work.
This month, EUPHA has actively supported the UK Faculty of public health in the Brexit for health campaign and our president, Natasha Azzopardi-Muscat, gave a keynote lecture at the annual conference of the European Association for Dental Public Health (EADPH).
Please do not miss the opportunity to find out more about vaccine confidence by registering for our Brussels seminar, which is organised on 7 November. In 150 minutes, you will be updated on all aspects of vaccine confidence in Europe.
Tomorrow, EUPHA is publishing the EJPH supplement on How to navigate political landscapes: towards a public health political science. This groundbreaking publication is avaialble through open access.
As you know, EUPHA strictly follows the new privacy guidelines as determined by the EU. Despite all our precautions, it seems that one person reported their password being known. We have carried out an extensive analysis of the EUPHA / EPH Conference system and did not identify any unauthorised access to our database. We do however take data security matters extremely seriously and as a precaution have therefore revoked all passwords to the EUPHA and EPH Conference websites. Instructions on setting up a new password have been sent earlier today by separate email. We apologise for the inconvenience.
Wishing you pleasant reading,
Natasha Azzopardi-Muscat, EUPHA President and Dineke Zeegers Paget, EUPHA Executive Director
2. EUPHA update
SEMINAR - Vaccine Confidence in Europe: time for action

EUPHA is organising a seminar on vaccine confidence in Europe that will take place 7 November 2018 in Brussels, Belgium.
The past years we see a rise in vaccine hesitancy, resulting in a drop in vaccine coverage. Vaccination issues are often discussed with stakeholders from the health sector. Also governments are struggling with their communication about vaccination in order to have high vaccine uptake. Through a series of country case studies we examine challenges and solutions related to vaccine confidence.
7 November 2018, 15:00 - 17:30
The Room, De Meeûssquare 35, Brussels Belgium
Register for the seminar here.
https://eupha.org/repository/advocacy/Va...
President EUPHA CHR attends European Policy Centre workshop
On 27 September, Dr Iveta Nagyova, president of the EUPHA section on Chronic diseases, attended the CHESS workshop organized by the European Policy Centre, where she presented EUPHA's views and activities in the field of Chronic diseases. giving a speech on behalf of EUPHA section on Chronic Diseases.
EUPHA president highlights promoting public health in Malta
Published:September 22, 2018DOI:https://doi.org/10.1016/S0140-6736(18)32255-4
Dr Natasha Azzopardi-Muscat, EUPHA president, was profiled in the Lancet of 22 September 2018. She reflected on the advantages and disadvantages of health promotion in a small European state.
Special issue on health workforce in Health Policy journal
A special issue on health workforce issues is published in the Health Policy (an Elsevier journal). With a guest editorial by EUPHA section on Health Workforce Research President and Vice Presidents, i.e. Dr. Ellen Kuhmann, Prof. Dr. Ronald Batenburg, and Prof. Dr. Gilles Dussault.
A people-centred health workforce in Europe: how to make it happen? Special Issue, Health Policy, 2018, 122(10), 1053-1148; guest editors Kuhlmann E, Batenburg R, Dussault G.
https://doi.org/10.1016/j.healthpol.2018.09.006
Keynote at European Association of Dental Public Health
Dr Natasha Azzopardi-Muscat, President EUPHA was invited to deliver the Borrow Foundation guest lecture at the 23rd EADPH (European Association of Dental Public Health) congress in Mallorca, Spain on Friday 19 October. Dr Azzopardi-Muscat spoke about the role of the dental workforce in preventing non-communicable diseases throughout the health system. She proposed a prescription for change based on the following three objectives:
Integrate oral health services into the basic package of healthcare
Educate the oral health workforce about population determinants of health
Ensure financial protection through the inclusion of prevention and restorative oral health care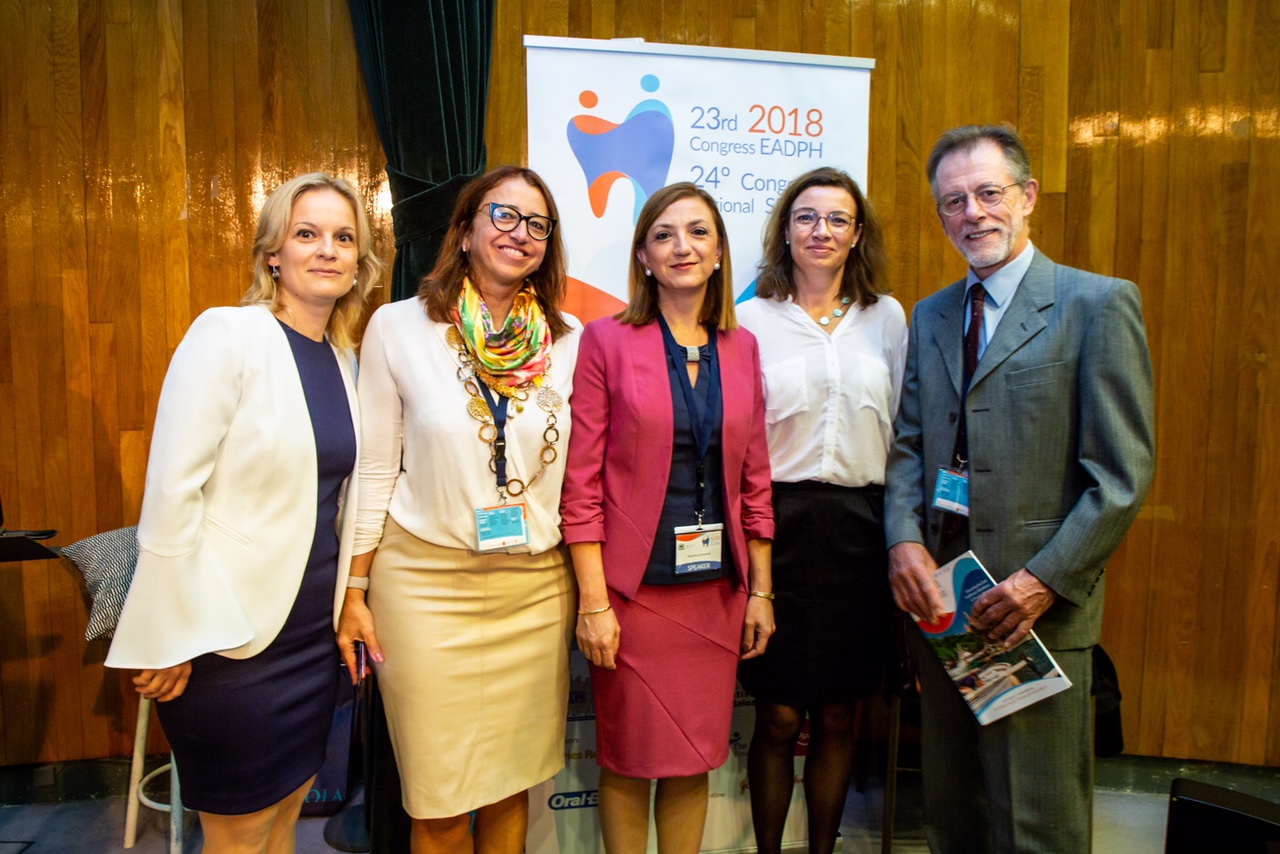 EUPHA publishes supplement to the European Journal of Public Health on 'How to navigate political landscapes: towards a public health political science'
A new supplement to the European Journal of Public Health asks 'How to navigate political landscapes: towards a public health political science'. It argues that we must act on the political determinants of health if we are to achieve the ambitions set out in a series of important documents, the Alma Ata Declaration, adopted in 1978; the Ottawa Charter, adopted in 1986; the Tallinn Charter, adopted in 2008; and the Vienna Declaration, adopted in 2016. All call for action to secure and improve the health of all people, with an explicit focus on narrowing the persisting inequalities in health that continue to afflict our societies. This can only be achieved if, following in the tradition of Rudolph Virchow, we act on the political determinants of health.
This supplement is open access for all interested parties and will be online on the 1st of November.
https://academic.oup.com/eurpub
EUPHA co-signs Open letter from UK-based public health scientists to Public Health England regarding partnerships with the alcohol industry
Prof Martin McKee, immediate past president of EUPHA, has co-signed on behalf of EUPHA, the Open letter from UK-based public health scientists to Public Health England regarding partnerships with the alcohol industry, expressing concern about partnership between Public Health England and the alcohol industry.
"As public health scientists, journal editors and directors of UK public health research initiatives, we are writing to you to express our concern about partnerships between Public Health England and the alcohol industry. In addition to the 'Drink Free Days' campaign, launched with Drinkaware, we understand you also plan further partnerships with alcohol producers and retailers across a number of alcohol policy areas. Such partnerships threaten the reputation of PHE. They also put at risk our confidence in PHE's commitment to the highest scientific standards and the promotion of policy advice informed by the best available evidence."
https://www.sheffield.ac.uk/polopoly_fs/...
To-reach: Preliminary findings from the To-reach project presented

Preliminary findings from the To-reach project are presented at the European Health Management Association (EHMA) Congress, held 20-22 June in Budapest. With an important focus on integration of care, To-reach will now move from research priorities to research topics. Moving towards a Strategic Research Agenda will be based on national mapping, stakeholder engagement and online consultation.
EUPHA sent letter on Access to research: the call for open access and the role of learned societies
On 31 October 2018, EUPHA Executive Council sent a letter to Robert-Jan Smits, special envoy to European open access. Referring to the current calls for open access of all research, including the cOAlition S initiative and the San Francisco Declaration on Research Assessment (DORA), EUPHA supports open access to publicly funded scientific research. EUPHA accepts that there should be a system whereby scientific data are openly accessible upon publication but contend that this should be decided within a wider review of systems for production, financing and dissemination of scientific publications, including a comprehensive assessment of the impact on all involved. Read the full letter here

3. European Public Health Conference
Programme Update
Plenary session: Universal Health Coverage in European Member States; not quite there! Making the economic case for health inclusion and equity
Saturday 1 December, 14:10 – 15:10. Organiser: European Observatory on Health Systems and Policies. Moderator: Josep Figueras, European Observatory. Speakers/Panellists: Rifat Atun, Harvard School of Public Health, United States, Sarah Thomson, WHO Barcelona Office for Health Systems Strengthening, Isabel de la Mata, European Commission, DG SANTE, Clemens Martin Auer, President Health Forum Gastein, Austria.
Lunch Symposiums
Thursday 29 November, 12:15 – 13:15
From micro to macro: how to achieve our Hepatitis C elimination targets by 2030?, organised by MSD
The Settings Approach in public health: the case of health promotion in schools in Europe and Asia, organised by Health Promotion Administration, Ministry of Health and Welfare, Taiwan

Friday 30 November, 12:30 – 13:30
The EU Health Programme - contributing to better health for all in the EU, organised by European Commission (CHAFEA, DG SANTE)
Vaccination for more sustainable public health?, organised by GSK Vaccines
Role of public health in improving cancer care in Central and Eastern Europe, organised by Pfizer
Preconferences Programme
Wednesday 28 November 2018
Healing buildings, building healing / Mental health during the life-course, full day, organised by EUPHA PMH, Politecnico Milan, European Commission, DG RTD
Health in the future EU Budget and Programmes (2021-2027), morning session, organised by European Commission, CHAFEA, DG SANTE
European public health: collaboration, initiatives and new policies, full day, organised by EUPHA
Migrant Health Training and Dissemination Workshop, full day, organised by IOM, GIZ, LSHTM, ASPHER
EU Actions on Antimicrobial Resistance and healthcare associated infection, afternoon, organised by European Commission, CHAFEA, DG SANTE
Over 1,500 people have already registered for the biggest annual public health event in Europe. Pre-conferences can also be added to your registration after you have registered. You can do so by logging into your account and updating your registration. Registration for lunch symposiums is not required.
4. EUPHA members update
Update from our Slovakian member SAVEZ
The Ministry of Health of the SR participates currently in the JAHEE project - Joint Action Health Equity Europe.
The Joint action will contribute to achieving greater equality in health outcomes for all social groups in the participating countries, including a specific focus on migrants and vulnerable groups. Furthermore, it will focus on the socio-economic determinants of health and lifestyle-related health inequalities.
https://echalliance.com/news/406502/-Lux...
Fourth International Congress of Polish Society of Public Health
The Polish Association of Public Health is organising its 4th International Congress in Wroclaw, Poland from 22-23 November 2018. The them of this Congress is "Public Health and environment".
The Polish Society of Public Health unites people - specialists in public health, both academics and practitioners, specialists in the fields of organization, planning, quality, epidemiology, economy and curative medicine.
UK Faculty of Public Health response to the Department for International Trade's four consultations on post-Brexit trade
The UK's Faculty of Public Health (FPH) welcomes this opportunity to respond to the Department for International Trade's (DIT) four consultations on post-Brexit trade.
To put these discussions in context, the UK's post-Brexit trading relationships will likely have a far greater impact on the public's health than the recent – and very welcome – announcement of an increase in NHS funding of £20.5 billion per year. As such, the FPH is keen to support the UK Government in developing trade agreements that not only bring about sustainable economic growth but also more productive and healthier workforces, and result in healthier communities across the UK.
As part of our wider Brexit campaign, FPH is leading a project to support Ministers and officials in securing healthy post-Brexit trade agreements. For the first phase of this work, and building on the five Government commitments secured through FPH's 'Do No Harm' campaign (see more below), we are developing a public health 'blueprint' for negotiating 'healthy' trade agreements that this and future Governments can adopt now and after leaving the EU. We will publish the blueprint in early 2019.
This short submission draws together our learning so far from our evidence gathering and stakeholder engagement. We hope that our early findings will help inform the DIT's approach to the development of the UK's post-Brexit trade policy and negotiations – and its 'Outline Approach' to each future trade negotiation.
To inform our blueprint, we also intend to explore how the business community sees its relationship with supporting healthier workforces and populations in our future trade agreements.
EUPHA was happy and proud to support the work of the UK Faculty of Public Health and is a co-signatory of this document.
https://www.fph.org.uk/media/1961/fph-de...

5. European Journal of Public Health
Cross-sectional associations between body mass index and social-emotional wellbeing among differentially active children
Published: 08 October 2018 OPEN ACCESS
A microsimulation model projecting the health care costs for resistance to antibacterial drugs in Sweden
Published: 09 October 2018
Group activity participation at age 21 and depressive symptoms during boom and recession in Sweden: a 20-year follow-up
Published: 27 September 2018
Association between dietary patterns and metabolic syndrome in the selected population of Polish adults--results of the PURE Poland Study
Published: 04 October 2018
The legal framework for European cervical cancer screening programmes
Published: 27 September 2018
Heterogeneity/granularity in ethnicity classifications project: the need for refining assessment of health status
Published: 26 September 2018
Health policy analysis of the non-implementation of HPV vaccination coverage in the pay for performance scheme in France
Published: 25 September 2018
Opioid, antipsychotic and hypnotic use in end of life in long-term care facilities in six European countries: results of PACE
Marc Tanghe Nele Van Den Noortgate Lara Pivodic Luc DeliensBregje Onwuteaka-Philipsen Katarzyna Szczerbińska Harriet Finne-SoveriDanni Collingridge-Moore Giovanni Gambassi Lieve Van den Block et al.

Published: 04 October 2018
Reducing consequences of child maltreatment during adulthood by public health actions: a Delphi study
Published: 11 October 2018
Socioeconomic differences in healthy and disease-free life expectancy between ages 50 and 75: a multi-cohort study
Published: 10 October 2018
A systematic review of the effectiveness of health education interventions to increase cervical cancer screening uptake
Published: 20 October 2018
Socioeconomic and health-related childhood and adolescence predictors of entry into paid employment
Published: 22 October 2018
6. Call for proposals, job opportunities
European Civic Prize on Chronic Pain: Apply Now!
Do not miss chance to apply for the second edition of the "EU Civic Prize on Chronic Pain - Collection of good practices" ! You can now enter your good practice about your work in fighting chronic pain, by completing a brief on-line form (link here below). The award is open to any healthcare stakeholder: patients' associations, health professionals, private and public hospitals, universities, etc.
http://www.activecitizenship.net/patient...
The Instituto de Saúde Pública da Universidade do Porto (ISPUP) calls for a PhD Researcher in the statistics field
The Instituto de Saúde Pública da Universidade do Porto (ISPUP) has an open call for a PhD Researcher in the statistics field. The posititon is under the scope of the project Diabetes & obesity at the crossroads between Oncological and Cardiovascular diseases – a system analysis NETwork towards precision medicine (DOCnet).
The researcher will be responsible for providing appropriate statistical input in the design, implementation and analysis of studies. We are looking for an autonomous researcher who will design and supervise the statistical analysis and is expected to lead the production of original work publishable in the form of full text papers in international journals.
More informations: http://ispup.up.pt/training-positions/other-positions/open-positions/28/?lang=en
EFPC Executive Board Position
A position is available at the European Forum for Primary Care (EFPC) Executive Board.
http://www.euprimarycare.org/news/efpc-e...
7. Interesting news
InfAct: Mapping European networks
InfAct is the Joint Action on Health Information. More information about InfAct is available here: www.inf-act.eu.
Within InfAct, we are carrying out a mapping exercise with the aim to identify in the EU, living networks of experts from several countries that perform comparative research across Europe in a specific health research area or health information domain. More specifically, we want to identify operational or previously active international networks which work in the field of population health and/or health system performance.
Are you part of one of these networks? Please share some basic information with us by filling in this survey https://bit.ly/2AArV3for visit us at the EUPHA stand during the breaks of the EPH Conference in Ljubljana. We look forward to seeing you there.
Do you want to stay up to date with our work? Check out our websitewww.inf-act.eu , follow us on twitter @JA_InfAct , or write us an email InfAct.coordination@sciensano.be
NCCMT publishes Evidence-Informed Decision Making casebook
The National Collaborating Centre for Methods and Tools' (NCCMT) Evidence-Informed Decision Making Casebook Issue 2 and Peer-to-Peer Webinar Series. Are you a public health professional interested in using evidence to inform public health practice, programs or policy? The newly launched second issue of the Evidence-Informed Decision Making (EIDM) Casebook is a collection of stories from organizations across Canada that highlight the use of evidence in practice, or initiative to build capacity for EIDM. Click here to access the EIDM Casebook online to learn how your colleagues contribute to evidence-informed public health practice.
Are you interested in engaging with public health practitioners who are featured in the second issue of the EIDM Casebook? Don't miss the Peer-to-Peer Webinar Series, returning this fall. Learn more about how the EIDM Casebook authors used or implemented EIDM in the real world!
Toolbox to support tailoring of selective prevention initiatives to the national context in EU Member States - recently published
This Toolbox is the result of the SPIMEU project conducted between 2015 and 2018. By synthesizing the overall results from the SPIMEU project, a series of themes and variations in terms of barriers and facilitators of CMD selective prevention initiatives (SPIs) were identified, including:
practical (e.g. SPI funding structure),
methodological (e.g. SPI implementation method),
psychological (motivating patient/health professional participation)
On this basis, a series of recommendations were prepared that may serve to inform current and future preventive initiatives. Where possible, these recommendations have been supplemented with evidence-based suggestions – or tools – that may be employed to heed the recommendations.
For more information: www.spimeu.org
Perspectives from public health stakeholders at European level; policy, coordination and surveillance
200+ civil society organisations all around Europe have united to bring people together to discuss the "Europe we want", and to put this on the agenda of the forthcoming European Parliament elections.
https://www.sdgwatcheurope.org/manifesto...
Newsletter from the SDG Watch Europe network - Special SDG Anniversary 2018
EDITORIAL: Manifesto for a Sustainable Europe for its Citizens
Let's Make Romania and Europe Sustainable for All
#Act4SDGs – Dublin: Rally hears calls for greater progress by Ireland on UN goals
#Act4SDGs – Italy: Mobilizations across Italy, Agenda 2030 monitoring report & video on the SDGs
#Act4SDGs – Netherlands – "The Netherlands in the next gear – Adopt an SDG live"
#Act4SDGs – Spain: Global Day of Action in Zaragoza
https://www.sdgwatcheurope.org/newslette...
#InheritYourFuture Forum sets the stage for a more sustainable Europe
Adapting how we live, move and consume to be more sustainable is perhaps the greatest personal and societal challenge of the 21st century. This challenge is the leitmotif of the #InheritYourFuture forum taking place at the MuseumsQuartier in Vienna on 21 November 2018. It provides an opportunity for policy-makers, practitioners, business leaders, entrepreneurs, and citizens to engage in discussion and consider what is necessary to pave the way to more sustainable societies. These will be spurred by inspiring examples from across Europe of concrete action that can encourage and enable people to live and behave in ways that promote sustainability.
Participants at this one-day conference will consider four future positive scenarios for a more sustainable Europe going towards 2040, developed by INHERIT, as well as a 'road-map' in the INHERIT areas of 'living' 'moving' and 'consuming' of the kinds of policies that are needed to achieve them. INHERIT has been researching promising practices and connecting initiatives around Europe for the past two years and taken the most recurrent and constructive elements to create its four future scenarios that are meant to encourage citizens to adopt more sustainable lifestyles.
INHERIT has identified over 100 European promising practices from across Europe that simultaneously contribute to making cities more environmentally sustainable, healthier, and fairer. A selection of these initiatives will be showcased to provide a basis of discussion. These include e.g. Ghent on Guard, a city-wide policy to shorten the food chain; initiatives that encourage people to Switch short car journeys to active travel, and initiatives that improve and encourage the use of green space. Participants in the conference will consider such initiatives to determine how they can be strengthened, emulated and replicated to affect change.
Please register your interest in participating before 14 November 2018 and contact us for interview opportunities and further details. The director of EuroHealthNet, Caroline Costongs, is also the coordinator of INHERIT.
https://www.inherit.eu/inherit-your-futu...
EU project HEAT-SHIELD is looking for your input
The EU project HEAT-SHIELD does research on heat stress related to health effects in humans. We really had a long and hot summer, which gives us the opportunity to study the way we all experienced the heat this summer.
It would be really helpful if you could answer a few questions on heat and health:
https://docs.google.com/forms/d/e/1FAIpQLSfDojVOx7G_JmYvFmz3hpog88RCif6bk2pmpttuS5kbR9GKFQ/viewform
Health equity now: A state of play on public health and equity
This post by APHA's Tia Taylor Williams explores the state of play of equity in public health.
http://www.publichealthnewswire.org/
Food labels: Can they help us to pick healthy portions?
https://blog.oup.com/2018/10/food-labels...
Tell better stories: Here's how
If we want to build more support for public health, celebrated journalist Soledad O'Brien says public health professionals need to tell better stories.
http://www.publichealthnewswire.org/
8. Upcoming courses and conferences

Going International is the first source for finding courses, seminars, congresses and other events in the fields of medicine & health. Going International is Europe's biggest service provider and information platform and serves as an interface between organisers and participants of events. Going International is an official partner of EUPHA.
9. Interesting publications
Choice architecture modifies fruit and vegetable purchasing in a university campus grocery store: time series modelling of a natural experiment
https://bmcpublichealth.biomedcentral.co...
Dose-Dependent Associations Between Sleep Duration and Unsafe Behaviors Among US High School Students
https://jamanetwork.com/journals/jamaped...
"Electronic Cigarettes" Are Not Cigarettes, and Why That Matters
https://academic.oup.com/ntr/advance-art...
Reduce air pollution to beat NCDs: from recognition to action
https://www.thelancet.com/journals/lance...
Preventing overdose deaths in Europe (Perspectives on drugs)
Series type: Perspectives on Drugs (PODs)
http://http://www.emcdda.europa.eu/publi...
Cost-effectiveness of financial incentives and disincentives for improving food purchases and health through the US Supplemental Nutrition Assistance Program (SNAP): A microsimulation study
https://journals.plos.org/plosmedicine/a...
Alcohol audio-visual content in formula 1 television broadcasting
https://bmcpublichealth.biomedcentral.co...
Public awareness and individual responsibility needed for judicious use of antibiotics: a qualitative study of public beliefs and perceptions
https://bmcpublichealth.biomedcentral.co...
Experiences of coeliac disease in a changing gluten‐free landscape
https://onlinelibrary.wiley.com/doi/abs/...
Stroke - Series from the Lancet journals
https://www.thelancet.com/series/stroke
Towards a global monitoring system for implementing the Rio Political Declaration on Social Determinants of Health: developing a core set of indicators for government action on the social determinants
Author: Working Group for Monitoring Action on the Social Determinants of Health
Source: International Journal for Equity in Health, 2018, 17:136
Published online: September, 2018

Ensuring access to medicines: How to stimulate innovation to meet patients' needs?
http://http://www.euro.who.int/en/about-...
Economics of Healthy and Active Ageing
http://www.euro.who.int/en/about-us/part...
Investigating the growing trend of non-drinking among young people; analysis of repeated cross-sectional surveys in England 2005-2015
https://bmcpublichealth.biomedcentral.co...
Lancet Commission on the Value of Death
https://www.thelancet.com/journals/lance...
Nobel Prizes: cancer, phages, and fighting sexual violence
This year's Nobel Prizes rewarded work done towards developing new treatments, to combat the use of sexual violence as a weapon of war, and in medical research. Talha Burki reports.
https://www.thelancet.com/journals/lance...
Moral resilience - how to navigate ethical complexity in clinical practice
https://blog.oup.com/2018/10/moral-resil...
Time for a new obesity narrative
https://www.thelancet.com/journals/lance...
Examining subgroup effects by socioeconomic status of public health interventions targeting multiple risk behaviour in adolescence
https://bmcpublichealth.biomedcentral.co...
Effects of nutrition motivational intervention in patients affected by type 2 diabetes mellitus: a longitudinal study in Naples, South Italy
https://bmcpublichealth.biomedcentral.co...
The Astana Declaration: the future of primary health care?
https://www.thelancet.com/journals/lance...
The Social Media Editor at Medical Journals: Responsibilities, Goals, Barriers, and Facilitators
https://insights.ovid.com/crossref
Citizen approval of nudging interventions promoting healthy eating: the role of intrusiveness and trustworthiness
https://bmcpublichealth.biomedcentral.co...
The impact of Northern Ireland's abortion laws on women's abortion decision-making and experiences
https://srh.bmj.com/content/early/2018/1...
HIV testing within general practices in Europe: a mixed-methods systematic review
https://bmcpublichealth.biomedcentral.co...
Development of a peer support intervention to encourage dietary behaviour change towards a Mediterranean diet in adults at high cardiovascular risk
https://bmcpublichealth.biomedcentral.co...
Reasons for Lack of HPV Vaccine Initiation in NIS-Teen Over Time: Shifting the Focus From Gender and Sexuality to Necessity and Safety
https://www.jahonline.org/article/S1054-...
The Observatory 20th Anniversary Special Issue of Eurohealth
10. European Commission news
World Mental Health Day 2018: Helping Children and Young People Cope
Speech by Vytenis Andriukaitis, Commissioner for Health and Food Safety
In May of this year, along with thousands of people in 160 cities across the world, I took part in an event called ''Darkness into Light.'' ...
http://ec.europa.eu/newsroom/sante/newsl...
Steering Group on Health Promotion, Disease Prevention and Management of Non-Communicable Diseases holds extraordinary meeting
On Friday 28 September, the Steering Group on Health Promotion, Disease Prevention and Management of Non-Communicable Diseases held an extraordinary meeting to discuss the current and future research programmes and other health investments as part of the next multiannual financial framework. The discussions also focused on the governance of the health strand in the Commission's new European Social Fund+ proposal.
Tobacco: Candidates considered for the EU Health Award for NGOs announced
The European Commission selected 11 initiatives as candidates for the 2018 EU Health Award for NGOs, which aims to reward Non-Governmental Organisations that have contributed to a higher level of public health in the EU by working on preventing tobacco use.
https://ec.europa.eu/health/ngo_award/in...
One step closer to digitalise children's vaccination status on a European level
20 European experts gathered mid-September in Brussels for a two day meeting about how to make children's up to date vaccination cards and immunisation registries more available to healthcare professionals, by linking this vital information to electronic patient summaries.
https://ec.europa.eu/digital-single-mark...
Memory-jogging robot to keep people sharp in 'smart' retirement homes
A robot that reminds older people where they have put things and helps them exercise has been successfully used by residents of three retirement homes in a trial to combat cognitive decline in later age.
https://horizon-magazine.eu/article/memo...
HIV, viral hepatitis and tuberculosis: 2030 goals reachable if we stay the course
Director of Public Health at the Commission's Directorate-General for Health and Food Safety John F. Ryan discusses sustainable development goals on HIV/AIDS, viral hepatitis and tuberculosis and the Commission's work toward meeting them as reflected in the Staff Working Document published this summer.
https://ec.europa.eu/health/health-eu-ne...
European Day of Organ Donation and Transplantation: Number of transplants in EU continues to rise
The 2017 Annual Transplant Report shows that in 2017 there were 700 more transplants performed in the EU compared to the year before. Deceased donation after brain death remains the most common source of organs, but living donation and deceased donation after cardiac death are quickly growing in importance.
http://ec.europa.eu/newsroom/sante/newsl...
Roundtable meeting with the Health Tech Industry to discuss the Digital Health Agenda for the EU
On 15 October a high-level roundtable discussion on the agenda for action set out by the Commission's recently adopted Communication on the "Enabling the Digital Transformation of Health and Care the Digital Single Market" took place in Brussels. Its core objective was to exchange views on the vision for the future with regard to a fully digitally transformed health and care in the EU.
https://ec.europa.eu/digital-single-mark...
The Netherlands: 18th Member State to join EU cooperation on linking genomic health data across borders
The Netherlands has recently signed the declaration 'Towards access to at least 1 million sequenced genomes in the EU by 2022', thus becoming the 18th EU Member State to participate in the joint European effort to deliver cross-border access to genomic health data.
https://ec.europa.eu/digital-single-mark...
Public consultation on legislation on medicines for children and rare diseases launched
The joint evaluation of the legislation on medicines for children and rare diseases (medicines for special populations) is now underway. This is an important step in the process of assessing the impact of EU rules for these medical areas. One of the goals of the evaluation is to estimate the efficiency and effectiveness of the two regulations, particularly in the light of the latest pharmaceutical developments; including the impact of the incentives for research, development and marketing of children's and orphan medicines.
http://ec.europa.eu/newsroom/sante/newsl...
Vaccine reports
Vaccination is the main tool for primary prevention of disease and one of the most cost-effective public health measures available. Immunisation through vaccination is the best defence we have against serious, preventable, and sometimes deadly, contagious diseases. List of current vaccination reports:
https://ec.europa.eu/health/vaccination/...
Statement by Commissioner for Health and Food Safety Vytenis Andriukaitis ahead of World Polio Day 2018
On 24th October, we celebrate World Polio Day and praise the efforts of thousands of healthcare workers, researchers and experts committed to the eradication of polio. Thanks to vaccines, children in the EU no longer die from this terrible disease or suffer severe life-long disabilities secondary to it. [continue reading the statement here]
http://europa.eu/rapid/press-release_STA...
Fighting antimicrobial resistance (AMR) in the EU: EU AMR One-Health Network meets in Brussels
On 26 October 2018, the EU AMR One-Health Network, chaired by the European Commission, met for the third time in Brussels.
http://ec.europa.eu/newsroom/sante/newsl...
11. European Centre for Disease Prevention and Control news
Eurosurveillance - Volume 23, Issue 40, 04 October 2018
Surveillance and outbreak report
Surveillance on speed: Being aware of infectious diseases in migrants mass accommodations - an easy and flexible toolkit for field application of syndromic surveillance, Germany, 2016 to 2017
Summary of available surveillance data on hepatitis C virus infection from eight Arctic countries, 2012 to 2014

Research article
Screening for neurocysticercosis in internationally adopted children: yield, cost and performance of serological tests, Italy, 2001 to 2016

Eurosurveillance - Volume 23, Issue 41, 11 October 2018
Rapid communication
Cryptic severe Plasmodium falciparum malaria in a Moroccan man living in Tuscany, Italy, August 2018
Hepatitis A outbreak linked to imported frozen strawberries by sequencing, Sweden and Austria, June to September 2018

Surveillance and outbreak report
Hepatitis E in Italy: 5 years of national epidemiological, virological and environmental surveillance, 2012 to 2016

Research article
Divergent approaches in the vaccination of recently arrived migrants to Europe: a survey of national experts from 32 countries, 2017

Review
The impact of 10 years of human papillomavirus (HPV) vaccination in Australia: what additional disease burden will a nonavalent vaccine prevent?

Eurosurveillance - Volume 23, Issue 42, 18 October 2018
Editorial
Antimicrobial resistance surveillance in Europe and beyond

Rapid communication
Outbreak of Burkholderia cepacia complex infections associated with contaminated octenidine mouthwash solution, Germany, August to September 2018

Perspective
Establishment of the South Korean national antimicrobial resistance surveillance system, Kor-GLASS, in 2016

Surveillance and outbreak report
Antimicrobial resistance of major clinical pathogens in South Korea, May 2016 to April 2017: first one-year report from Kor-GLASS

Eurosurveillance - Volume 23, Issue 43, 25 October 2018
Rapid communication
Lymphogranuloma venereum (LGV) in men who have sex with men (MSM): a re-emerging problem, Malta, 2018
Increase in human West Nile and Usutu virus infections, Austria, 2018
Research article
Influenza vaccine effectiveness in reducing severe outcomes over six influenza seasons, a case-case analysis, Spain, 2010/11 to 2015/16

12. WHO news
New WHO noise guidelines for Europe released
The just released WHO Environmental Noise Guidelines for the European Region provide strong evidence that noise is one of the top environmental hazards to both physical and mental health and well-being in the European Region.
http://www.euro.who.int/en/media-centre/...
Young people and mental health in a changing world - World Mental Health Day 2018
World Mental Health Day takes place on 10 October every year to raise global awareness of mental health issues and to stimulate advocacy. This year, the theme of World Mental Health Day is "Young people and mental health in a changing world" – a vital concern given that approximately 1 in 5 adolescents experience mental and behavioural problems in any given year. Moreover, half of all mental health problems in adulthood have their onset during or before adolescence.
Healthy cities of the European Region adopt the Belfast Charter, ushering in a new phase of commitment
The WHO European Healthy Cities Network officially adopted the Belfast Charter for Healthy Cities on 4 October 2018, at the conclusion of the 4-day International Healthy Cities Conference in Belfast, Northern Ireland, United Kingdom.
http://www.euro.who.int/en/health-topics...
Austria HiT (2018)
On the occasion of Austria's EU Presidency, the European Observatory on Health Systems and Policies has released a new (HiT) health system review. It highlights reforms that aim to improve governance, increase healthy life expectancy and improve quality and efficiency of service delivery.
http://www.euro.who.int/en/about-us/part...
Bulgaria HiT (2018)
The European Observatory on Health Systems and Policies has released a new (HiT) health system review on Bulgaria with a special focus on the developments and health system reforms since 2012.
http://www.euro.who.int/en/about-us/part...
Estonia HiT (2018)
This analysis of the Estonian health system reviews recent developments in organization and governance, health financing, health-care provision, health reforms and health system performance.
http://www.euro.who.int/en/about-us/part...
Spain HiT (2018)
The underlying principles and goals of the Spanish national health system continue to focus on universality, free access, equity and fairness of financing. The evolution of performance measures over the last decade shows the resilience of the health system to macroeconomic conditions, although some structural reforms may be required to improve chronic-care management and the reallocation of resources to high-value interventions.
http://www.euro.who.int/en/about-us/part...
This newsletter received funding under an operating grant from the European Union's Health Programme (2014-2020). The content of this newsletter represents the views of the author(s) only and is his/her sole responsibility; it cannot be considered to reflect the views of the European Commission and/or the Consumers, Health, Agriculture and Food Executive Agency or any other body of the European Union. The European Commission and the Agency do not accept any responsibility for use that may be made of the information it contains.