The European Public Health Association
Newsletter - June 2018
1. Editorial
We are very pleased to present you with our June update. We are happy to inform you that the Operating grant with Chafea (European Commission) has been signed this month, giving us a boost to further develop and pilot activities.
We are also pleased to announce that the impact factor of our European Journal of Public Health has increased to 2.782.
If you don't want to wait for our monthly newsletter, stay up-to-date by following us on Twitter @EUPHActs
If you have any information to add to the newsletter, please send the information to EUPHA office.
Wishing you pleasant reading,
Natasha Azzopardi-Muscat, EUPHA president, and Dineke Zeegers Paget, EUPHA executive director
2. EUPHA update
EUPHA president at annual conference of the Austrian Public Health Association
The Austrian Public Health Association (ÖGPH) held their annual conference 23 and 24 May 2018 in Vienna, Austria. The theme this year was 'Health in all Societies'. In the afternoon of the first conference day, EUPHA president, Natasha Azzopardi Muscat, presented the European perspective on public health.
https://eupha.org/repository/advocacy/St...
EUPHA continues to support the UK Faculty of public health on Brexit
Brexit will have a profound impact on the citizens in the UK. Our national member, the UK Faculty of Public Health, has started a Brexit campaign last year to highlight the impact Brexit will have on the health of the citizens and the health care in the UK. EUPHA is proud to be a strong supporter of the work of the UK Faculty, lead by Prof John Middleton, president. A first important step was taken when the Brexit rules were adapted to include the 'Do No Harm' amendment, pushed for by the UK Faculty. The Brexit Bill was amended accordingly in April this year.This month, the UK Faculty published "The UK and the European Centre for Disease Prevention and Control (ECDC): Blueprint for a post-Brexit relationship", where different scenarios of collaboration with ECDC are described.
From EUPHA side, both the president, Natasha Azzopardi Muscat, and the past president, Martin McKee have taken the lead in supporting the Faculty in any way EUPHA can.
https://www.fph.org.uk/policy-campaigns/...
EJPH: Increased impact factor!
Clarivate released the 2017 Impact Factors. The impact factor of the European Journal of Public Health has increased by 0.35 from to 2.431 in 2016 to 2.782. The 2017 IF score places the journal 20th out of 156 journals in the category of Public Environmental and Occupational Health. This is 8 places higher compared to the previous year. Peter Allebeck, editor-in-chief, is very happy with the highest impact factor the EJPH has ever had.
EUPHA president at the Tallinn charter's 10th anniversary
Dr Natasha Azzopardi Muscat, EUPHA president, represented EUPHA at the 10th anniversary of the Tallinn Charter on health systems for health and welfare. In 2008, WHO EURO member states signed up for this charter to improve health by investing in and strengthening health systems, and to promote the shared values of solidarity, equity and participation.
In 2018, the celebration meeting in Tallinn saw a renewed commitment to the principles of the Charter. Through the adoption of three themes: "include", "invest", "innovate" the Member States hope to achieve a more equitable health status faster.
EUPHA remains committed to supporting the Tallinn Charter and will advise our national public health associations to include, invest and innovate.
http://http://www.euro.who.int/en/media-...
EUPHA supports Clean Air Day
EUPHA treasurer elected in the ASPHER board
EUPHA is very pleased that Prof Carlo Signorelli, treasurer of EUPHA and co-chair of the Rome 2020 world congress on public health, has been elected in the ASPHER Executive board. This will strengthen the EUPHA-ASPHER collaboration even further.
Past president, Martin McKee, reflecting on the impact of Brexit on health
Martin McKee, past president of EUPHA, reflected on the impact of Brexit on health in an editorial in the BMJ
http://https://www.bmj.com/content/361/b...
EUPHA and COTEC partnership signed
EUPHA welcomes COTEC, the Council of Occupational Therapists in European Countries as a partner. COTEC is a network of 30'000 occupational therapists and will specifically work with the EUPHA section on Social security, work and health, including collaboration for workshops and pre conferences at the annual EPH Conferences and elaborating joint statements.Both EUPHA and COTEC agree to:
Disseminate information to their networks on each other

Advertise the (bi) annual conferences of each other

Create synergies wherever possible between both associations.

3. European Public Health Conference
Conference Programme Ljubljana 2018 is now available
The Ljubljana conference programme (parallel sessions, workshops and poster walks) is now available on the website. During the programme planning meeting in Ljubljana on 18 June 2018, a team of Slovenian and international experts organised the programme. They had their work cut out for them, as the programme consists of 160 parallel sessions and 20 poster walks. We would like to thank the National Institute of Public Health in Ljubljana for their wonderful hospitality.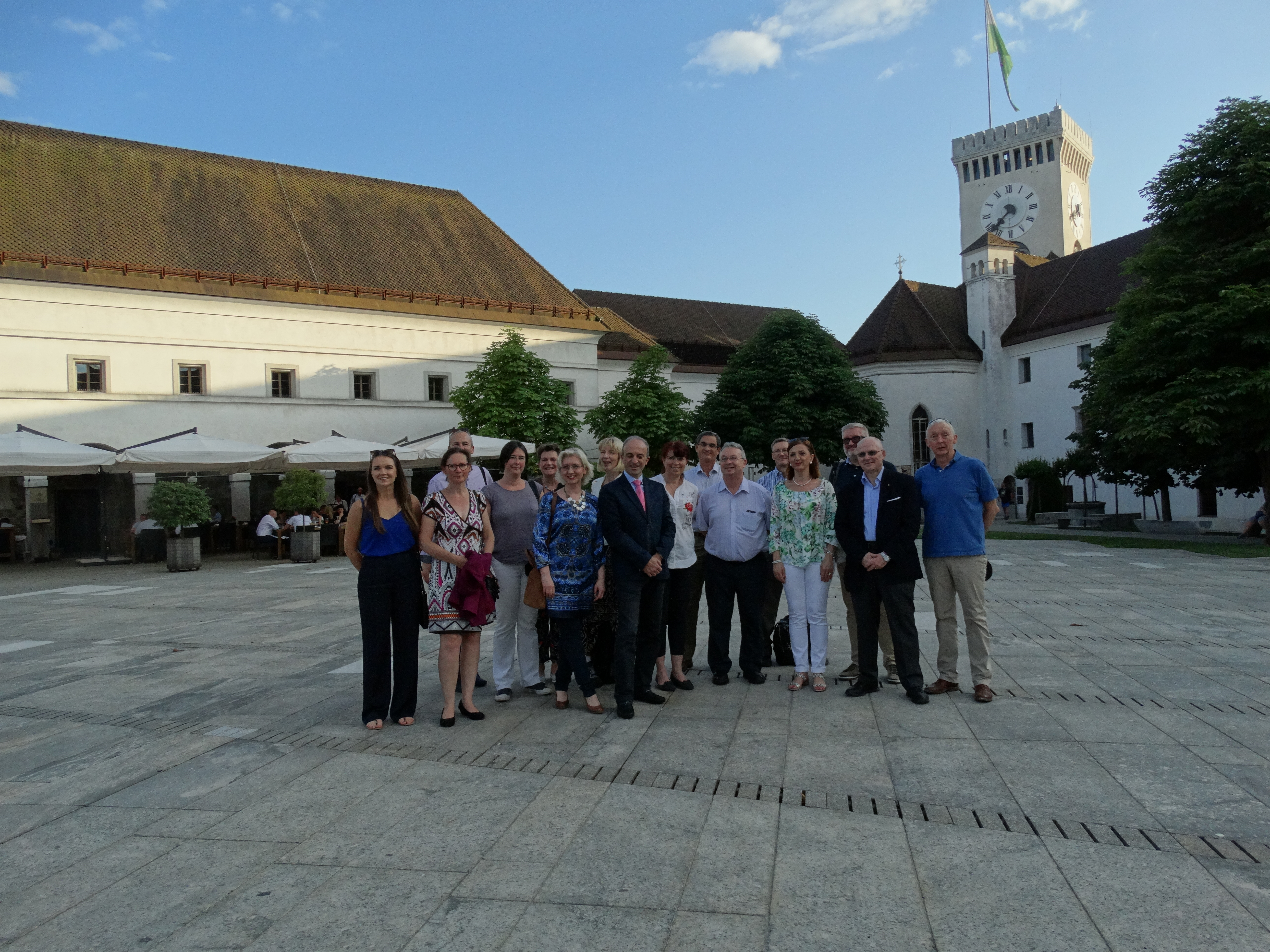 https://ephconference.eu/dynamic-program...
4. EUPHA members update
ASPHER's new president
EUPHA welcomes the election of Prof John Middleton, president of the UK Faculty of public health, as the incoming president of ASPHER. Seen our long history of collaboration both with ASPHER and the UK Faculty of public health, we look forward to our continued collaboration.
EUPHA wishes to thank Prof Kasia Czabanowska for her excellent work and vision during her ASPHER presidency. We will continue working with her on e.g. women leadership in health.
University of Nicosia Medical School - Department of Primary Care and Population Health
The University of Nicosia Medical School is the newest EUPHA member. The Nicosia Medical School was established in 2011. The Department of Primary Care and Population Health, one of the two department of the school, aims to improve the health of the population at the local, regional and global level through educational, research and community outreach activities. The educational activities include the delivery of two postgraduate programmes: a Master in Public health and an MSc in Family Medicine. Research activities are diverse on areas such as early life determinants of health and disease, genetic epidemiology, applied public health research and health services and quality of health care . The department contributes to improving the health of the local community by conducting disease prevention and health promotion activities that serve vulnerable and difficult to reach population groups as well as supports the activities of governmental and non-governmental bodies that promote health.

5. European Journal of Public Health
The European Journal of Public Health is a multidisciplinary journal in the field of public health.
The EJPH is published bimonthly. The journal provides a forum for discussion and debate of current international public health issues with a focus on the European region. In 2018, the impact factor of the journal is at 2.782. The 5-year impact factor is 2.902.
The EJPH is the official journal of EUPHA.
Advanced access June 2018
Most read June 2018
6. Call for proposals, job opportunities
EUPHA is looking for a communication and marketing strategic officer
Over the years, EUPHA has increased its visibility and impact in Europe. For this, several tools have been developed (e.g. active twitter account, mailing list to key European-level policymakers), but is this enough?
If EUPHA wants to have an influence on European policymakers both at European level (EU and WHO Europe) as well as – through our national associations – at national level, EUPHA needs to set up a communication and marketing strategy. The short-term Communication & marketing strategic officer will look at:
Which tools have been developed and are they effective?

Which tools are missing and should be developed?

Should EUPHA have a permanent presence in Brussels (European Union)?

Should EUPHA have a permanent presence in Copenhagen (WHO Europe)?

How can EUPHA put a long term communication and marketing strategy in place in the coming years?
EUPHA is looking for an enthusiastic and experienced communication specialist at European level, preferably in the Brussels region. Applications should include a CV and motivational letter and should be sent by 15 July 2018 to: d.zeegers@euphaoffice.org
For further information, please contact the Executive Director, Dr Zeegers Paget.
Third Programme of the Union's action in the field of health (2014-2020). New call for projects 2018 now open
The Call "Implementation of best practices to promote health and prevent non-communicable diseases and to reduce health inequalities" implements the Annual Work-Programme 2018 of the third programme for the Union's action in the field of health (2014-2020) which sets out details of the financing mechanisms and priority areas for action.
Proposals can be submitted electronically via the Electronic Exchange System of the EU Research & Innovation Participant Portal.
Deadline for submission: 13 September 2018
http://ec.europa.eu/chafea/health/projec...
Professor in Prevention and Public Health
The Faculty of Science and Medicine of the University of Fribourg/Switzerland invites applications for a tenured position of a Professor in Prevention and Public Health.
Qualified applicants should be MD or PhD, certified in Prevention and Public Health (MPH or equivalent). He/she must have an outstanding track record of independent research in the domain.
Extensive teaching experience at university level is required. Teaching takes place in French and German.
The successful candidate will develop an internationally recognized competitive research programme sustained by external funding.
The closing date for applications is 31 August 2018.
More information at www.unifr.ch/scimed/positions.
7. Interesting news
Ban e-cig flavors and misleading advertisements to protect youth, says global respiratory group
In a statement published in the European Respiratory Journal, a coalition of respiratory doctors and scientists from six continents have warned of the dangers posed to children and adolescents by electronic cigarettes.
They say there is mounting evidence that e-cigarettes damage health and are highly addictive, yet manufacturers are marketing them as "healthier" cigarettes and their popularity among young people is growing.
As a result, they are calling for an immediate ban on flavourings and on marketing e-cigarettes as lower risk alternatives to children and adolescents.
The Forum of International Respiratory Societies is a collaborative of nine organisations from North and South America, Europe, Africa, Asia and Australia that was created to promote lung health worldwide.
The paper brings together a wide range of research findings on e-cigarettes. It highlights evidence that children and adolescents are highly susceptible to nicotine addiction, and that use of e-cigarettes has risen steeply in this age group to become the most commonly used tobacco-related product among adolescents in some countries.
http://https://www.sciencedaily.com/rele...
The genesis of the Global Burden of Disease study
In 1997 The Lancet published "Mortality by cause for eight regions of the world: Global Burden of Disease Study". This Global Burden of Disease (GBD) study was the first in a series of four articles that ushered in a new era in descriptive epidemiology, and launched the ascendancy of the GBD in the then nascent field of global health. The four landmark papers gave the GBD study and its authors, Christopher Murray and Alan Lopez, scientific credibility and exposure in the scientific community.
http://https://www.thelancet.com/journal...
Juuling adolescents: a new health concern
E-cigarettes are now the most commonly used nicotine-containing product among youths in the USA. Evidence about the health effects of their use in adolescents has been building. Vaping is known to increase the risk of young people transitioning to smoking conventional cigarettes; in those who make such a transition, there is also evidence to suggest that e-cigarette use increases the frequency and intensity of subsequent combustible cigarette smoking. Juuling is becoming popular among adolescents in the USA, particularly in middle schools and high schools. The term comes from a brand of products called JUUL that seem to appeal to young people. A JUUL vaporiser looks like a USB flash drive and is charged by being plugged into a computer, properties that make it difficult for teachers and parents to distinguish it from other technology. It uses cartridges called pods that are filled with liquid containing a cigarette pack's worth of nicotine. The manufacturer claims that it delivers nicotine 1·25–2·7 times faster than other electronic nicotine delivery systems and provides a nicotine concentration similar to a traditional cigarette. Despite strict regulations on the marketing of tobacco products, such regulations are less clear for e-cigarettes, and the promotion of JUUL is largely by youths themselves via images and videos on social media platforms such as Instagram and Snapchat. Such exposure is difficult to counter and worrying given that peer influence is particularly powerful in this age group.
https://www.thelancet.com/journals/lanch...
European Public Health Alliance celebrates 25th anniversary
EPHA - the European Public Health Alliance - celebrated its 25th anniversary on 28 June 2018. EPHA is a leading NGO alliance advocating for better health. With over 90 members, made up of public health NGOs, patient groups, health professionals and disease groups, EPHA works to improve health and strengthen the voice of public health in Europe.
Summary of lessons learned from the International Symposium "Multimorbidity research at the cross-roads"
International researchers, physicians and health services and health policy decision makers met at the Alfred Nobel Forum in Stockholm, on 21st May, 2018. Outstanding keynote speakers from Europe and the U.S.A., such as Mary Tinetti, Martin Roland, Luigi Ferrucci, Stewart Mercer, Cynthia Boyd, Jose M. Valderas and Alessandra Marengoni and discussants set the scene for subsequent constructive panel discussions. Additionally, the programme and the venue provided excellent opportunities for an exchange of ideas and networking among the ca. 120 participants. A summary of the lessons learned and presentations from the Symposium can be found on the website (http://www.multimorbidity2018-stockholm.se/). Three working groups are currently collaborating in the preparation of reviews on clinical management and the public health aspects of multimorbidity, with the aim of publishing them by the end of the year.

The entire meeting was funded by the Journal of Internal Medicine (JIM), with further support from the Aging Research Centre (ARC) of Karolinska Institutet, the University of Exeter, the KI Strategic Research Area in Epidemiology (SfoEpi), as well as the European Network on Multimorbidity 'Threads & Yarns'.
Looking back at 100 years of flu [interactive timeline]
https://blog.oup.com/2018/06/100-years-f...
Crises and population health
On the day after the horrific shooting that claimed the lives of 17 students at Stoneman Douglas High School in Parkland, Florida, the local state representative predicted what would happen next.
"Nothing."
https://blog.oup.com/2018/06/crises-popu...
Call for abstracts EHPG meeting London 20-21 Sept 2018
The next meeting of the European Health Policy Group (EHPG) http://www.ehpg.org/ will be hosted by The King's Fund and the London School of Hygiene and Tropical Medicine in London on Thursday 20th and Friday 21st September 2018. Booking details will follow soon.

EHPG is an informal, collegial and multidisciplinary network aiming to stimulate international collaboration and learning through comparative analysis of changes to health care systems in Europe. The group meets twice a year to discuss papers submitted by members on a topic of choice. Papers have to be submitted in full and will be presented by a discussant (not the author) followed by a discussion by the group.

The theme for this meeting will be on integration of all descriptions and we would welcome abstracts on:
Integration between primary and secondary care and between health and social care
Funding mechanisms and performance measurement structures that support the integration of care
The development of new models of care, including place based models and devolution
The experience of achieving integration of care through patient and public participation
We are also open to abstract submissions on other topics and will consider including them in the programme. We are always interested in applied policy research and encourage collaborations between authors from backgrounds in economics and political science.

EuroHealthNet calls for new and improved approaches to financing for health promotion and health equity
EuroHealthNet — the European partnership for promoting health, equity, and wellbeing — has called for investors and funding programmes to focus and increase attention on the benefits of health promotion, disease prevention, and social equity.
At the annual meeting of EuroHealthNet's General Council (Brussels 5-7 June), which included a public seminar 'Smart investments? Let's talk prevention', members agreed on a Statement. It stresses the need for transformative approaches in funding and systems to improve public health and wellbeing, reduce inequalities and build sustainable societies.
The Protocol to Eliminate Illicit Trade in Tobacco Products enters into force
It has taken some time, but the proposed UN Protocol to eliminate illicit trade in Tobacco products (proposed on 12 November 2012) has been signed on the 27th of June 2018 and will enter into force on 25 September 2018.
The new treaty, signed by 25 European countries and the European Union, aims at eliminating all forms of illicit trade in tobacco products. It provides tools for preventing illicit trade by securing the supply chain, including by establishing an international tracking and tracing system, by countering illicit trade through dissuasive law enforcement measures and a suite of measures to enable international cooperation.
EUPHA welcomes and pledges to support this UN Protocol.
European Observatory on Health systems and policies celebrates 20th anniversary
On 22 May 1998, Dr Jo E. Asvall, then WHO Regional Director for Europe, signed an agreement on a project called The European Observatory on Health Care Systems.
The idea of establishing of a "clearing-house on health care reforms" was launched 2 years earlier at the landmark conference in Ljubljana, Slovenia, where WHO gathered policy-makers from the whole European Region to agree on a set of common, fundamental principles that should underlie health system reforms.
Twenty years later, the European Observatory on Health Systems and Policies has become one of the leading international knowledge brokers in this field. It is based on a strong partnership of international agencies, national governments, decentralized authorities and research institutes. They are all committed to the idea of evidence-based policy-making for health.
To mark this anniversary year, the Observatory is planning a series of exciting activities with its partners and networks. Events begin with the WHO high-level meeting "Health Systems for Prosperity and Solidarity – leaving no one behind" on 13–14 June 2018 in Tallinn, Estonia, which the Observatory is actively supporting.
Keep up to date with us on Twitter @OBShealth and #OBS20.
8. Upcoming courses and conferences

Going International is the first source for finding courses, seminars, congresses and other events in the fields of medicine & health. Going International is Europe's biggest service provider and information platform and serves as an interface between organisers and participants of events. Going International is an official partner of EUPHA.
GIS for Public Health
9 Jul 2018 - 13 Jul 2018 / London, United Kingdom
Organiser: Imperial College London
Health economics
20 Aug 2018 - 24 Aug 2018 / Rotterdam, Netherlands
Organiser: Erasmus MC
9. Interesting publications
Time to deliver: report of the WHO Independent High-Level Commission on NCDs
The 2030 Agenda for Sustainable Development, with its pledge to leave no one behind, is our boldest agenda for humanity. It will require equally bold actions from Heads of State and Government. They must deliver on their time-bound promise to reduce, by one-third, premature mortality from NCDs through prevention and treatment and promote mental health and wellbeing.
This article is available free of charge.
http://https://www.thelancet.com/journal...
A call for action to establish a research agenda for building a future health workforce in Europe
https://health-policy-systems.biomedcent...
Measuring performance on the Healthcare Access and Quality Index for 195 countries and territories and selected subnational locations: a systematic analysis from the GBD Study 2016
http://https://www.thelancet.com/journal...
Sugar, tobacco, and alcohol taxes to achieve the SDGs
http://https://www.thelancet.com/journal...
Impact of public smoking bans on children's exposure to tobacco smoke at home: a systematic review and meta-analysis
https://bmcpublichealth.biomedcentral.co...
Does genomic sequencing early in the diagnostic trajectory make a difference? A follow-up study of clinical outcomes and cost-effectiveness
https://www.nature.com/articles/s41436-0...
The associations between employees' risky drinking and sociodemographics, and implications for intervention needs
European Drug Report: Trends and Developments
https://europa.us7.list-manage.com/track...
Non-completion of secondary education and early disability in Norway: geographic patterns, individual and community risks
Characteristics of insufficiently active participants that benefit from health-enhancing physical activity (HEPA) promotion programs implemented in the sports club setting
https://bmcpublichealth.biomedcentral.co...
The associations between employees' risky drinking and sociodemographics, and implications for intervention needs
https://bmcpublichealth.biomedcentral.co...
Cardiovascular disease and high blood pressure trend analyses from 2002 to 2016: after the implementation of a salt reduction strategy
https://bmcpublichealth.biomedcentral.co...
Sports participation and psychosocial health: a longitudinal observational study in children
https://bmcpublichealth.biomedcentral.co...
Cross-sectional and prospective associations between sleep, screen time, active school travel, sports/exercise participation and physical activity in children and adolescents
https://bmcpublichealth.biomedcentral.co...
Gambling expenditure by game type among weekly gamblers in Finland
https://bmcpublichealth.biomedcentral.co...
Key learning on Health in All Policies implementation from around the world: information brochure.
http://apps.who.int/iris/bitstream/handl...
Sugar, tobacco, and alcohol taxes to achieve the SDGs
https://www.thelancet.com/journals/lance...
Teeth and inequality: from past to present
https://www.thelancet.com/journals/lance...
Health systems for prosperity and solidarity: Tallinn 2018
https://www.thelancet.com/journals/lance...
Turning Brexit uncertainties into public health advancement
https://www.thelancet.com/journals/lance...
Gun violence research in the USA: the CDC's impasse
https://www.thelancet.com/journals/lance...
Understanding, preventing, and stopping epidemics
https://www.thelancet.com/journals/lance...
Spanish influenza redux: revisiting the mother of all pandemics
https://www.thelancet.com/journals/lance...
10. European Commission news
mHealth for managing cancer
The EU-funded iManageCancer project is finding out how mobile healthcare (mHealth) and serious games help people with chronic illnesses and in particular cancer.
http://ec.europa.eu/newsroom/dae/redirec...
The 2018 Ageing Report: Economic and Budgetary Projections for the EU Member States (2016-2070)
This report by the European Commission looks at the long-run economic and fiscal implications of Europe's ageing population.
https://ec.europa.eu/info/publications/e...
Crisis preparedness and response
Chafea booklet on EU-funded actions for better preparedness and coordination in health crisis.
http://ec.europa.eu/chafea/news/news593....
New call for proposals for Health Programme projects published on 30 May 2018
The Call "Implementation of best practices to promote health and prevent non-communicable diseases and to reduce health inequalities" implements 3rd Annual Work-Programme for the Union's action in the field of health (2014-2020). Submission deadline: 13 September 2018.
http://ec.europa.eu/newsroom/dae/redirec...
European Sustainability Award
In 2018 the European Commission launched for the first time ever a European Sustainability Award to reward the efforts and creativity of European people, businesses and organisations.
The ambition of this award is clear: championing inspiring cases of initiatives that are turning the global Sustainable Development Goals into concrete solutions and opportunities.
For this year's edition, the theme of the award is "Empowering people and ensuring inclusiveness and equality".
Interested? Then don't wait any longer and find out how to enter the competition here. The deadline for applications is 14 September 2018.
https://ec.europa.eu/info/strategy/inter...
Indicators and data: Expert Group on Health Information
Conclusions and presentations - Expert Group on Health Information (6 June 2018)
https://ec.europa.eu/health/indicators_d...
Big Data against Child Obesity
By using big data, the EU-funded BigO project aims to redefine the way policy strategies targeting childhood obesity are designed and deployed in European societies.
http://ec.europa.eu/newsroom/dae/redirec...
Luxembourg: Joint Action on Health Inequalities kicks off, 21-22 June 2018
In Luxembourg today, the European Commissioner for Health and Food Safety Vytenis Andriukaitis launched the first meeting of the Joint Action on Health Inequalities ''Health Equity in Europe''. In his speech, the Commissioner expressed his belief that the broad and ambitious scope of this Joint Action would be a key piece of work to promote greater equity in health outcomes and reduce inter-country differences.
http://ec.europa.eu/newsroom/dae/redirec...
Reinforced EU/US collaboration on medicines and tobacco
Senior officials from the European Commission (EC), together with the European Medicines Agency (EMA) and the United States Food and Drug Administration (FDA) held their 2018 bilateral meeting in Brussels, Belgium, on 18 and 19 June. The two-day bilateral regulatory dialogue allowed the strategic partners to review their ongoing cooperative initiatives, discuss strategic priorities for the coming years and further strengthen the continuous close collaboration with specific action in the field of pharmaceuticals.
http://ec.europa.eu/newsroom/sante/newsl...
Communicable diseases: Commission updates surveillance list
The Commission adopted an Implementing Decision on the list of communicable diseases and related special health issues as well as relevant case definitions to be monitored through the EU's epidemiological surveillance network.
http://ec.europa.eu/newsroom/sante/newsl...
11. European Centre for Disease Prevention and Control news
Eurosurveillance - Volume 23, Issue 23, 07 June 2018
Rapid communication
Spillover of a hepatitis A outbreak among men who have sex with men (MSM) to the general population, the Netherlands, 2017
Persistence of an outbreak of gonorrhoea with high-level resistance to azithromycin in England, November 2014
Eurosurveillance - Volume 23, Issue 24, 14 June 2018
Rapid communication
Increased risk for autochthonous vector-borne infections transmitted by Aedes albopictus in continental Europe
Transmission potential of modified measles during an outbreak, Japan, March
Eurosurveillance - Volume 23, Issue 25, 21 June 2018
Research article
Resurgence risk for measles, mumps and rubella in France in 2018 and 2020
Reducing demand for antibiotic prescriptions: evidence from an online survey of the general public on the interaction between preferences, beliefs and information, United Kingdom, 2015
The potential value of crowdsourced surveillance systems in supplementing sentinel influenza networks: the case of France
Surveillance and outbreak report
Uptake and impact of vaccinating primary school-age children against influenza: experiences of a live attenuated influenza vaccine programme, England, 2015/16

12. WHO news
WHO Competency Framework for Health Workers' Education and Training on Antimicrobial Resistance
WHO has published a competency framework for health workers' education and training on Antimicrobial Resistance (AMR). The competency framework is one of several products being developed by WHO in collaboration with partners and leading research institutions to address the first objective of the GAP AMR, which is to improve awareness and understanding of AMR through effective communication, education and training.
The framework is to be used as a reference guide, applied according to local priorities and needs, and targeted at academic institutions, educators, accreditation bodies, regulatory agencies and other users. The ultimate aim is to ensure that all health workers are equipped with the requisite competencies at pre-service education and in-service training levels to address AMR in policy and practice settings.
http://www.who.int/hrh/resources/WHO-HIS...
Update on the Global Charter for the Public's Health
http://www.who.int/bulletin/volumes/96/6...
Seventy-first World Health Assembly comes to a close after charting a new course for WHO
The Seventy-first World Health Assembly took place on 21–26 May 2018 in Geneva, Switzerland. Over the course of the 6 days, delegates charted a new course for the Organization.
In his closing speech, Dr Tedros Adhanom Ghebreyesus, WHO Director-General, said that everything WHO does going forward will be evaluated in the light of the "triple billion" targets approved last week in WHO's new 5-year strategic plan. By 2023, the plan aims to ensure that:
1 billion more people are benefitting from universal health coverage (UHC);
1 billion more people are better protected from health emergencies; and
1 billion more people are enjoying better health and well-being.
Dr Tedros emphasized that, "Ultimately, the people we serve are not the people with power; they are the people with no power." He told delegates that the true test of whether the discussions held this week were successful will be whether they result in real change on the ground. He urged them to go back to their countries with renewed determination to work every day for the health of their people.
"The commitment I have witnessed this week gives me great hope and confidence that together we can promote health, keep the world safe and serve the vulnerable," he concluded.

This newsletter received funding under an operating grant from the European Union's Health Programme (2014-2020). The content of this newsletter represents the views of the author(s) only and is his/her sole responsibility; it cannot be considered to reflect the views of the European Commission and/or the Consumers, Health, Agriculture and Food Executive Agency or any other body of the European Union. The European Commission and the Agency do not accept any responsibility for use that may be made of the information it contains.