The European Public Health Association
Newsletter - March 2018
1. Editorial
We are very happy to present you with the new version of our monthly newsletter. In this newsletter, there is a strong focus on tobacco control and prevention. We are very pleased to see that our members are reacting to the European Union's public consultations, thereby ensuring that the voice of the public health network is heard.
If you have any information to add to the newsletter, please send the information to EUPHA office.
Wishing you happy Easter days and pleasant reading,
Natasha Azzopardi-Muscat, EUPHA president, and Dineke Zeegers Paget, EUPHA executive director
2. EUPHA update
EUPHA annual report 2017
This report highlights EUPHA's key activities in 2017. This year was a festive year, as EUPHA was celebrating its 25th anniversary.
https://eupha.org/repository/publication...
Consultation for the next EU Research and Innovation Programme Statement on behalf of the European Public Health Association (EUPHA) section 'Health Workforce Research'
EUPHA and the EUPHA section on Health workforce research have reacted to the EU public consultation asking for input for the next EU Research and Innovation Programme. EUPHA proposes to develop a research-based vision on health workforce that is able to balance the interests of different Member States as well as the principle of a common market and free movement with the European Union and the national/regional need of a sufficient density of health professionals to provide universal healthcare coverage for all citizens. An integrated theory-driven program on health workforce research in the European research agenda adds value especially in the following areas: health workforce migration, conditions for an open health labour market, the investment in Europe-wide availability of both quantitative and qualitative data, and the coordination of health human resources models.
https://eupha.org/advocacy-by-eupha
1st World Congress on Migration, ethnicity, race and health - update
EUPHA is proud to be a supporter of the 1st World Congress on Migration, ethnicity, race and health that is being organised in Edinburgh from 17-19 May 2018. We already have over 600 delegates participating. Join us at this important congress.
http://www.merhcongress.com/
European Public Health Association asks British American Tobacco and Philip Morris International to take measures to tell truth about tobacco
In 2017 leading tobacco companies were required to tobacco companies publish corrective statement advertisements in the U.S.A. telling the American people the truth about their lethal products and related issues, including the adverse effects of smoking, the addictiveness of smoking and nicotine, lack of health benefits from products marketed as being less harmful than regular cigarettes, the true harms of second hand smoke, and their record in intentionally designing cigarettes to make them more addictive.
EUPHA believes that the citizens of Europe are equally entitled to be told these facts. Consequently, we have written to both British American Tobacco and Philip Morris International to ask them to take the same measures in Europe. Our letters are published below.
https://eupha.org/advocacy-by-eupha
Statement by the European Public Health Association on the Philip Morris International 'Foundation for a Smoke-free World'
In a paper in The Lancet medical journal, Dr Derek Yach, President of the Philip Morris International Foundation for a Smoke-Free World, expressed a wish to work with others to create a new cadre of tobacco control researchers. EUPHA recognises that, especially for those in countries where funding for health research may be limited, such an invitation from an organisation that will be spending $1 billion over the next 12 years may seem attractive. However, we join with many health organisations, including the World Health Organisation, to declare that we will not engage with or collaborate with the Philip Morris Foundation in any way and call upon all European public health organisations to do the same. Read the full statement here.
https://eupha.org/advocacy-by-eupha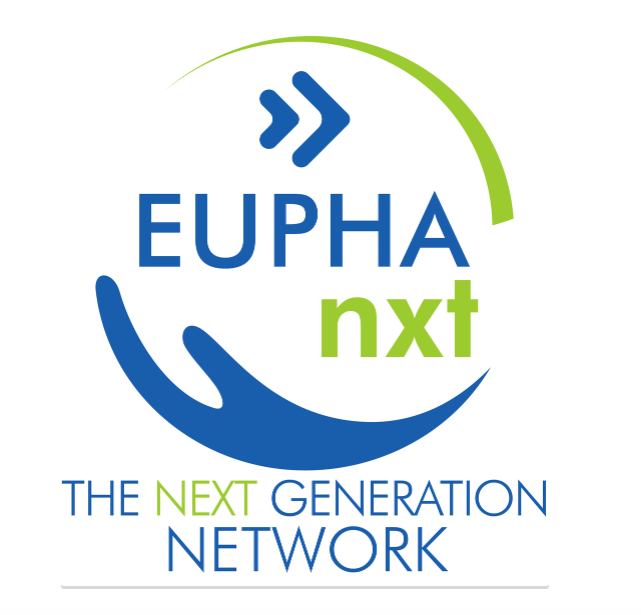 EUPHAnxt: a new team, a new logo
A new team includes four young enthusiastic and public health-passionate individuals whom strive to continue the fantastic work of EUPHAnxt, further expand the network, build more partnerships and strengthen the presence of students and young professionals in the European public health community.
Sara McQuinn is the new EUPHAnxt Coordinator.
Pasquale Cacciatore is the new EUPHAnxt Communication Manager.
Keitly Mensah is the new EUPHAnxt Conference Manager.
Anton Hasselgren is the new EUPHAnxt Partnership Manager.

EUPHAnxt current projects and initiatives include:

A

fun and informative periodic newsletter addressed to students and young professionals interested in public health.
To organise skill-building workshops at the annual EPH conference to promote training and education.
The abstract mentoring programme, which provides an opportunity for young and/or less experienced abstract submitters to receive feedback from expert reviewers on abstracts that are to be submitted to the EPH Conference.
An Informal Internship Programme, where our goal is to put students and young professionals interested in doing an internship at the EUPHA office or within one of the EUPHA sections, in contact with the relevant public health professional.
If you have any queries, or would like more information regarding EUPHAnxt, please email: info.euphanxt@eupha.org. We also have Facebook, Twitter, Instagram and LinkedIn accounts where we share our latest activities, and interesting public health news!
https://eupha.org/euphanxt
EUPHA on twitter
Follow us on twitter @EUPHActs

In March, we used our twitter account on:
Tuberculosis prevention and treatment

World water day

World Oral Health day

International Women day

EU2018BG: better medicines for all
And of course to highlight our own initiatives, especially on tobacco prevention and control.

3. European Public Health Conference
Abstracts are invited
Abstracts are invited for workshops, oral presentations, pitch presentations and e-posters. Prizes will be awarded for the best oral, poster and early career professional's presentation. Abstracts do not have to be confined to the conference theme but can cover any aspect of public health. Do not miss the opportunity to be recognized for your hard work. Abstracts and workshop proposals can be submitted here.

Registration opens 1 April
Registration for the 11th EPH Conference opens 1 April 2018. You can benefit from early bird registration fees until 15 September. We are expecting over 1,500 delegates. Meet your colleagues at the largest public health event in Europe and register early to benefit from the reduced rates. Please note that we succeeded in keeping the fees at the same level as last year. Early bird registration fees for EUPHA members are EUR 600. Non-members pay EUR 680, Students pay EUR 420 (all including VAT).
https://ephconference.eu/
4. EUPHA members update
New member: The Aletta Jacobs School of Public Health
We are happy to welcome the Aletta Jacobs School of Public health into our network. The Aletta Jacobs School of Public Health – a joint initiative of the University of Groningen and UMCG – is the proud flag-bearer of healthy ageing in the Northern Netherlands. Rooted in fundamental research, we actively convey our knowledge and expertise through education, consultancy and integral collaborations.
Unhindered by daily debates, every person in the Northern Netherlands who wants to, can contribute to a healthier world, together with us. We aim to act both locally and regionally, with the ultimate ambition to create impact on a global scale.
https://www.rug.nl/aletta/
School of Medicine at University of Crete joins Measuring Population and Organisational Health Literacy (M-POHL) Action Network
The CSFM, School of Medicine, University of Crete joins the newly created M-POHL Action Network under the auspices of WHO EURO's EHII Network, representing Greece. Particular focus will be given to measurement and organisational literacy efforts, as well as in informing future policy actions. The UoC will be collaborating with other Greek entities, such as the National School of Public Health, for the creation of a new research and policy task force in Greece.
https://eupha.org/repository/countries/S...
SESPAS joins EUPHA in answering the public consultations of the EU
SESPAS received the invitation from EUPHA to react to two open consultations at EU level:
on vaccination hesitancy; and
on EU funds in the area of investment, research and innovation.
SESPAS contacted all its member associations inviting them to react individually as well as reacted to both public consultations.
Norwegian Public Health Associationi Replying to the public consultation on EU funds in the area of investment, research & innovation
Like the EUPHA, the Norwegian Association for public health (NOPHA) is calling for a renewed and updated health strategy that clearly puts health priorities at the heart of European Union policy. In a globalized world where pathogens and lifestyle risks span borders, there is an increasing interest in a strong collective unit.
We support EUPHA's notion that we don't understand how a scenario of doing less together and discontinuing the Health programme is listed as one option in the European Comission's Reflection Paper. On the Future of EU finances, especially when health is a topic the Europeans cherish clearly, and 70 % of Europeans want the EU to do more to improve publics health (according the Eurobarometer survey in March 2017). EU has to reflect all the determinants of health act in a way that promote and improve publics health not only with a focus on lifestyle.
EU need to step up its efforts in facilitating Europeans healthier lifestyles but also have a strong focus on improving the living condition to reduce the inequality in health. Such as in tobacco, nutrition, physical activity amongst persons with lower income and alcohol Further on they have to have a focus on healthy urban planning, safe environments, safe workplaces etc. We also support the notion that a Directorate-General for health should act as a guardian of the treaty for ensuring a high level of health protection across all policy areas in the EU but also equally importantly acts as a driver for innovation and support member states actions seeking to promote health and sustainable health systems.


5. European Journal of Public Health
Volume 28, issue 2 (April 2018)
6. Call for proposals, job opportunities
Call for tender concerning the EU dimension of alcohol related harm
Call for tender no Chafea/2017/Health/01 concerning the EU dimension to prevent alcohol related harm, to follow-up the Standardised European Alcohol Survey (SEAS) and to support Member States.
In order to reduce alcohol-related harm in the EU, CHAFEA needs to obtain regular services to support EU Member States actions in this field. This service calls to follow-up of the Standardised European Alcohol Survey in 2018 /2019, to support the member states' capacity building in the area of alcohol policy, and to prepare a pilot implementation of Alcohol Brief Interventions.
https://etendering.ted.europa.eu/cft/cft...
2-3 highly qualified Post-Docs/Research Scientists
The Max Planck Institute for Demographic Research (MPIDR) is recruiting2-3 highly qualified Post-Docs / Research Scientists to join the newly established Laboratory of Digital and Computational Demography.

The MPIDR is one of the leading demographic centers in the world. It is part of the Max Planck Society, a network of over 80 institutes that form Germany's premier basic-research organization. Max Planck Institutes have an established record of world-class, foundational research in the sciences, technology, and the humanities, and they offer a unique environment that combines the best aspects of an academic setting and a research laboratory.

The Laboratory of Digital and Computational Demography, headed by MPIDR Director Emilio Zagheni, is looking for candidates with a background in Demography, Data Science, Computer Science, Statistics, Economics, Sociology, Geography, Applied Mathematics, or related disciplines.

The successful candidate must have a PhD (or receive it soon) and is expected to conduct cutting-edge research in the field of Digital and Computational Demography. Applications have to be submitted in English online via https://www.demogr.mpg.de/go/apply-dcdrs/
To receive full consideration, applications should be received by April 8, 2018. The starting date is flexible but no later than Fall 2018. Successful applicants will be offered a 3-year contract, with remuneration commensurate to experience (starting from approx. 50,000 EUR gross per year) and based on the salary structure of the German public sector (Öffentlicher Dienst, TVöD Bund). For inquiries about the positions, please contact sekzagheni@demogr.mpg.de.
www.demogr.mpg.de
University of Helsinki: Postdoctoral researcher in social determinants of health
The Faculty of Social Sciences is Finland's leading research and education institute in the social sciences, and the country's most diverse social sciences faculty in terms of the range of its disciplines and fields of research. The Faculty has a strong international research profile and an international MA program, and several of its disciplinary units have been rated among the top 50 in the world. The faculty has ca. 350 research and teaching staff, and each year it awards some 350 Bachelor's degrees, 400 Master's degrees and more than 40 doctoral degrees. For more information, please see the Faculty website at http://www.helsinki.fi/socialsciences/
The Faculty of Social Sciences invites applications for the position of POSTDOCTORAL RESEARCHER IN SOCIAL DETERMINANTS OF HEALTH for a fixed term period starting as agreed and ending on the 31st of August 2020 at the Population Research Unit, https://blogs.helsinki.fi/populationresearch/.
The successful candidate is expected to contribute to quantitative research on social determinants of health and mortality in one or more of the Unit's current research areas: intergenerational determinants of health, family structure and health, international comparisons, and long-term change in social differentials in health. The Population Research Unit offers an opportunity to do research with excellent data in an international, motivated, and friendly environment.
An appointee to the position must hold a doctoral degree in Sociology, Demography, Social Policy, Public Health or other relevant field, have a documented ability to conduct independent scientific research, have strong quantitative methods skills and an excellent command of written English. The main task of the appointed researcher is - jointly with the research team - to design and conduct quantitative research on longitudinal register-based data. In addition, the researcher is expected to actively contribute to teaching in the master's programme in demography (up to 5% annually), and other research activities of the Unit, as well as prepare new research proposals.

Instructions about preparing the CV and list of publications can be found in the following web address: www.helsinki.fi/en/faculty-of-social-sciences/faculty/applying-for-teach....
Please submit your application through the University of Helsinki Recruitment System by clicking the link Apply for job. Internal applicants (i.e., current employees of the University of Helsinki) must submit their applications through the SAP HR portal, saphr.it.helsinki.fi.
Further information about the position and the research project may be obtained from Prof Pekka Martikainen, pekka.martikainen(at)helsinki.fi.

Due date: 15.04.2018 23:59 EEST

https://www.helsinki.fi/en/open-position...
IC-Health: Improving digital health literacy in Europe
IC-Health will provide support for the improvement of digital health literacy in Europe. In particular, the project will design 35 open access online courses (MOOCs), in eight different national languages, for different population cohorts including children, adolescents, pregnant and lactating women, elderly and people affected or susceptible to be affected by type 1 and type 2 diabetes. Are you interested in the impact of technological advances on healthcare? Or in the changing relationship between patients and health professionals? Do you work on digital health literacy? Then join our EU forum on http://ichealthplatform.eu and share your thoughts on the matter!
http://ichealthplatform.eu/
7. Interesting news
Health as the Real Winner: Presidency conference on options to provide better medicines for all
Patients' confidence should be increased and they should be given an informed access to medicines, experts underlined at an international conference in Sofia, Bulgaria. The event, part of the calendar of the Bulgarian Presidency of the Council of the EU in the health sector, took place on 6 March 2018 in the National Palace of Culture.
Read a report on the conference here.
https://eu2018bg.bg/en/news/626
EuroHealthNet: Investing in health is investing in people
Good health and wellbeing is a precursor to cohesion, stability, and economic growth; it is inseparable from social and economic conditions. This is the central argument of EuroHealthNet's three responses to consultations on the next EU long-term budget which were submitted today. So far the EU has facilitated progress in Member States and regions which could not have been achieved otherwise. In the next multiannual budget the EU's role for health and social equity should be further developed to support a stronger, fairer Europe.
There is a need for a common strategic vision based on EU Treaty objectives on wellbeing and cohesion, taking forward the principles of the European Pillar on Social Rights, and the Sustainable Development Goals. All future EC expenditure programmes should adhere to such a strategic vision and ensure that upcoming EU policies on e.g. the digital single markets for health, food chain policy, agricultural priorities and cohesion policy are aligned and broadly reinforce one another.
The three EuroHealthNet responses to consultations on the Multiannual Financial Framework (MFF) 2021-2027 cover health, research, and innovation in the single market; cohesion; and values and mobility. A summary document with key statements can be found here at EuroHealthNet.eu
The Netherlands study shows less suicides in green communities
Inhabitants of communities in the Netherlands with more green public areas die less often by suicide than other communities. The natural environment is likely to play a role in suicides. This study was conducted by the University of Utrecht and the NIVEL - Netherlands Institute for Health Services Research. The study has been published in Lancet Planetary Health.
E-cigarettes may be more harmful than beneficial, according to evidence-based research
Date:March 14, 2018
Source:Dartmouth-Hitchcock Medical Center
Summary:A new study finds that e-cigarette use could do more harm than good by substantially increasing the number of adolescents and young adults who eventually become cigarette smokers and marginally decreasing the number of adult cigarette smokers who quit.
https://www.sciencedaily.com/releases/20...
Big tobacco is targeting the world's most vulnerable to increase profits, report finds
Date:March 8, 2018
Source:American Cancer Society
Summary:A new report says the tobacco industry is increasingly targeting vulnerable populations in emerging markets, such as Africa, Asia, and the Middle East.
https://www.sciencedaily.com/releases/20...
2008 Great Recession led to increase in obesity, diabetes and mental health issues
Date:March 1, 2018
Source:City University London
Summary:The 2008 Great Recession resulted in changes to individuals' health behavior, with a significant increase in the likelihood of obesity, diabetes and mental health problems, according to a new study.
https://www.sciencedaily.com/releases/20...
Nutritional labelling on menus may reduce calorie intake
Date:February 27, 2018
Source:Wiley
Summary:New evidence shows that adding calorie labels to menus and next to food in restaurants, coffee shops and cafeterias, could reduce the calories that people consume, although the quality of evidence is low.
https://www.sciencedaily.com/releases/20...
Healthiest Communities: A new tool for improving public health
hat does it mean to be a healthy community? That important question sparked a new project from the Aetna Foundation and U.S. News & World Report, Healthiest Communities. Released just this morning, this new free and open-access public health data analysis tool tackles some of the toughest questions in public health. How does our location impact our health, and what can we do about it?
These rankings are an important tool for public health professionals as they try to answer that question. By focusing on success stories, the rankings shine a spotlight on the top 500 healthiest communities in the country. The methodologyunderneath these rankings rests on 10 categories: community vitality, equity, economy, education, environment, food and nutrition, health, housing, infrastructure and public safety.
Healthiest Communities scores are based not just on measures like how much a community exercises or how often they are hospitalized, but on all the other factors that make that community a healthy place to live, work and play. The rankings factor in the social determinants of health to show what makes a community truly healthy.
More importantly, public health professionals can view the specific data points used to develop that score. Each community gets separate scores for population health, equity, education, economy, housing and more. Those scores are broken down even further in Healthiest Communities by the individual measures used to calculate them. The ranking's peer grouping tool allows community leaders to assess how their needs as a rural community might differ from an urban one, and what challenges communities like theirs face as a whole across the country, opening the door for new conversations and collaboration.
http://www.publichealthnewswire.org/
EU Health Policy platform - Thematic networks 2017-cycle outcomes
The four thematic networks of the 2017-cycle have produced calls to action and joint statements:
Improving the employment of people with chronic diseases in Europe
Call to Action, and framing paper
Call to action, and accompanying framing document
Joint statement & Call to Action
Medical training and professional development for patient safety
Sounds and vibrations for better mobility of visually impaired people
The EU-funded 'Sound of Vision' project has created a wearable assistive system for visually impaired people. The innovative technology allows them to perceive the environment so they can move independently, in indoor and outdoor areas. You can watch a video of a prototype in action.
8. Upcoming courses and conferences

Going International is the first source for finding courses, seminars, congresses and other events in the fields of medicine & health. Going International is Europe's biggest service provider and information platform and serves as an interface between organisers and participants of events. Going International is an official partner of EUPHA.
GIS for Public Health
9 Jul 2018 - 13 Jul 2018 / London, United Kingdom
Organiser: Imperial College London
9. Interesting publications
Influenza: better knowledge improves prevention
Influenza viruses are very different and affect different age groups. This is the result of the PhD research of NIVEL researcher Saverio Caini. His study: 'Global epidemiology of influenza A and B: implications for prevention and control measures' shows strong differences between Influenza A and B and also that different viruses affect different population groups. An earlier paper published in Eurosurveillance: Important changes in the timing of influenza epidemics in the WHO European Region over the past 20 years: virological surveillance 1996 to 2016 showed that the timing of influence epidemics in Europe has changed in the past 20 years.
Fiscal rules, powerful levers for controlling the health budget? Evidence from 32 OECD countries
Editorial: Expanded Program on Immunization in the Americas: 40 years
Author: Etienne, Carissa F
Source: Pan American Journal of Public Health
Spanish version published online: March 2018
Childhood immunization programs have had a dramatic impact on child morbidity and mortality worldwide. In Latin America and the Caribbean, nearly 174 000 deaths were prevented through vaccination of children under 5 years of age in 2006 – 2011 in Latin America and the Caribbean according to Pan American Health Organization (PAHO) estimates. In 1974, the World Health Organization (WHO) established the Expanded Program on Immunization (EPI); and in 1977, PAHO, the WHO Regional Office for the Americas, launched its own EPI….
Interventions to reduce the negative effects of alcohol consumption in older adults: a systematic review
Social capital and frequent attenders in general practice: a register-based cohort study
National health inequality monitoring: current challenges and opportunities
Ahmad Reza Hosseinpoor, Nicole Bergen, Anne Schlotheuber, Ties Boerma
Global Health Action, v.11, 2018 – Issue Supplement: Monitoring Health Inequality in Indonesia
Published online: 20 February 2018
Policy Précis on Tackling health inequalities requires good socio-economic and health data - by EuroHealthNet
https://eurohealthnet.eu/sites/eurohealt...
A scoping study of interventions to increase the uptake of physical activity (PA) amongst individuals with mild-to-moderate depression (MMD)
Beliefs and attitudes about addressing alcohol consumption in health care: a population survey in England
https://bmcpublichealth.biomedcentral.co...
Effect of peer support interventions on cardiovascular disease risk factors in adults with diabetes: a systematic review and meta-analysis
https://bmcpublichealth.biomedcentral.co...
Getting even more serious about prevention: "social injustice is killing on a grand scale"
BMJ 2018; 360 doi: https://doi.org/10.1136/bmj.k1316 (Published 26 March 2018)Cite this as: BMJ 2018;360:k1316

https://www.bmj.com/content/360/bmj.k131...
Role of working conditions in the explanation of occupational inequalities in work injury: findings from the national French SUMER survey
https://bmcpublichealth.biomedcentral.co...
Sexual intercourse, age of initiation and contraception among adolescents in Ireland: findings from the Health Behaviour in School-aged Children (HBSC) Ireland study
https://bmcpublichealth.biomedcentral.co...
Skipping breakfast, overconsumption of soft drinks and screen media: longitudinal analysis of the combined influence on weight development in primary schoolchildren
Secondhand smoke exposure and risk of incident peripheral arterial disease and mortality: a Scotland-wide retrospective cohort study of 4045 non-smokers with cotinine measurement
https://bmcpublichealth.biomedcentral.co...
Teenage recommendations to improve physical activity for their age group: a qualitative study
https://bmcpublichealth.biomedcentral.co...
Why are some groups physically active and others not? A contrast group analysis in leisure settings
https://bmcpublichealth.biomedcentral.co...
Gender differences in the associations between age trends of social media interaction and well-being among 10-15 year olds in the UK
Letter to BMJ: Barriers to influenza vaccination in healthcare workers
BMJ 2018; 360 doi: https://doi.org/10.1136/bmj.k1141 (Published 15 March 2018)Cite this as: BMJ 2018;360:k1141

https://www.bmj.com/content/360/bmj.k114...
The Inverse Equity Hypothesis: Analyses of Institutional Deliveries in 286 National Surveys
Cesar Gomes Victora, Gary Joseph, Inacio C. M. Silva, Fatima S. Maia, J. Patrick Vaughan, Fernando C. Barros, Aluisio J. D. Barros
American Journal of Public Health, 2018: e1-e8
Published online (first look): February, 2018
Addressing Health Equity Through Action on the Social Determinants of Health: A Global Review of Policy Outcome Evaluation Methods
Janice Lee, Ashley Schram, Emily Riley, Patrick Harris, Fran Baum, Matt Fisher, Toby Freeman, Sharon Friel
Int J Health Policy Manag 2018
Published online: February 8, 2018
How to make sense of health system efficiency comparisons?
European Observatory on Health Systems and Policies
10. European Commission news
Healthy Nutrition for Children - conference within the Bulgarian Presidency of the Council of the EU
Healthy nutrition for children was the topic of an international conference at expert level within the Bulgarian Presidency of the Council of the EU, held on 6 February 2018 in Sofia, Bulgaria.
Read the report on the conference here.

https://eu2018bg.bg/en/news/376
Health Systems in the EU: Commission publishes report on Primary Care
The EU Expert Group on Health Systems Performance Assessment (HSPA) publishes its report "A new drive for primary care in Europe: rethinking the assessment tools and methodologies" to help policy makers and health practitioners to set objectives and measure progress towards improving primary care services for the benefit of patients.
https://ec.europa.eu/health/sites/health...
New Eurobarometer on sport and physical activity released
The report, unveiled by Commissioner Navracsics in Sofia during the annual EU Sport Forum, shows that levels of participation have not changed substantially since the previous Eurobarometer survey in 2014. In fact, the proportion of those who say they never exercise or play sport has slightly increased from 42% to 46% Europe-wide, and this is a continuation of a gradual trend since 2009.
Commissioner for Education, Youth, Culture and Sport, Tibor Navracsics, said:
"The new figures show how vitally important it is to continue our efforts to promote physical activity and healthy lifestyles. I strongly encourage all actors, from public authorities to sports organisations, to intensify their efforts and work together."
https://ec.europa.eu/sport/news/2018/new...
Open Public Consultation on the European Week of Sport (Deadline: 18 May 2018)
The European Commission has launched an open public consultation on the European Week of Sport. The questionnaire is available in all EU languages and will remain open till 18 May 2018. You can make your contribution here: https://ec.europa.eu/sport/week/open-public-consultation-ewos_en
Message for World Tuberculosis Day
On this occasion, Vytenis Andriukaitis and other EU Commissioners urge leaders in Europe and beyond to take a multi-policy approach and address the social conditions that encourage its spread, in addition to mobilising funding for research, and ensuring access to preventative and curative healthcare for all.
http://europa.eu/rapid/press-release_STA...
Cross-border healthcare Study - Cross-border cooperation: capitalising on existing initiatives for cooperation in cross-border regions
The Study maps EU-funded cooperation projects for the period 2007 to 2017 in EU and EEA countries and Switzerland, provides insight into opportunities and challenges for cross-border cooperation in healthcare and offers guidance to local and regional authorities and other parties who are interested in starting a health-related cooperation project.
Millions of European schoolchildren benefit from healthy food thanks to EU programme
Over 30 million children across the EU receive milk, fruit and vegetables under to the EU's School Scheme.
http://europa.eu/rapid/press-release_IP-...
European Rare Diseases Day 2018: One-year anniversary of the European Reference Networks for rare diseases
11. European Centre for Disease Prevention and Control news
Eurosurveillance - Volume 23, Issue 9, 01 March 2018
Eurosurveillance - Volume 23, Issue 10, 08 March 2018
Eurosurveillance - Volume 23, Issue 11, 15 March 2018
Eurosurveillance - Volume 23, Issue 12, 22 March 2018
12. WHO news
World TB day
Each year we commemorate World TB Day on March 24 to raise public awareness about the devastating health, social and economic consequences of tuberculosis (TB) and to step up efforts to end the global TB epidemic.
Related links:
http://www.who.int/campaigns/tb-day/2018...
Public Health Panorama, Volume 4, Issue 1, March 2018
This issue of Public Health Panorama is devoted to work carried out by the WHO Health emergency Programme.
http://www.euro.who.int/en/publications/...
Call for more women in public health leadership roles
On International Women's Day, WHO/Europe highlights the need to ensure women have a place at the centre of public health. Women make up the majority of health professionals in the WHO European Region and throughout the world, and yet, generally, this is not reflected in leadership roles within public health.
http://www.euro.who.int/en/health-topics...
Recommendations for the composition of next season's influenza vaccine released
WHO's recommendations for the composition of influenza virus vaccines for use in the 2018–2019 northern hemisphere influenza season have now been released.
http://www.euro.who.int/en/health-topics...
WHO calls on partners to respond to the health and humanitarian needs of Ukrainians
"Access to quality care and medications is limited. Women, children, adolescents – representing over 60% of the affected people – and the elderly are disproportionately affected by a severe reduction in health services, care and support." This is the health picture of the humanitarian crisis in eastern Ukraine, painted by WHO and other organizations at a high-level conference organized jointly by the European Commission and the United Nations Office for the Coordination of Humanitarian Affairs (OCHA), held on 28 February 2018 in Brussels, Belgium.
https://who.us4.list-manage.com/track/cl...
Denmark campaign rebuilds confidence in HPV vaccination
Sustaining or rebuilding public trust in vaccines is an ongoing objective of immunization programmes around the world. Through a WHO-initiated peer group started two years ago, Denmark is sharing lessons learned on HPV with countries, such as Ireland, the Netherlands and Austria.
https://who.us4.list-manage.com/track/cl...
This newsletter received funding under an operating grant from the European Union's Health Programme (2014-2020). The content of this newsletter represents the views of the author(s) only and is his/her sole responsibility; it cannot be considered to reflect the views of the European Commission and/or the Consumers, Health, Agriculture and Food Executive Agency or any other body of the European Union. The European Commission and the Agency do not accept any responsibility for use that may be made of the information it contains.