The European Public Health Association
Newsletter - May 2023
1. Editorial
This month we were delighted to see so many of you participating in the European Public Health Week. With contributions from 40 countries and a total of 224 events being organised, the week was a great success!
Wishing you a nice read,
Iveta Nagyova, EUPHA president and Marieke Verschuuren, Executive Director
2. EUPHA update
EUPHA is looking for a new Executive Director!
Would you like to play a key role in European public health? And are you a hands-on manager who is interested in leading a small but enthusiastic secretariat, working in an international setting together with EUPHA's large expert network, and setting the strategic directions for EUPHA together with EUPHA's members and Executive Council? Then we may be looking for you!
See the full vacancy text here.
EUPHA supports civil society call for EU mandatory alcohol labelling
EUPHA joins a major alliance of European civil society leaders in urging senior EU officials and Commissioners to issue a mandatory alcohol labelling proposal as soon as possible. In particular, the alliance calls to
respect consumers' right to information by issuing a proposal for mandatory on-label provision of energy value, full nutrition declaration, and list of ingredients for all alcoholic beverages (wines, beer, and spirits) as soon as possible;
ensure that basic nutrition information is available on label for consumers to access easily at all times and without the need of additional tools and skills.
Labelling of alcoholic beverages is an important measure to implement as part of a broader strategy to fight alcohol related harm, alongside other effective policy tools proposed in the European Beating Cancer Plan, the WHO SAFER recommendations and the WHO European Framework for Action on Alcohol 2022-2025.

Read the full letter to European Commission officials here.
EUPHA statement on priorities for the EU4Health Annual Work Programme 2024: more attention for chronic diseases, elderly and young people, health inequalities, and civil society engagement needed
The European Commission has launched a targeted stakeholders' consultation to seek input for the EU4Health Annual Work Programme 2024. Although EUPHA appreciates this opportunity for stakeholders to provide input, we argue that for setting priorities for EU health policy, we need an integrated assessment across sectors building on concepts and measures such as burden of disease, demographic developments, future scenario studies and societal needs. The lack of such an integrated assessment approach results in important omissions in the current set of priorities, including a lack of focus on chronic diseases beyond cancer, addressing the impact of ageing populations and stimulating healthy ageing, ensuring the health of young people and preparing the next generation of (public) health professionals, and tackling health inequalities. Last but not least, among the current priorities there is no acknowledgement of and support for the role of civil society organizations in developing and implementing the EU4Health Programme.
Read the full statement here.
Mourning the loss of Horst Noack, EUPHA past president
The European public health community is mourning Professor Richard Horst Noack, former president of EUPHA. Public health in Austria is inextricably linked to his person and his name. He was a co-founder of the Austrian Public Health Association (ÖGPH), and he was the first ÖGPH President and Honorary President until his death. But not only in Austria did Horst Noack play a pioneering role in the development of public health, he also did internationally. For example, he consolidated the term "New Public Health" in order to further develop public health away from a medically patriarchal eminence-based perspective towards a modern interdisciplinary scientific discipline. Next to be being the EUPHA president in 2006, Horst was chair of the EUPHA conference 2005 in Graz, which was an extraordinary achievement because this was the only conference that was organized with three country local partners (together with Slovenia and Croatia). He was also a member of the local supporting committee in the EPH Conference 2016 in Vienna. It is with sadness and respect that we say goodbye to EUPHA's past president R. Horst Noack.
EUPHAnxt mentoring programme
If you are a student or an early career professional and you feel that a bit of guidance would help you and your career EUPHAnxt has the perfect programme for you - the EUPHAnxt mentoring programme. The EUPHAnxt mentoring programme aims to connect the next generation of European public health professionals to more experienced professionals in the field, as well as provide a platform for young public health professionals to expand their professional network. The programme is an opportunity for students and young professionals in the field of public health to get in contact with those more established in the field.
Are you a student or young professional in public health? Apply for the mentoring programme by 15 June!
Conference on Strategic Litigation and Public Health 15 & 16 June 2023
The hybrid conference on Strategic Litigation and Public Health is hosted by the Law & Non-Communicable Diseases Research Unit at the University of Liverpool, co-organised by our EUPHA Law and public health section and organised in partnership with many organisations.
Join us in exploring how strategic litigation can contribute to the promotion of better health for all.
For more information view the conference flyer and follow #SLPH2023.
Registration (for both online and in-person) is done here.
Share your perspectives: Students and early career public health professionals competencies consultation
We invite you to complete the short survey on WHO-ASPHER Competencies for Public Health Workforce in the European Region, sharing your perspective with us. The objective of the survey is to identify what are the most relevant/important competencies for students and early career public health professionals. In order to have relevant programmes, training and courses, it is crucial to have your perspective on what is relevant for you in the current labour market. The data collected through this survey will be reflected in a joint EUPHA-ASPHER paper for the European Journal of Public Health. If you are a student or an early career professional and you want to get your voice heard, fill in this survey to let us know which competencies are more important for you. Help us understand what you need.
HealthData@EU Pilot project


Within the HealthData@EU Pilot project, EUPHA, as workpackage leader, is overseeing dissemination and communication activities including the dissemination of the project's results. This EU-funded project will build a pilot version of the European Health Data Space (EHDS) infrastructure for the secondary use of health data "HealthData@EU" which will serve research, innovation, policy making and regulatory purposes.
Since the launch of the project in October 2022, various milestones have been reached. These include the Proof Of Concept communication which provides a first high-level vision of the target architecture and the organisational framework to implement an EHDS solution. To find out more about this project and its upcoming results, visit the project website here and/or follow project's social media channels on Twitter and LinkedIn.
PROPHET project


Led by the Universita Cattolica Del Sacro Cuore (Rome, Italy), the EU-funded PROPHET, a PeRsOnalized Prevention roadmap for the future HEalThcare, project aims to develop a Strategic Research and Innovation Agenda (SRIA) for Personalised Prevention, in order to support the implementation of innovative, sustainable and effective personalised programmes to prevent common chronic diseases. EUPHA is carrying out various tasks to contribute to the SRIA, the stakeholder forum, capacity building for health professionals and communication and dissemination activities. In May, the PROPHET project has launched its new website and social media channels (Twitter and LinkedIn) where the first results will be available soon. The first project newsletter will be sent out in June. Don't forget to subscribe here.

3. European Public Health Week
The fifth European Public Health Week (EUPHW) took place last week, from May 22 to 26. This highly anticipated event involved organisers and participants across 40 European countries. The theme for this year's EUPHW was "Public health: Global issues, local actions." Throughout the week, a remarkable total of 224 events were organised, covering a wide array of topics related to public health, in various formats and aimed at different audiences. Each day focused on specific themes, allowing participants to delve deep into discussions, share knowledge, and foster meaningful connections.
We are pleased to announce that recordings of the daily kick-off webinars, as well as the opening event of the week, are now available on our website. Whether you missed an event or wish to revisit a particularly inspiring session, you can access these recordings at your convenience. Additionally, we encourage you to explore the 2023 EUPHW key messages document.
We extend our heartfelt gratitude to all those who contributed to the success of the fifth European Public Health Week. We thank the event organisers for their hard work and dedication in curating an exceptional programme. Our appreciation also goes out to the disseminators who helped spread the word about the EUPHW. To all the event participants, we are grateful for your active engagement and insightful contributions. We also extend our appreciation to our daily partners, whose support was instrumental in making this week a success.
If you wish to stay informed about the EUPHW, whether it's the recap of this year's edition or announcements for the 2024 EUPHW, consider sending us an email at euphacommunications@eupha.org, asking to be subscribed to the dedicated EUPHW newsletter.

4. European Public Health Conference
16th EUROPEAN PUBLIC HEALTH CONFERENCE, DUBLIN, IRELAND, 8 - 11 NOVEMBER 2023
OUR FOOD, OUR HEALTH, OUR EARTH: A SUSTAINABLE FUTURE FOR HUMANITY
Pre-conference programme
Pre-conferences are held on Wednesday 8 November. The programme is available here. Pre-conferences are held for half day (morning or afternoon) or full day. Attending a pre-conference requires separate registration. This can be done while registering for the main conference but can also be added to your existing registration at a later time. Registration fees are €75 and €150. Sponsored pre-conferences are €20. All pre-conferences are offered including network buffet lunch.
Plenary programme
Plenary 1: Transitioning to more sustainable food systems that support health and wellbeing
Organiser: EuroHealthNet. Thursday 9 November, 14:00 – 15:00 Dublin time (UTC)
Food is central to our health and well-being, yet many aspects of our food systems have become unhealthy and unsustainable. Our food systems today contribute significantly to, and are being destabilized by, the environmental crises we are facing. They have also contributed to creating, entrenching and widening health inequalities across Europe. This plenary session will focus on what measures are urgently needed and must be prioritized to ensure more sustainable food systems and to improve health and well- being across Europe. Read more.
With: Suzanne Costello, Institute of Public Health, Ireland; Tim Lang, City, University of London, United Kingdom; Gunhild A. Stordalen, EAT Foundation, Norway; Anant Jani, PI FEAST, University of Heidelberg, Germany Others to be confirmed.
EUPHA members register with benefits
EUPHA members benefit from early bird registration fees until 1 September. EUPHA members and delegates from Ireland pay € 690 before 1 September, non-members € 775, Students, trainees and colleagues from low- and middle-income countries pay € 400 (all including VAT).We are expecting over 1,500 delegates in Dublin. Meet your colleagues at the largest public health event in Europe during four fully packed conference days. More information here.
Abstract submission results
Thank you for submitting your abstract for the EPH Conference 2023. We received a record number of 2,316 single abstracts and 255 workshop abstracts which are now being reviewed by our experts in the International Scientific Committee. Results of the abstract submission will be communicated to you by mid-June. Keep an eye on your inbox and spam folder! Accepted abstracts are published in the Abstract Supplement of the European Journal of Public Health but only if you have registered for and presented at the conference.
Theme and programme
The 16th EPH Conference will be held in Dublin, Ireland, from 8 – 11 November 2023. Theme of the EPH conference 2023 is: Our Food, Our Health, Our Earth: A Sustainable Future for Humanity. Read more.
Conference venue
The 16th EPH Conference will be held in The Convention Centre Dublin. The CCD is one of Europe's most environmentally-friendly venues. In 2021, the CCD secured ISO 20121 accreditation, which is a recognized international accreditation that demonstrates commitment to running sustainable events. With a structured approach addressing climate change, waste and biodiversity, The CCD is committed to achieving its sustainability vision. Read more.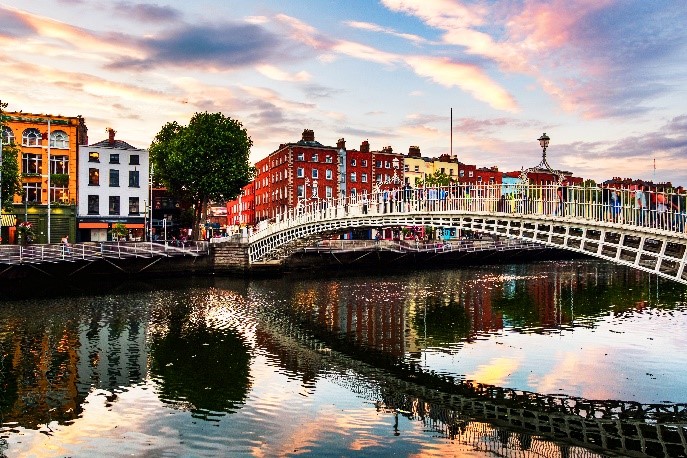 5. EUPHA members update
New Institutional member: Department of Global Public Health and Primary Care
We warmly welcome the Department of Global Public Health and Primary Care of the University of Bergen in Norway to the EUPHA network and look forward to a fruitful cooperation.
EUPHA members respond to pandemic treaty survey
This month, EUPHA members were consulted about the pandemic treaty. In a short questionnaire they were asked to share to what extend they were aware of the ongoing pandemic treaty negotiations; engaged in these negotiations; and how EUPHA could support with the national-level advocacy. The results were presented at the daily kick-off of the Friday of the European Public Health Week. The recording of this webinar is availale here (survey results start at 43 minutes).
Three country case studies presented by EUPHA members @Opening event of the European Public Health Week
The 2023 European Public Health Week launched with an opening webinar on the first day of the Week, Monday, May 22. We discussed burning global issues in public health and showcased initiatives by three EUPHA members from around Europe, trying to tackle those issues with local actions.
EUPHA members contributions were from Prof. Andrzej Fal (Polish Society of Public Health), Dr. Maria Gabriela Barbaglia Navarro (Spanish Public Health Society), and Prof. Christos Lionis (University of Crete). Thank you all for your participation!
The recording of this opening event is available here.
7. Call for proposals, job opportunities
ECDC Director vacancy now open
The next ECDC Director will have a key role in achieving the Centre's vision to improve lives in Europe and globally, by applying scientific excellence and empowering EU Member States, the European Commission, and other partners to drive public health policy and practice.
Accountable to ECDC's Management Board, the Director is the Centre's legal representative and public face, takes overall responsibility for its operations, and ensures that it achieves its objectives. The appointment is for an initial period of five years, with a possible prolongation for a maximum five years. The post is available from 16 June 2024.
The deadline for the submission of applications is 26 June 2023, 12:00 noon CEST.
Click here for more information.
The next Executive Director of the European Food Safety Authority (EFSA)
The European Commission (EC) has launched a call for the next Executive Director of the European Food Safety Authority (EFSA). Eligible candidates are invited to apply by 26 June 2023.
8. Interesting news
Promoting and protecting health amidst the rising cost-of-living crisis
The new Policy Précis by EuroHealthNet provides an overview of EU policies, tools and programmes that can help governments at all levels strengthen measures to mitigate the negative economic, social and health consequences at individual and societal levels. It provides inspirational examples of how public authorities are taking action to implement more health-promoting social protection and care services.
Webinars from the European Observatory on Health Systems and Policies
Human Resources for Health Spotlight Webinar Series (European Observatory & WHO)
Upcoming webinars
ECDC on air: Insights on the process of building the EU Health Task Force
In the latest episode of the ECDC on Air (podcast series): Orla Condell, an Emergency Preparedness and Response expert shares her insights on the process of building the EU Health Task Force. Listen here or anywhere you get your podcasts fron.
Global regulators agree on way forward to adapt COVID-19 vaccines to emerging variants
International regulators have published a report today highlighting the outcomes of their discussions on COVID-19 vaccines and the need for and strategy to update their composition based on the emerging evidence on coronavirus SARS-CoV-2 variants and lessons learned from previous vaccine updates. The workshop, co-chaired by the European Medicines Agency (EMA) and the US Food and Drug Administration (FDA), was organised under the umbrella of the International Coalition of Medicines Regulatory Authorities (ICMRA) and took place on 8 May 2023.
Read the full EMA news item here.
9. Upcoming courses and conferences
AI4Health Summer School
3 Jul 2023 - 7 Jul 2023 / Paris, France and online
Organiser: Interdisciplinary Institutes for Artificial Intelligence, MIAI, 3IA Côte d'Azur, Health Data Hub
Connecting Health & Climate Change
11 Oct 2023 - 12 Oct 2023 / Stockholm, Sweden
Organiser: EU funded ENBEL project by Umeå University, University of Tartu and CICERO Center for International Climate Research
10. Interesting publications
A study is 21 times more likely to find unfavourable results about the nutrition label Nutri-Score if the authors declare a conflict of interest or the study is funded by the food industry
BMJ Global Health | 19 May 2023
This review shows that industry-funded research focuses on narrative reviews aimed at casting doubt on the relevance of findings of previous scientific papers whose results are favourable to Nutri-Score. Taking into account conflicts of interest and industrial funding appears to be an important indicator when assessing the relevance and the performance of a public health tool such as FoPNL Nutri-Score.
Fixing the health workforce crisis in Europe: retention must be the priority
BMJ | April 2023
This opinion piece starts off by stating that Health and care workers in all parts of Europe are experiencing overwork, with high levels of burnout.
The launch of the EU Health Emergency and Preparedness and Response Authority (HERA): improving global pandemic preparedness?
Health Policy | 27 May 2023
This article concludes that HERA offers an opportunity to strengthen the ability of health systems in Europe and beyond to respond to health emergencies. Yet, we argue, HERA now faces challenges in developing a sustainable structure and achieving its work plan effectively and efficiently.
11. European Institutes news
Mental health projects for mentally healthy communities
The European Mental Health Week ran from 22-28 May and its theme focused on mentally healthy communities. The European Commission has long been dedicated to improving the mental health of European citizens. Under EU health and research programmes, the Commission has been investing in projects promoting mental health and aiming to prevent, diagnose and treat mental illnesses. Learn more about these mental health projects here.
European Week Against Cancer 2023: showcasing EU4Health supported cancer projects
On the occasion of the European Week Against Cancer, the Commission is raising awareness of EU4Health funded cancer projects, which contribute to the aims of Europe's Beating Cancer Plan. Launched in 2021, the EU Cancer Plan is a political commitment to turn the tide on cancer and together with the EU Mission on Cancer, it is advancing on a number of fronts.
European Medicines Agency annual report 2022
EMA's 2022 annual report highlights the Agency's most significant achievements in 2022.
This includes EMA's core regulatory activities to protect public and animal health in the EU, and the European medicines regulatory network's response to COVID-19 and monkeypox.
It also highlights EMA's activities to implement new EU legislation reinforcing the Agency's role in preparing for and managing crisis situations affecting the EU single market for medicines and medical devices.
The report is available here.
SANT: Hearing on 'Preventing non-communicable diseases'
On the 1 June Subcommittee on Public Health (SANT) of the European Parliament will hold a hearing on 'Preventing non-communicable diseases', which will focus on measures to prevent such diseases. NCDs refers to a group of conditions that are not mainly caused by an acute infection, result in long-term health consequences, often create a need for long-term treatment and care (cancers, cardiovascular disease, diabetes and chronic lung illnesses). Hearing will be followed by an exchange of views on SANT own-initiative report on 'Mental health'.
Committee on Women's Rights and Gender Equality (FEMM)
On Wednesday, 24 May, the FEMM Committee organised a hearing on "Gender aspects of defence, peace and security".
The next FEMM committee meetings will take place 5, 26 and 27 June 2023.
Involving young people in a sustainable future for Europe
The EU should do more to get young people involved in developing policy for a sustainable future, ministers for youth said in Brussels today. Read the full press release of the European Council here.
12. European Centre for Disease Prevention and Control news
Eurosurveillance - Volume 28, Issue 15, 13 April 2023
Eurosurveillance - Volume 28, Issue 16, 20 April 2023
Eurosurveillance - Volume 28, Issue 17, 27 April 2023
Eurosurveillance - Volume 28, Issue 18, 04 May 2023
Eurosurveillance - Volume 28, Issue 19, 11 May 2023
Eurosurveillance - Volume 28, Issue 20, 18 May 2023
Eurosurveillance - Volume 28, Issue 21, 25 May 2023
13. WHO news
World No Tobacco Day Awards 2023: inspiring European advocates
WHO has announced the winners of the 2023 World No Tobacco Day (WNTD) Awards, celebrating the achievements of five inspiring individuals and organizations from across the European Region. These trailblazers have demonstrated exceptional dedication and innovation in the field of tobacco control, pushing the boundaries to create a healthier, tobacco-free future for all.
From securing a strong tobacco control strategy in Belgium, leading a groundbreaking educational campaign in Greece and advocating for comprehensive tobacco control measures in Kazakhstan, to ensuring continuation of the prevention and cessation of tobacco use in Slovenia during the COVID-19 pandemic and contributing to a better understanding of the attractive, addictive and toxic properties of tobacco and nicotine products, these awardees have made a significant impact.
How can we assess the benefits of urban nature?
The potential of urban green and blue spaces to generate better health and well-being is outlined in a new report, which also presents methodologies to assess the value of these impacts on society. "Assessing the value of urban green and blue spaces for health and well-being" is part of a growing body of evidence which supports more consistent decision-making from policy-makers about urban spaces, by illuminating their multifunctional benefits, as well as the potential trade-offs inherent in their provision.
Why rethink mobility in the WHO European Region?
Statement by Dr Hans Henri P. Kluge, WHO Regional Director for Europe, on the occasion of the 7ᵗʰ UN Global Road Safety Week, 15–21 May 2023
A world emerging from the COVID-19 pandemic offers no better time for governments and their partners to rethink road transport and mobility. Read the full statement here.

Funded by the European Union. Views and opinions expressed are however those of the author(s) only and do not necessarily reflect those of the European Union or HaDEA. Neither the European Union nor the granting authority can be held responsible for them.
Unsubscribe
If you would like unsubscribe from the EUPHA newsletter then please click here.