The European Public Health Association
Newsletter - February 2023
| | | |
| --- | --- | --- |
| | Newsletter - February 2023 | |
1. Editorial
Welcome to our second newsletter of this year. It was one year ago that the Russian Federation invaded Ukraine - read our EUPHA statement on this. In this newsletter we highlight the upcoming EUPHA powered webinars, the latest issue of our European Journal of Public Health, and, as always, updates from the European institutions and WHO/Euro. In case you have not already done so: mark your calendar for the fifth European Public Health Week taking place 22 to 26 May.
Wishing you a pleasant reading,
Iveta Nagyova, EUPHA president and Marieke Verschuuren, Executive Director
2. EUPHA update
One year of war in Ukraine: we cannot allow 'war fatigue' to kick in
Today one year ago, the Russian Federation invaded Ukraine. The amount of human suffering and systemic destruction that have happened since are beyond comprehension. EUPHA reiterates the calls made one year ago, which are, unfortunately, still as valid today as they were one year ago.
Read the full EUPHA statement here.
Webinar

International Women's Day - Health policy and global health crises: why we need feminist intersectional approaches and what to learn from COVID-19?

March 7 - 19:00 - 20:00 CET

Organised by: EUPHA-HWR, EUPHA-PHPP, EUPHA-SGMH, EUPHA-MIG, EUPHA Working Group on SDG5, EUPHAnxt
Webinar powered by: EUPHA
We invite you to join us in celebrating (the evening before) 8 March International Women's Day and critically reflect on the lessons to be learned from the COVID-19 pandemic. An international group of speakers seeks to highlight policy gaps and discuss how gender inequalities exacerbated in the shadow of a major global health crisis and how they intersect with other inequalities and new migration flows. Why did health policy failed so badly to protect women, minorities, and vulnerable groups, and what role did public health play? The webinar seeks to explore ways to create a 'new normal' that is better equipped to protects human rights, equality and equality, and the crucial role of feminist networks and research.
Find more information here.
Register here.
Webinar

Migrant healthcare workers during the COVID-19 pandemic: why we should worry about health systems and governance March 14 - 14:00 - 15:00 CET

Organised by: GLOHRA Project PROTECT, in collaboration with EUPHA Health Workforce Research (EUPHA-HWR) and Public Health, Babeș-Bolyai University, Romania
Chairs: Ellen Kuhlmann and Marius Ungureanu
Hosts: Marius Ungureanu and Monica Brînzac, Babeș-Bolyai University, Romania
Webinar powered by: EUPHA
Migrant healthcare workers played a crucial role in maintaining healthcare delivery and resilience of the health system during the COVID-19, but were largely absent from pandemic policy, and the literature highlights inequalities and structural racism. This webinar calls for greater attention to migrant HCWs. However, simply adding the migration status is not enough.
We introduce an intersectional health system-based approach. Results from the German PROTECT project will be contrasted with the situation in the United Kingdom and Brazil, where evidence of disadvantages of migrant healthcare workers seem to be strongest. Key stakeholders in the field will comment and add evidence from a health system, management, profession and policy perspective, thus stimulating critical debate and policy solutions.
Find more information here.
Register here.
Strategic Litigation and Public Health Conference - save the date
15-16 June 2023, Liverpool, UK
More information will follow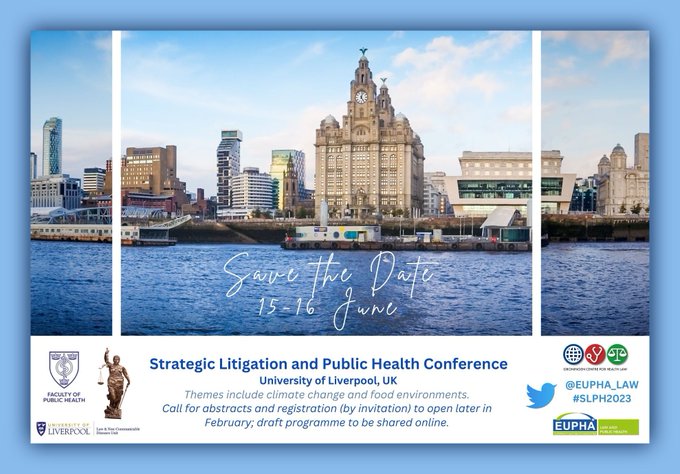 EUPHA's annual activity report 2022 published
Every year, EUPHA publishes an overview report of its work. The 2022 report is now available on our website in two formats: an 8-page summary highlighting key activities and achievements, and a full report with a comprehensive overview of all the EUPHA work carried out last year. Highlights of 2022 include the many activities of EUPHA and the EUPHA sections at the 15th Public Health Conference in Berlin, with a record number of over 2,500 delegates attending; the fourth edition of the European Health Week with 254 events organised in 32 countries and 21 languages; the impact factor of our scientific journal, the European Journal of Public Health, increasing to 4.424; a range of advocacy activities including statements, responses to public consultations, and being represented in key European stakeholder and advisory groups; and our increased visibility on social media.
We thank our members, our Executive Council, the EUPHA sections, EUPHAnxt, and all other EUPHA ambassadors for their contributions to all these activities and for their support to EUPHA's mission: together we work to facilitate and activate a strong voice of the public health network by enhancing visibility of the evidence and by strengthening the capacity of public health professionals.
The annual report is available here.
EUPHA's response to consultation on mental health
EUPHA and EUPHA Public mental health section have responded to the European Commission's public consultation on 'A comprehensive approach to mental health'. EUPHA's members have identified mental health as a top priority for public health. EUPHA therefore welcomes and values the approach to put mental health in the spotlight of interest of policy makers in the European Union. However, EUPHA urges the Commission to apply a systemic public health perspective, including a life course approach. Read more.

3. European Public Health Week
Only three months to go until this year's European Public Health Week (EUPHW). Might not seem like only but we all know that May will come in no time. So, make sure to mark your calendars between May 22nd and 26th, for a week packed full of interesting events. Also, please consider getting actively involved.
The 2023 European Public Health week and its sub-themes
The overarching theme of this year's fifth in a row, European Public Health Week is "Global issues, local actions".
Each day of the 2023 European Public Health Week will focus on a different sub-theme:

How to get involved with the EUPHW in 2023?
There are three, mutually non-exclusive, ways to get involved. Most importantly, we encourage you to host an event during the week. This is a great way to promote your work, spotlight relevant topics and get everyone - from public health professionals to the general public - involved. Also, help us spread the word about the EUPHW as a disseminator. And, of course, we are looking forward to welcoming you as participants during many 2023 EUPHW events. Get involved and let's make a case for public health!
Sub-themes
Daily sub-themes were created as a motivation and to provide you with some ideas for organising events. You can find them by clicking on one of the days in the 5 daily themes webpage. Importantly, these sub-themes are not here to limit the scope of your events! If you are having doubts on which day you should organise your event, email us at
euphacommunications@eupha.org. Our team is here to help you.
Stay up-to-date
If you wish to receive the newest updates on the EUPHW, you can subscribe to our EUPHW newsletter by sending an e-mail to euphacommunications@eupha.org.
4. European Public Health Conference
16th EUROPEAN PUBLIC HEALTH CONFERENCE Dublin 8 – 11 November 2023
OUR FOOD, OUR HEALTH, OUR EARTH: A SUSTAINABLE FUTURE FOR HUMANITY
Abstract submission is open
Abstract submission for the in person 16th EPH Conference 2023 is open until 1 May 2023, 18:00 CET. Abstracts are invited for workshops, oral presentations, pitch presentations and ePosters. All sessions will be 60 minutes. Do not miss the opportunity to be recognized for your hard work. Learn from each other and share your knowledge with others. More information.
Win a waiver for the next EPH Conference
Submit an abstract for Dublin 2023 and win a waiver for the next EPH Conference. Each year the EPH Conference offers a prize for the best single abstract. The prize is determined by the scoring of the EPH Conference International Scientific Committee. The winner will be awarded a certificate and waiver of registration fees for the next EPH Conference in Lisbon.
Take part in the 'Ference Bojan Young Investigators Aware' Competition
The best five abstracts, submitted by young researchers (under 35y), will be presented in the Ferenc Bojan Young Investigators Award session. The Ferenc Bojan session is an oral session, but with a jury consisting of experienced researchers to select the best abstract/ presentation combination. The winner will be awarded a certificate and waiver of registration fees for the next EPH Conference in Lisbon. Read more.
Abstract tutoring programme
Do you need help with your abstract? In collaboration with EUPHAnxt we provide an Abstract Tutoring Programme offering an opportunity for young and/or less experienced abstract submitters to receive feedback from experienced reviewers. Check for more details here.
Registration
Registration for the 16th EPH Conference in Dublin opens 1 April 2023. Registration fees will be announced shortly on our website.
Conference venue
The 16th EPH Conference will be held in The Convention Centre Dublin. The CCD is one of Europe's most environmentally-friendly venues. In 2021, the CCD secured ISO 20121 accreditation, which is a recognised international accreditation that demonstrates commitment to running sustainable events. With a structured approach addressing climate change, waste and biodiversity, The CCD is committed to achieving its sustainability vision. Read more.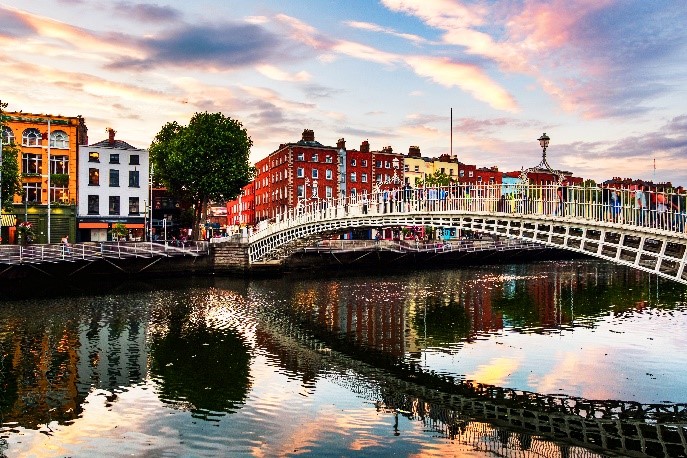 5. EUPHA members update
EUPHA supports advocacy of its member UK Faculty of Public Health on Child Food Insecurity
The UK's public health leaders have written to Prime Minister Rishi Sunak outlining three key actions to tackle child food poverty and help support a healthy population and productive economy. The letter, headed by the Faculty of Public Health, the Association of Directors of Public Health, the Royal Society for Public Health, and the School and Public Health Nurses Association, has received widespread support from Parliamentarians and third-sector organisations, including EUPHA. The letter calls on the Prime Minister to support the health and development of children in the UK by expanding access to Free School Meals, the National School Breakfast Programme, and the Healthy Start scheme. Read more.

6. European Journal of Public Health
Volume 33, Issue 1, February 2023
EDITORIALS
Personalized prevention in oncology: integrating the current approaches for the benefit of population health
Stefania Boccia, Walter Ricciardi
Four decades of screening and brief alcohol intervention research: the peg and the hole
Per Nilsen, Sven Andréasson

COMMENTARY
Violence against healthcare workers is a political problem and a public health issue: a call to action
Ellen Kuhlmann, Monica Georgiana Brînzac, Katarzyna Czabanowska, Michelle Falkenbach, Marius-Ionut Ungureanu, George Valiotis, Tomas Zapata, Jose M Martin-Moreno

SOCIAL DETERMINANTS
Youth organizations, social mobility and health in middle age: evidence from a Scottish 1950s prospective cohort study
L Berrie, L Adair, L Williamson, C Dibben
Income differences in partial life expectancy between ages 35 and 64 from 1988 to 2017: the contribution of living arrangements
European Journal of Public Jade Knop, Pekka Martikainen, Hanna Remes, Lasse Tarkiainen
Perinatal mortality in Ireland: inequalities by socio-economic group and country of birth
Katie Duffy, Sheelah Connolly, Anne Nolan, Bertrand Maître
Defining vulnerability subgroups among pregnant women using pre-pregnancy information: a latent class analysis
J M Molenaar, L van der Meer, L C M Bertens, E F de Vries, A J M Waelput, M Knight, E A P Steegers, J C Kiefte-de Jong, J N Struijs

HEALTH SERVICES RESEARCH
Regulations on palliative sedation: an international survey across eight European countries
Eduardo Garralda, Csilla Busa, Éva Pozsgai, Veronika Osztromok-Lukacs, Agnes Csikós, Lukas Radbruch, Jeroen Hasselaar, Johan Menten, Sheila Payne, Claudio Adile, Flavia Hurducas, Carlos Centeno
The architecture of the European Union's pandemic preparedness and response policy framework
Dimitri Eerens, Rok Hrzic, Timo Clemens
A realist approach to understanding alliancing within Local Government public health and social care service provision
S Redgate, L Spencer, E A Adams, B Arnott, H Brown, A Christie, C Hardy, H Harrison, E Kaner, C Mawson, W McGovern, P Phillips, J Rankin, R McGovern
The impact of switching from single-use to reusable healthcare products: a transparency checklist and systematic review of life-cycle assessments
Mattis Keil, Tobias Viere, Kevin Helms, Wolf Rogowski
Cervical cancer screening history among women diagnosed with cervical cancer in Estonia 2017–18
Madleen Orumaa, Kaire Innos, Maria Suurna, Piret Veerus

WORK AND HEALTH
Work–life interference and physician-certified sick leave: a prospective study of a general working population
Andrea R Marti, Eirik Degerud, Tom Sterud
Adverse social behaviour at work and health-related employment exit: a prospective population-based four-wave survey
Tom Sterud, Andrea R Marti, Eirik M Degerud

MENTAL HEALTH
Labor force participation during COVID-19 and risk of depression: a Danish register study
Sophie S Hellmann, Sanne P Møller, Annette K Ersbøll, Ziggi I Santini, Maj Britt D Nielsen, Morten K Grønbæk, Ola Ekholm, Lau C Thygesen
European public mental health responses to the COVID-19 pandemic
Naomi Wilson, Shari McDaid, Frank Wieber, Jutta Lindert
Macroeconomic fluctuations and individual use of psychotropic medications: evidence from Swedish administrative data
Margareta Dackehag, Lina Maria Ellegård, Ulf-G Gerdtham, Therese Nilsson

MIGRATION
Women's health in migrant populations: a qualitative study in France
Lisa Ouanhnon, Pauline Astruc, Anne Freyens, Pierre Mesthé, Karine Pariente, Daniel Rougé, Laetitia Gimenez, Marie-Eve Rougé-Bugat
Period effects in the risk of labour market marginalization among refugees in Sweden: a register-based cohort study
Stefanie Kirchner, Ridwanul Amin, Thomas Niederkrotenthaler, Alexis E Cullen, Katalin Gémes, Magnus Helgesson, Ellenor Mittendorfer-Rutz

AGEING
Top and bottom longevity of nations: a retrospective analysis of the age-at-death distribution across 18 OECD countries
Stéphane Verguet, Miyu Niwa, Sarah Bolongaita
Burden of disease among older adults in Europe—trends in mortality and disability, 1990–2019
Kim Moesgaard Iburg, Periklis Charalampous, Peter Allebeck, Elsa Jonsson Stenberg, Rónán O'Caoimh, Lorenzo Monasta, José L Peñalvo, David M Pereira, Grant M A Wyper, Vikram Niranjan, Brecht Devleesschauwer, Juanita Haagsma

OVERWEIGHT, PHYSICAL ACTIVITY
EDITOR'S CHOICE: Increased incidence of overweight and obesity among preschool Swedish children during the COVID-19 pandemic
Anna Fäldt, Sahar Nejat, Sofia Edvinsson Sollander, Natalie Durbeej, Anton Holmgren
Impact of a public open-access community-based physical activity and fall prevention program on physical performance in older adults
Manuel Sanchez, Jean-Sébastien Vidal, Astrid Bichon, Camille Mairesse, Christiane Flouquet, Olivier Hanon, Agathe Raynaud-Simon

MISCELLANEOUS
Survey of Professionals of the European Public Health Association (EUPHA) towards Direct-to-Consumer Genetic Testing
Flavia Beccia, Ilda Hoxhaj, Michele Sassano, Jovana Stojanovic, Anna Acampora, Roberta Pastorino, Stefania Boccia
Estimating the worldwide burden of health loss due to hearing loss
Riccardo Nocini, Brandon M Henry, Giuseppe Lippi, Camilla Mattiuzzi

CORRECTION
Correction to: Burden of cardiovascular diseases and depression attributable to psychosocial work exposures in 28 European countries
Correction to: Trends in smoking-attributable mortality in Spain: 1990–2018
Correction to: Ringing the bell for quality P.E.: What are the realities of remote physical education?

EUROPEAN PUBLIC HEALTH NEWS
European Public Health News
Marieke Verschuuren, Satish Mishra, Hedinn Halldorsson, Natasha Azzopardi Muscat, Faith Kilford Vorting, Hans Henri P Kluge, Anthony Staines, Floris Barnhoorn

THANK YOU TO REVIEWERS
Thank you to reviewers
Peter Allebeck, Diana Delnoij, Alastair Leyland, Walter Ricciardi, Róza Ádány, Stefania Boccia
7. Call for proposals, job opportunities
Request for proposals: Hosting the European Observatory Venice Summer School 2023
The World Health Organization (WHO) invites vendors to submit their best offer to Request for Proposals 2023/EURO/OBS/0001.
The purpose of this Request for Proposals (RFP) is to enter into a contractual agreement with a successful bidder and select a suitable contractor to carry out the following work: hosting the 2023 edition of the European Observatory Venice Summer School (to take place from Sunday 23 July to Saturday 29 July 2023).
For more details go here.
Scientific Officer Communicable Diseases Prevention and Control
Applications are invited for this Contract Agent post at the European Centre for Disease Prevention and Control (ECDC). More information is available here.
8. Interesting news
Closing report: Boosting the development of medicines for children
Regulators in the European Union (EU) have taken several initiatives in the past four years to increase the efficiency of paediatric regulatory processes and boost the development of medicines for children. These achievements are highlighted in the closing report of the EMA and European Commission (EC) action plan on paediatrics.
Some of the key improvements brought by the paediatric action plan include:
Strengthened focus on unmet medical needs.
Adapting regulatory processes to better support innovation.
Increased alignment of data requirements between decision-makers.
For more details please check out the report here.
Health System Summary: Estonia, Italy, Austria and Germany
Health System Summaries that are published by the European Observatory on Health Systems and Policies are stand-alone, concise documents summarizing the main elements of a country's health system in an engaging, policy-relevant way. They analyse core evidence and data on the organization, financing and delivery of health care. They also provide insights into key reforms and the varied challenges testing the performance of the health system. The four latest summaries are: Estonia, Italy, Austria and Germany.
Energy poverty - a mini documentary
Over the last decade, Brest métropole (FR) has fully engaged in the fight against fuel poverty, including at European level via the Climate Active Neighbourhoods (CAN) Interreg project. Watch the short video here.
Extension of HPV vaccination programme to boys in the Netherlands
In the Netherlands, human papillomavirus (HPV) vaccination was introduced in 2010 in the national immunization programme, targeted towards adolescent girls in the year they turned 13 years old. In 2022, the HPV vaccination programme was extended to boys, with the first round of vaccinations held in March and April 2022. Learn more here.
European healthcare professionals unite for the future of vaccination
At the beginning of this year, nearly 100 experts from across Europe gathered to discuss European and national vaccination policies and healthcare professionals' role in increasing vaccine confidence and uptake. More information on this event is available here.
9. Upcoming courses and conferences
Scientific Reporting and Writing
4 May 2023 - 6 May 2023 / Online event
Organiser: Institute of Public Health, Medical Decision Making and Health Technology Assessment UMIT TIROL - University for Health Sciences and Technology
10. Interesting publications
E-cigarette manufacturers' compliance with clinical trial reporting expectations: a case series of registered trials by Juul Labs
BMJ | Tobacco Control | January 2023
Our findings raise substantial concerns regarding these trials. Clinicians, public health professionals, and the public cannot make informed choices about the benefits or hazards of e-cigarettes if the results of clinical trials are not completely and transparently reported. Clarification and potential enforcement of reporting laws may be required.
Read more
High drug prices are not justified by industry's spending on research and development
BMJ | February 2023
Aris Angelis and colleagues argue that by refocusing their spending drug companies could provide more innovative drugs at affordable prices.
Read more
The EU has a global health strategy: the challenge will be in the implementation
The Lancet | Comment |February 2023
The EU's new Global Health Strategy is wide-ranging and ambitious. But it might best be regarded as work in progress and the basis for the necessary next step that will require extensive engagement within and beyond the EU to create a shared vision for global health, governance mechanisms that can keep it on track, and the strong leadership and sustained commitment to steer it through the many challenges ahead.
Read more
The impact of COVID-19 on psychiatric and mental health services in Europe: suffering experienced by professionals
BMC | Health services } November 2022
The COVID-19 health crisis has had varying impacts depending on the profession and access to remote work, sometimes leading to conflicts within the teams. The suffering expressed by the professionals was tied to their values and patterns of investment in work.
Read more
Use of natural experiments to evaluate public health policy
The Lancet | Public Health | March 2023
A key task of public health research is investigation of the causal effect of policies aimed at improving health outcomes. However, such a task is often challenging because a study in which a population is randomised into exposed and unexposed groups is generally not feasible owing to practical and ethical constraints. In certain settings, a so-called natural experiment resulting from a policy implementation can be used to estimate the causal effect of non-experimental interventions.
Read more
Measuring the Burden of Infodemics: Summary of the Methods and Results of the Fifth WHO Infodemic Management Conference
JMIR | Infodemiology | February 2023
An infodemic is excess information, including false or misleading information, that spreads in digital and physical environments during a public health emergency. The COVID-19 pandemic has been accompanied by an unprecedented global infodemic that has led to confusion about the benefits of medical and public health interventions, with substantial impact on risk-taking and health-seeking behaviors, eroding trust in health authorities and compromising the effectiveness of public health responses and policies. Read more
11. European Commission news
Parliament sets up new Public Health subcommittee
The new Public Health subcommittee of the European Parliament, established under the umbrella of the Committee on the Environment, Public Health and Food Safety (ENVI), will comprise 30 members. It will deal with programmes and specific actions in the field of public health, pharmaceutical and cosmetic products, health aspects of bioterrorism, the European Medicines Agency, and the European Centre for Disease Prevention and Control. Learn more here.
Europe's Beating Cancer Plan: Commission presents first Country Cancer Profiles under the European Cancer Inequalities Registry
On World Cancer Day, 4 February, the Commission and the Organisation for Economic Co-operation and Development (OECD) present the first Country Cancer Profiles under the European Cancer Inequalities Registry for all EU Member States, Norway and Iceland.
Factsheet - Europe's Beating Cancer Plan: Supporting actions to reduce inequalities
View the factsheet here.
First meeting of the Public Health Expert Group sub-group on mental health
The sub-group on mental health under the aegis of the new Public Health Expert Group (PHEG) held a first virtual meeting on 14 February 2023. It was chaired by DG SANTE and attended by the representatives of 23 EU Member States and Norway, together with Commission services, the World Health Organisation (WHO) and the Organization for Economic Co-operation and Development (OECD).
The objective was to inform Member States on the mandate for the new sub-group on mental health, provide an update on the ongoing work on a comprehensive approach to mental health, and present the draft WHO survey on mental health capacity building needs. Member States were invited to provide feedback and share national priorities and challenges in the field of mental health. Read the flash report here.
12. European Centre for Disease Prevention and Control news
Eurosurveillance - Volume 28, Issue 8, 23 February 2023
Eurosurveillance - Volume 28, Issue 7, 16 February 2023
Eurosurveillance - Volume 28, Issue 6, 09 February 2023
Eurosurveillance - Volume 28, Issue 5, 02 February 2023
13. WHO news
Statement by WHO Euro Regional Director - Ukraine 1 year on: this is not the time to let fatigue win
"I urge a continued backing of Ukraine's courageous people, and solidarity with its formidable health workforce. I can assure you that WHO will continue to stand strong alongside them, delivering health for all, for as long as it takes. This is not the time to let fatigue win." Read the full statement here.
One-third of people in prison in Europe suffer from mental health disorders
New report on prison health in Europe highlights a good COVID-19 response, but raises issues of overcrowding, suicide rates and deficient mental health services.
Read the WHO/Europe report here.
Improving breast cancer survival. A new framework for action
In too many countries, the majority of women are diagnosed too late, multidisciplinary treatment and follow-up care are suboptimal, and supportive and palliative care remain critically underdeveloped. Vulnerable groups and women with lower education and income are more likely to be diagnosed late and have lower survival rates. These inequities can be bridged, but it will require systematic improvements.
The two page technical document is available here.
Risk communication of ambient air pollution in the WHO European Region: review of air quality indexes and lessons learned
According the the World Health Organization, 99% of the world's population is now breathing polluted air. Air pollution kills around 7 million people each year across the globe, and 90% of those affected live in low- & middle-income countries. See the report from the WHO Air quality and health team.

Funded by the European Union. Views and opinions expressed are however those of the author(s) only and do not necessarily reflect those of the European Union or HaDEA. Neither the European Union nor the granting authority can be held responsible for them.
Unsubscribe
If you would like unsubscribe from the EUPHA newsletter then please click here.