The European Public Health Association
Newsletter - January 2023
| | | |
| --- | --- | --- |
| | Newsletter - January 2023 | |
1. Editorial
We are proud to present to you the first EUPHA newsletter of 2023. As you can see, the new year was kicked off with a lot of interesting activities, developments and research outputs. Enjoy the read!
Iveta Nagyova, EUPHA president and Marieke Verschuuren, Executive Director
2. EUPHA update
RIVER-EU published its first results
RIVER-EU (Reducing Inequalities in Vaccine uptake in the European Region - Engaging Underserved communities) of which EUPHA is one of the partners published an article on health system barriers to vaccination, specifically HPV/MMR vaccination among children in Ukrainian migrants in Poland. The study findings have implications for vaccination of migrant children in Poland, as well as other migrants receiving countries. A concerted effort is required to improve migrants' awareness of the significance of vaccinations. Barriers to healthcare access must be recognized by policymakers. Importantly, removing the cost barrier may increase the uptake of the HPV vaccine among Ukrainian migrant adolescents. Please find the paper here
Welcoming our new project officer
In December, Claire Brugerolles was welcomed as a new colleague for the EUPHA team. Claire is EUPHA's project manager and as such she is coordinating EUPHA's involvement in various EU-funded projects, most notably the PROPHET project, which works on a Personalised Prevention Roadmap for Future Healthcare, and the EHDS2-pilot project. In these projects, EUPHA has various tasks and responsibilities related to the dissemination work packages, including website development, social media management, and stakeholder analysis and developing targeted communication products. Claire will be based in EUPHA's Brussels satellite office.
Claire has a background in pharmacy, veterinary medicine and public health, and she has several years of experience working as a scientific project officer. Among others, Claire worked on the Horizon 2020 project Partnership for Research on Ebola VACcinations-extended follow-UP and clinical research capacity build-UP (PREVAC-UP), and on the establishment of the new French Consortium for surveillance and research on EMERgent pathogen infections via microbial GENomics (EMERGEN).
We are very happy that Claire has joined our team to provide much needed support for the project work. We look forward to collaborating with her!
3. European Public Health Week
Have you marked your calendars yet? The European Public Health Week 2023 takes place from May 22-26. The overarching theme is 'Global issues, local actions'. Each day of the European Public Health Week shines a light on a different theme.
From now on, the submission page is opened! Go to this page to submit your event.
The daily themes
Get involved in the EUPHW2023!
We're happy with your support of the EUPHW2023. Did you know you can help in different ways? You could be an event host, or help us spread the word of the EUPHW as disseminator for example. We're also looking forward to welcoming you as a participants during one of the many events! Let's make a case for public health.
Sub themes
Sub themes were created to give you ideas and to stimulate your imagination for organising an event. You can find them by clicking on one of the days at the 5 daily themes page. These sub themes do not limit the scope of the daily themes. If you are having doubts on which day you should organise your event, email us at euphacommunications@eupha.org: our team will be happy to help you.
Stay up-to-date
If you wish to receive the newest updates on the EUPHW, you can subscribe to our EUPHW newsletter by sending an e-mail to euphacommunications@eupha.org.
4. European Public Health Conference
16th EUROPEAN PUBLIC HEALTH CONFERENCE Dublin 2023
OUR FOOD, OUR HEALTH, OUR EARTH: A SUSTAINABLE FUTURE FOR HUMANITY
Welcome to Dublin 2023
The in person 16th EPH Conference will be held in Dublin, Ireland, from 8 – 11 November 2023. Theme of the EPH conference 2023 is: Our Food, Our Health, Our Earth: A Sustainable Future for Humanity. The conference will be held at the CCD, Dublin. Read more.
Abstract submission opens 1 February
Abstract submission for the in person 16th EPH Conference is open from 1 February until 1 May 2023, 18:00 CET. Abstracts are invited for workshops, oral presentations, pitch presentations and E-posters. All sessions will be 60 minutes. Do not miss the opportunity to be recognised for your hard work. More information here.
Abstract tutoring programme
EPH Conference offers an Abstract Tutoring Programme providing an opportunity for young and/or less experienced abstract submitters to receive feedback from experienced reviewers. The programme opens 1 February 2023 and is targeted at researchers who have limited access to colleagues to ask for guidance and comments on their proposed abstracts. More information will be announced on our website.
Conference venue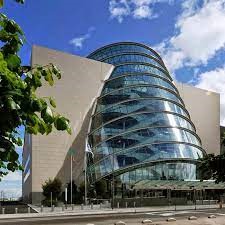 The 16th EPH Conference will be held in the CCD. The Convention Centre Dublin is one of Europe's most environmentally-friendly venues. In 2021, the CCD secured ISO 20121 accreditation, which is a recognised international accreditation that demonstrates commitment to running sustainable events. With a structured approach addressing climate change, waste and biodiversity, the CCD is committed to achieving its sustainability vision. Read more.
Plenary sessions Berlin 2022
The plenary sessions can now be viewed on our YouTube channel here.
5. EUPHA members update
Belgium Association of Public Health assembly meeting January 2023
The Belgium Association of Public Health (BAPH) kicked off the year with an assembly meeting on 20 January in Brussels. On the agenda were 'Sustaining a network, an essential public health skill – experiences from the European Burden of Disease Network'; a presentation of EUPHA including presentation of EUPHA member benefits, EUPHA's tools, and advocacy work on European health policy; plans for a BAPH symposium on 8 June; and BAPH governance issues.

6. European Journal of Public Health
Advance articles - January 2023
Impact of a public open-access community-based physical activity and fall prevention program on physical performance in older adults
Manuel Sanchez, Jean-Sébastien Vidal, Astrid Bichon, Camille Mairesse, Christiane Flouquet, Olivier Hanon, Agathe Raynaud-Simon

Macroeconomic fluctuations and individual use of psychotropic medications: evidence from Swedish administrative data
Margareta Dackehag, Lina Maria Ellegård, Ulf-G Gerdtham, Therese Nilsson

Emergency department outcomes for patients experiencing homelessness in England: retrospective cross-sectional study
Charlie Moss, Laura Anselmi, Matt Sutton

The far-right and anti-vaccine attitudes: lessons from Spain's mass COVID-19 vaccine roll-out
Manuel Serrano-Alarcón, Yuxi Wang, Alexander Kentikelenis, Martin Mckee, David Stuckler

Comparative understanding and preference of Nutri-Score and NutrInform Battery in a sample of Spanish consumers
Morgane Fialon, Nancy Babio, Jordi Salas-Salvadó, Pilar Galan, Emmanuelle Kesse-Guyot, Mathilde Touvier, Mélanie Deschasaux-Tanguy, Barthélémy Sarda, Serge Hercberg,
Nadine Khoury, Lydiane Nabec, Chantal Julia
Violence against healthcare workers is a political problem and a public health issue - a call to action
Kuhlmann, Brinzac, Czabanowska, Falkenbach, Ungureanu, Valiotis, Zapata, Martin Moreno. Eur J Public Health, 2022.
7. Call for proposals, job opportunities
Opportunity to be part of the EUPHAnxt team!
EUPHAnxt is looking for an enthusiastic person to lead and coordinate the activities of EUPHAnxt on professional career development. In particular, coordinating the EUPHAnxt mentoring programme. In general, the person should contribute to EUPHAnxt's mission to create a network between young professionals, strengthen the presence of young professionals in the European public health community and build collaborations with associations of young professionals.
Some of the activities of this role include:
Be the primary responsible for planning and managing our professional career development opportunities.
Coordinating the EUPHAnxt mentoring programme, which includes maintaining contacts with the mentors, mentees.
Participating in the regular meetings of the EUPHAnxt team.
What will you get out of this?
Be part of a dynamic team in the EUPHA family.
Opportunity to get acquainted with the EUPHA network.
The time attached to these activities is approximately four hours per week.
If your believe you are the perfect fit for the EUPHAnxt Career development manager position, please apply! Send a motivational statement (max. 300 words) and CV to
info.euphanxt@eupha.org with the subject line "Application for Career development manager" by 16 February 2022 (12 PM CEST).
8. Interesting news
Online course: 'One Health: Pandemic preparedness, prevention, and response'
This course was developed by the Federation of the European Academies of Medicine (FEAM) and the Karolinska Institutet (KI) as part of the research project Pan-European Response to the Impacts of the COVID-19 and future Pandemics and Epidemics' (PERISCOPE). Through seven modules, it provides basic knowledge and contextualisation of One Health in creeping crises, such as the COVID-19 pandemic.
Learn more
6 Reasons Why New WHO Comment on Health and Cancer Risks From Low Dose Alcohol Use Is a Game Changer
Movendi International | Comment | 7 January 2022
The World Health Organization has published a comment in The Lancet Public Health: when it comes to alcohol use, there is no safe amount that does not harm health. In her opinion column, Kristina Sperkova shares her analysis of the WHO statement and provides 6 reasons why this new WHO publication is a game changer. Read more
Euronews Debates: Can Europe bring healthcare back from the brink?
The COVID-19 pandemic, and ballooning health costs, are putting Europe's healthcare systems under more strain than ever. What should the European Union, its member states, and their citizens do to mitigate this?
Euronews brought together a panel of experts to discuss these often contentious issues, with views from elected politicians, intergovernmental and non-governmental organisations represented. You can watch the entire debate in the video player on the webpage here.
Healthy and active ageing: looking through an economic lens
While ageing does bring challenges, more careful analysis suggests that, with suitable policies, countries will be able to cope. Fortunately at the population level, ageing – that is, the change in the age mix of the population – is a slow process, and we have time to plan. There are tools (e.g., the European Observatory on Health Systems and Policies' PASH simulator) that allow countries to project future health care spending and the revenues needed to pay for care needs, and which allow one to explore the effects of different policies (European Observatory on Health Systems and Policies, 2022; Cylus et al., 2022). The PASH simulator has been used to support policy debates in Europe as well as outside the region (Normand et al., 2022). Read more about this topic at the EuroHealthNet website here.
Alzheimer Europe launches guidelines on ethical and inclusive communication about people with dementia
The guidelines, which are structured around 14 statements, have been developed in tandem with the European Working Group of People with Dementia (EWGPWD) and are targeted at the media, researchers, journalists, policy makers and anyone responsible for the portrayal of or communication about dementia in the public domain.
Learn more
9. Upcoming courses and conferences
Scientific Reporting and Writing
4 May 2023 - 6 May 2023 / Online event
Organiser: Institute of Public Health, Medical Decision Making and Health Technology Assessment UMIT TIROL - University for Health Sciences and Technology
10. Interesting publications
Italy: health system review 2022
Italians can expect to live long lives but changes in health behaviours can further lower morbidity and mortality. Life expectancy has continued to increase and reached 83.6 years in 2019 but fell temporarily in 2020 because of the number of deaths due to COVID-19. The main causes of death in Italy are cardiovascular diseases and cancer, like in most other high-income countries, and as of 2020, infectious respiratory disorders. Regional differences in health indicators are marked and behavioural risk factors such as dietary habits, alcohol and tobacco consumption are major drivers of morbidity: they account for about one-third of all deaths. Read more in the European Observatory for Health Systems and Policies publication here.
Journal of Public Health publishes collection of papers marking FPH's 50th anniversary
This special supplement of the UK Faculty of Public Health's Journal of Public Health — a journal which first entered publication over 100 years ago as the Journal of State Medicine — brings together a collection of influential papers reflecting on the journey that the Faculty, and the public health profession, has been on over the past 50 years.

'Public Health Professionals Delivering Better Health for all: 50 Years of the Faculty of Public Health', edited by Farhang Tahzib, includes papers from professionals working across the entire public health system, with contributors delivering work at local, regional, national, and international level across all areas of public health practice.
Health and cancer risks associated with low levels of alcohol consumption
The Lancet Public Health | Comment | January 2023
In this WHO comment, it is stressed that evidence shows that no safe amount of alcohol consumption for cancers and health can be established. Alcohol consumers should therefore be objectively informed about the risks of cancer and other health conditions associated with alcohol consumption.
Learn more
The arts in public health policy: progress and opportunities
The Lancet Public Health | Health policy | January 2023
There is a growing body of evidence indicating the arts have a role to play in promoting good health and preventing and managing illness. In this article, authors present examples of arts and health policy development from diverse government areas: health, arts, local governments, and cross government.
Read more
The future of global health research, publishing, and practice
The Lancet Global Health | Editorial | January 2023
In this editorial, authors outline a number of initiatives they will take to build on their commitment to making global health research, publishing, and practice a more equitable and effective space.
Read more
A scoping review of community health needs and assets assessment: concepts, rationale, tools and uses
BMC Health Services Research | Research | 17 January 2023
Community health needs and assets assessment is a means of identifying and describing community health needs and resources, serving as a mechanism to gain the necessary information to make informed choices about community health. The current review of the literature was performed in order to shed more light on concepts, rationale, tools and uses of community health needs and assets assessment.
Read more
The Lancet Series on One Health and Global Health Security
The Lancet | Series | 19 January 2023
This four-paper Lancet Series explores the adoption of One Health approaches to improve health security and include an analysis of the current landscape of preventive, surveillance, and response measures in outbreak situations of emerging and re-emerging zoonotic infectious diseases with epidemic potential as well as other potential public health emergencies such as neglected endemic diseases, antimicrobial resistance, environmental and chemical hazards and natural disasters.
Read more
Social isolation as a risk factor for all-cause mortality: Systematic review and meta-analysis of cohort studies
PLOS ONE | Research article | 12 January 2023
The objective of this study was to examine the association between social isolation and all-cause mortality and investigate whether it differs in various subgroups or populations. Authors found out that social isolation is associated with increased risk for all-cause mortality.
Read more
Noise pollution: more attention is needed
The Lancet Regional Health Europe | Editorial | January 2023
Beyond effects on the auditory system, noise is associated with an increased incidence of cardiovascular diseases in addition to causing annoyance, disturbed sleep, and impaired cognitive performance. It is estimated that the burden of disease, estimated as DALYs lost from environmental noise in western European countries alone, is equivalent to 61,000 years for ischaemic heart disease, 45,000 years for cognitive impairment in children, 903,000 years for sleep disturbance, 22,000 years for tinnitus, and 654,000 years for annoyance.
Read more
Vaccine inequity and hesitancy persist—we must tackle both
The BMJ | Opinion | 3 January 2023
"To tackle vaccine access where it remains low we need governments, industry, and health systems to minimise closed and open vial vaccine wastage and anticipate procurement and supply management needs. Affordability is a barrier to vaccine access. Global organisations should negotiate the donation of excess doses and sharing of technologies that enable manufacturers in lower income countries to develop vaccines and adequately store them."
Read more
Secondary data for global health digitalisation
The Lancet Digital Health | Health Policy | January 2023
This overview supports more precise and effective policy decision making leading to earlier detection and better prevention of emerging health threats than is currently the case. Guidance is provided by outlining available sources and approaches for the processing of secondary data.
Read more
11. European Commission news
Europe's Beating Cancer Plan: Launch of the European Cancer Imaging Initiative
The European Cancer Imaging Initiative, a flagship action under Europe's Beating Cancer Plan, will work towards creating a digital infrastructure linking up resources and databases of cancer imaging data across the EU, while ensuring adherence to high ethics standards, trust, security and protection of personal data. It will also connect EU-level and national initiatives, hospital networks, as well as research repositories with imaging data and other relevant health data.
Learn more
Public health: more time to certify medical devices to mitigate risks of shortages
On 6 January, the Commission adopted a proposal to give more time to certify medical devices to mitigate the risk of shortages. The proposal introduces a longer transition period to adapt to new rules, as foreseen under the Medical Devices Regulation.
Learn more
12. European Centre for Disease Prevention and Control news
Eurosurveillance - Volume 28, Issue 1, 05 January 2023
Eurosurveillance - Volume 28, Issue 4, 26 January 2023
Eurosurveillance - Volume 28, Issue 2, 12 January 2023
Eurosurveillance - Volume 28, Issue 3, 19 January 2023
13. WHO news
Public-private partnerships for health care infrastructure and services: policy considerations for middle-income countries in Europe
This new WHO/Europe report offers key actions governments can take to optimize public–private partnerships (PPPs) in health care, particularly in middle-income countries.
Read more
Strengthening the collection, analysis and use of health workforce data and information: a handbook
This handbook's key purpose is to reinforce a culture of data and evidence-informed policy and decision-making in the governance and management of the health workforce and the health labour market.
Read more
Regions play a key role in tackling current health crises
The discussions and outcomes of the 27th annual meeting of the Regions for Health network were tangible proof of the importance of having a platform for the exchange of ideas and good practice; in other words, a community in which to nurture dialogue on health and social care that emphasizes the leading role regions play in the promotion of healthy societies.
Learn more

Funded by the European Union. Views and opinions expressed are however those of the author(s) only and do not necessarily reflect those of the European Union or HaDEA. Neither the European Union nor the granting authority can be held responsible for them.
Unsubscribe
If you would like unsubscribe from the EUPHA newsletter then please click here.