The European Public Health Association
Newsletter - September 2022
| | | |
| --- | --- | --- |
| | Newsletter - September 2022 | |
1. Editorial
We are happy to again present you a well-filled EUPHA newsletter. In particular, we would like to draw your attention to the many recent advocacy activities EUPHA was involved in, and to the forthcoming series of interesting webinars that EUPHA is co-organising together with different partners. We hope you will join us in these events!
Iveta Nagyova, EUPHA president and Marieke Verschuuren, Executive Director
2. EUPHA update
EUPHA endorses the Oslo Declaration
EUPHA joins 80 international, European, and national civil society organizations and the World Health Organization in supporting the Oslo Declaration, which calls for urgent policy action to address alcohol-related harm. Evidence keeps showing the large contribution of alcohol consumption to the burden of non-communicable diseases (NCDs), while at the same time there are effective policy options that are not being implemented. We, representatives of public health professionals across the European region, fully support the ambitions of the Oslo Declaration.
EUPHA at the 72nd session of the WHO Regional Committee for Europe
EUPHA actively participated at the 72nd session of the WHO Regional Committee for Europe, which took place 12-14 September 2022 in Tel Aviv, Israel. Through the WHO Framework of Engagement with non State Actors accredited organisations, like EUPHA, can attend and participate in the Regional Committee meetings.

EUPHA had the opportunity to deliver the two joint statements that were led by EUPHA. In total EUPHA was involved in four joint statements, i.e. on:
Agenda item 4 "European regional action framework for behavioural and cultural insights for health, 2022–2027". A joint statement led by EUPHA and EuroHealthNet and co-signed by 11 other non-state actors, available here.
Agenda item 6 "Strengthening health emergency preparedness, response and resilience: learning the lessons and building back better". A joint statement led by EUPHA and co-signed by 10 non-state actors, available here.
And EUPHA co-signed statements related to:
Agenda item 3 "Regional digital health action plan for the WHO European Region", available here.
Agenda item 10 "European Framework For Action On Alcohol 2022-25", available here.
Furthermore, EUPHA submitted a video statement on agenda item 6 'Strengthening health emergency preparedness, response and resilience', presented by our Executive Director Dr. Marieke Verschuuren. The video is available here.
Joint statement - Operating Grants for health NGOs
EUPHA and 14 other health organisations call on the European Commission to include Operating Grants as a financing mechanism to provide a strong foundation for the contribution of health NGOs as part of the 2023 Work Programme and beyond. Read our joint statement here.
In the teamtime, the European Commission has announced that they will continue to support NGOs through operating grants in 2023.
EUPHA-ASPHER Joint statement: Join us in prioritising the investment in the next generation
The European Union has made 2022 the European Year of Youth, emphasising the importance of enabling the next generation to take a leading role in building a better future – greener, healthier and more inclusive. Both EUPHA and ASPHER have committed to investing in these young public health professionals, including them fully in our networks. We have made investing in the next generation a priority for both our organisations in 2022. Read about this in our joint statement, which is available here; and join us in prioritising the investment in the next generation.
EUPHA's member survey on public health priorities
The European Public Health Association (EUPHA) asked its members what they think are the most important priorities in public health in the coming 5 years. According to them, mental health is a top priority in European public health. In addition, lifestyle factors are key as they underly many chronic conditions that are deemed important priorities, such as cancer.
Explore the results in our infographic.
PROPHET project kicks off - Personalised Prevention Roadmap for the future healthcare
In September the PROPHET project kicked off at Università Cattolica del Sacro Cuore (UCSC) in Rome, Italy. UCSC is the coordinator of this project, which aims to engage organisations and individuals to contribute to the construction of a Strategic Research Innovation Agenda (SRIA) to adopt Personalised Prevention approaches into EU health systems. The coming four years EUPHA will lead various tasks within the project and contribute to the SRIA, stakeholder forum, capacity building for health professionals, and communication and dissemination activities.
Press release of the PROPHET kick off is available here.
Skills building webinar by SUNISEA: Scaling-up community based NCD prevention and control - focus on quality
Join this skills building webinar organised by the SUNI-SEA consortium, powered by EUPHA. The SUNI-SEA consortium will share their experiences on scaling-up community based non-communicable diseases prevention. To reduce the burden of NCD prevention, early detection and treatment is crucial. During this webinar, we'll dive into the research project Scaling up NCD interventions in Southeast ASIA (SUNI SEA) with their new dimension on scaling up.
Register now for the webinar that will take place on October 27, 10:00 - 11:00 AM (CET).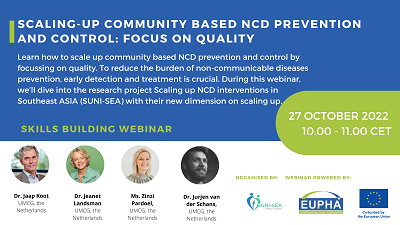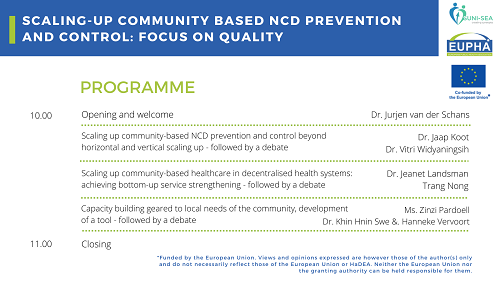 Webinar by WHO: Inclusive and participatory policy-making: can it be measured and assessed?
Bringing people's voices into policy- and decision-making processes is a challenging but crucial element of health systems governance for universal health coverage. During this webinar, organised by WHO and powered by EUPHA, participants will learn about participatory governance and the necessary pre-requisites for setting-up and institutionalising participatory decision-making spaces. This webinar will also provide insights on how to measure social participation and create room for discussion on how policymakers can make best use of these measures for improved policy design and decision-making.
Register now for the webinar that will take place on November 16, 1:00 PM - 2:00 PM (CET).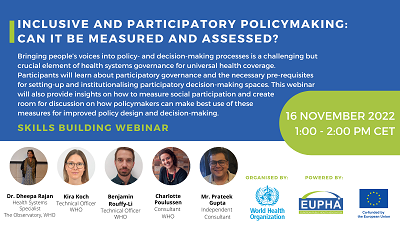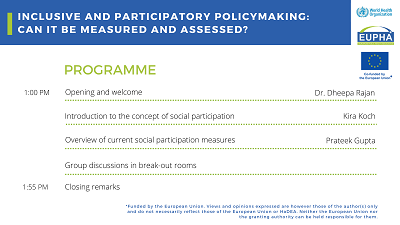 Webinar EUPHA Green Club: How green is the European Public Health Conference? Can it get any greener?
Learn about the environmental impact of the European Public Health Conference and what measures can be taken to minimize this impact. How can conferences such as the EPH Conference in Berlin be more environmentally responsible? Mark your calendar: November 2 from 2:00 - 3:30 PM (CET). The link for registration will soon be shared on social media channels.
3. European Public Health Conference
15TH EUROPEAN PUBLIC HEALTH CONFERENCE, 9 - 12 NOVEMBER 2022 - STRENGTHENING HEALTH SYSTEMS: IMPROVING POPULATION HEALTH AND BEING PREPARED FOR THE UNEXPECTED.
UPDATE PLENARY PROGRAMME
Plenary 5: Sustaining high quality care: interprofessional training for our clinical and public health workforce. Saturday 12 November, 10:30-11:30 CET. Organised by ASPHER and EHMA.
Moderators: John Middleton, Tara Chen, ASPHER. Keynotes by Natasha Azzopardi Muscat, WHO Regional Office for Europe, George Valiotis, EHMA. Panellists: Fatai Ogunlayi, UK Public Health Specialty Registrar, Laurent Chambaud, Andrija Stampar Medallist 2022, Anett Ruszanov, Director of Policy and Programmes, EHMA.
Read more about the conference theme and plenary programme here.
LUNCH SYMPOSIUMS
We are organising an exciting lunch symposiums programme during the extended lunch hours. No separate registration required. Just take your lunch to the breakout room and take part.
Thursday 10 November
Friday 11 November
Read more on our website.
UPDATE PRE-CONFERENCES
Pre-conferences are held on Wednesday 9 November. The full programme can be found on our website. Updates:
REGISTRATION
More than 2,000 colleagues have already registered. Meet your colleagues at the largest public health event in Europe during four fully packed conference days. More information is available here.
PANDEMIC PREPAREDNESS
There are currently no restrictive measures for the event industry in place in Berlin. Event organizers are free to decide whether and how to make use of protective measures. For the EPH Conference 2022 we will follow the recommendations for responsible events to ensure our delegates can attend the conference safely. Current measures in Berlin can be followed in detail on the websites of VisitBerlin and the State of Berlin.
CONFERENCE VENUE
The 15th EPH Conference will be held in the hub27 Berlin, part of Messe Berlin. Hub27 is easily accessed by U-Bahn and S-Bahn from all parts of Berlin. You can reach Berlin by train from everywhere in Europe. Long-distance high-speed trains arrive at and depart from the Hauptbahnhof. Flights to and from the new Berlin-Brandenburg International Airport (BER), 20 km from the city centre.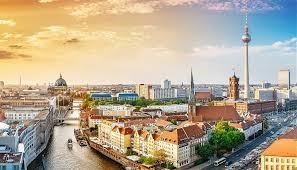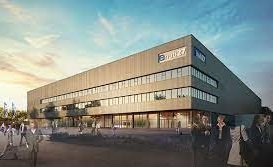 4. EUPHA members update
In memoriam Carla Nunes

5. European Journal of Public Health
Advance articles - September 2022
Changes in healthy and unhealthy working life expectancies among older working-age people in Finland, 2000–2017
Mikko Laaksonen, Marko Elovainio, Sakari Kainulainen, Taina Leinonen, Tuija Jääskeläinen, Harri Rissanen, Seppo Koskinen
SARS-CoV-2 transmission by asymptomatic healthcare workers positive to screening swab: an Italian study
Francesca Palese, Luca Arnoldo, Laura Brunelli, Silvana Buzancic, Valentina Anna De Giusti, Alberto Ferrazzano, Tolinda Gallo, Andrea Iob, Katia Mauro, Corrado Pipan, Marta Polonia, Edoardo Ruscio, Maurizio Treleani, Alessandro Conte
Effectiveness of a community intervention to reduce social isolation among older people in low-income neighbourhoods
C Lapena, X Continente, A Sánchez Mascuñano, M Mari dell'Olmo, M J López
DM management in HIV patients: the adoption of population health management to transform the chronic management of HIV
Guglielmo Pacileo, Verdiana Morando, Helen Banks, Lucia Ferrara, Annamaria Cattelan, Roberto Luzzati, Vinicio Manfrin, Valeria Domenica Tozzi
The impact of COVID-19 lockdown on air pollution in Europe and North America: a systematic review
Maria Bakola, Ireri Hernandez Carballo, Eleni Jelastopulu, David Stuckler
A modifiable factors-based model for detecting inactive individuals: are the European assessment tools fit for purpose?
X Mayo, E Iglesias-Soler, G Liguori, R J Copeland, I Clavel, F del Villar, A Jimenez
The impact of face-mask mandates on all-cause mortality in Switzerland: a quasi-experimental study
Giacomo De Giorgi, Pascal Geldsetzer, Felix Michalik, M Maddalena Speziali
Female political representation and the gender health gap: a cross-national analysis of 49 European countries
Aaron Reeves, Chris Brown, Johanna Hanefeld
Factors associated with changing alcohol consumption during the first UK lockdown
Kareena McAloney-Kocaman, Kerri E McPherson, Emily McGlinchey, Cherie Armour
Corporate political activity in the context of sugar-sweetened beverage tax policy in the WHO European Region
Kathrin Lauber, Holly Rippin, Kremlin Wickramasinghe, Anna B Gilmore
The French Covid-19 vaccination policy did not solve vaccination inequities: a nationwide study on 64.5 million people
Florence Débarre, Emmanuel Lecoeur, Lucie Guimier, Marie Jauffret-Roustide, Anne-Sophie Jannot
6. Call for proposals, job opportunities
BMC's call for papers - Climate impacts on health
BMC Public Health has launched a collection adressing climate impacts on health. Authors are invited to submit manuscripts until 7 April 2023.
Learn more
7. Interesting news
Food as medicine: could prescribing fruit and vegetables become part of healthcare?
The Guardian | 18 September 2022
Decades of healthy eating advice have failed to stem the tide of lifestyle-related disease. Could prescribing healthy food help?
A study found that, over three months, "produce prescriptions" made a big improvement to diet quality and food security for those involved.
Learn more
Scientists reveal how air pollution can cause lung cancer in people who have never smoked
The Francis Crick Institute | 10 September 2022
Cancer Research UK-funded scientists at the Francis Crick Institute and UCL have revealed how air pollution can cause lung cancer in people who have never smoked.
The research found that exposure to particulate matter (PM2.5) in the air promotes the growth of cells in the lungs which carry cancer-causing mutations.
Learn more
8. Upcoming courses and conferences
In and out of your mind
13 Oct 2022 - 15 Oct 2022 / Hybrid event - Zagreb, Croatia
Organiser: School of Medicine, University of Zagreb, Andrija Stampar School of Public Health, EUPHA Public Mental Health Section, Croatian Psychiatric Association, Mental Health Association of South Eastern Euro
Medinomia
20 Oct 2022 - 21 Oct 2022 / Namur, Belgium
Organiser: CHU Namur Namur, UCLouvain, ao
9. Interesting publications
Sleep and sleep disorders
The Lancet Commissions | 14 September 2022
Sleep is a crucial function, and its disruption can have multiple effects on health. This Series covers cutting-edge evidence on the most common presentations of sleep disruption and debates the reasons why sleep contributes to health.
Read more
The Ethical Spirit of EU Values: Status Quo of the Union of Values and Future Direction of Travel
Springer | Open Access Book | 2022
This book summarizes the activities of the Jean Monnet Chair.
It covers the individual values of the EU, as well as their relationship to each other (e.g. general values and health values), but also to other provisions of EU law (e.g. value of human dignity in current EU documents on digitization).
The book not only presents the status quo (e.g. energy solidarity), but also includes suggestions for future developments (e.g. environmental protection as a value, etc.).
Learn more.
The Lancet Commission on lessons for the future from the COVID-19 pandemic
The Lancet Commissions | 14 September 2022
This Commission report aims to contribute to a new era of multilateral cooperation based on strong UN institutions to reduce the dangers of COVID-19, forestall the next pandemic, and enable the world to achieve the agreed goals of sustainable development, human rights, and peace that governments are committed to pursue as members of the UN.
Learn more
Health Equity: Law and Policy
Health and Medicine | Collection | September 2022
This collection investigates the intersection of health with law and policy – from the evolution and interpretation of the "right to health", to the implementation of local, national, and international policies both within and outside the health care sector. The collection also recognises and considers the impact of discriminatory policies on our right to health.
Explore the collection
EUPHA members' priorities - selection on mental health
EUPHA's member survey indicated that one of the public health priorities for our members is mental health. Therefore, we have compiled some recent and interesting articles relating to this research field, in addition to the usual interesting publication that we share in the newsletter.
Challenges for addressing dementia
The Lancet Regional Health Europe | Editorial | September 2022
In this editorial, authors explain that economic, social, scientific, and clinical challenges represent substantial setbacks for the treatment and management of dementia at an individual and societal level. To prepare for the expected increase in dementia burden in the future, fast-paced research advancements will be needed to improve drug therapy, enhance economic support from governments, and increase in awareness and sensitivity about the disease.
The mental and physical health of young carers: a systematic review
The Lancet Public Health | Review | September 2022
The health of those who care for someone with a health condition or advanced age is poorer, on average, than non-carers. However, the health of young carers (<18 years of age) has been under-researched, especially in quantitative studies. This systematic review aimed to summarise studies assessing the mental and physical health of young carers.
10. European Commission news
European Health Union: A new EU approach on cancer detection - screening more and screening better
On September 20th, as part of the EU Cancer Screening Scheme to be put forward under Europe's Beating Cancer Plan, the Commission presented a new approach to support Member States increasing the uptake of cancer screening. Focusing on detection of cancers at an early stage, the objective of the proposed recommendation is to increase the number of screenings, covering more target groups and more cancers.
Read more
Explore the Q&A
Statement by European Commissioner for Health and Food Safety Stella Kyriakides and WHO Regional Director for Europe Dr Hans Henri P. Kluge on preventing monkeypox from becoming endemic in Europe
On September 13th, on the occasion of the 72nd session of the WHO Regional Committee for Europe, the Commissioner for Health and Food Safety, Stella Kyriakides, and WHO Regional Director for Europe, Dr Hans Henri P. Kluge, reconfirmed their joint efforts to prevent monkeypox from becoming endemic in Europe.
Read the joint statement
Environmental implementation: Commission urges better application of EU environmental rules to protect human health and the environment
On September 8th, the Commission published the third Environmental Implementation Review (EIR), a key reporting tool that supports environmental enforcement and raises awareness about the importance of implementing environmental rules.
Read more
European Commission's Study on AMR - Invitation to participate in consultation of stakeholders
The "Study on the barriers to effective development and implementation of national policies on antimicrobial resistance (AMR)" is commissioned by HaDEA in close cooperation with DG SANTE and conducted by Tetra Tech International Development and partners. In relation to this study you are invited to contribute in two ways:
Participating in an online workshop on the barriers to effective implementation of AMR measures on 18 and 19 October. To attend, please register here.
Completing this survey that is open until 18 October 2022.
Your contribution to the study will be much appreciated.
11. European Centre for Disease Prevention and Control news
Eurosurveillance - Volume 27, Issue 38, 22 September 2022
Rapid communication
Influenza vaccine effectiveness against A(H3N2) during the delayed 2021/22 epidemic in Canada
Surveillance
Changing epidemiology of Salmonella Enteritidis human infections in the Netherlands and Belgium, 2006 to 2019: a registry-based population study
Miscellaneous
Job vacancy at Eurosurveillance
Job vacancies at ECDC
Access the issue
Improving risk communication in public health crises
The ECDC team interviewed Dr Savoia, speaker at ECDC's risk communication workshop.
One of her key messages is that "good communication does not compensate for a poor public health infrastructure".
Read more
Eurosurveillance - Volume 27, Issue 35, 01 September 2022
Editorial
World Field Epidemiology Day 2022: Empowering field epidemiologists to strengthen health systems' preparedness and response to public health threats

Rapid communication
Monkeypox DNA levels correlate with virus infectivity in clinical samples, Israel, 2022
Outbreaks
An outbreak of cryptosporidiosis associated with drinking water in north-eastern Italy, August 2019: microbiological and environmental investigations
Research
Age-specific associations between underlying health conditions and hospitalisation, death and in-hospital death among confirmed COVID-19 cases: a multi-country study based on surveillance data, June to December 2020
Erratum
Erratum for Euro Surveill. 2022;27(31)
Access the issue
Eurosurveillance - Volume 27, Issue 36, 08 September 2022
Rapid communication
A large multi-country outbreak of monkeypox across 41 countries in the WHO European Region, 7 March to 23 August 2022
Isolation of viable monkeypox virus from anal and urethral swabs, Italy, May to July 2022
Rapid increase in neuroinvasive West Nile virus infections in humans, Italy, July 2022
Research
Early deaths associated with community-acquired and healthcare-associated bloodstream infections: a population-based study, Finland, 2004 to 2018
Access the issue
Eurosurveillance - Volume 27, Issue 37, 15 September 2022
Rapid communication
Emergence of genetically linked vaccine-originated poliovirus type 2 in the absence of oral polio vaccine, Jerusalem, April to July 2022
COVID-19 mRNA vaccine effectiveness (second and first booster dose) against hospitalisation and death during Omicron BA.5 circulation: cohort study based on electronic health records, Portugal, May to July 2022
Research
Seroconversion rate and socio-economic and ethnic risk factors for SARS-CoV-2 infection in children in a population-based cohort, Germany, June 2020 to February 2021
Read more
12. WHO news
Ticking timebomb: Without immediate action, health and care workforce gaps in the European Region could spell disaster
All countries of the WHO European Region – encompassing 53 Member States across Europe and central Asia – currently face severe challenges related to the health and care workforce, according to a new report released by WHO/Europe. Yet, some steps can and should be urgently taken in order to strengthen the health and care workforce.
Learn more
Simplicity, transparency and trust - essential in health data reporting
A new study by HealthPros (a training network for health-care professionals) and WHO/Europe shows that countries faced challenges in the way COVID-19 information was presented and disseminated. While visual and dynamic displays of key data – COVID-19 dashboards – were swiftly developed in the first months of the pandemic, countries faced issues related to the need for simplicity, the use of open data, transparency and trust.
Learn more
Involving youth in alcohol policies: imagining and planning for a better world
"If we want effective policies, we need to include young people in shaping, implementing, and monitoring them, because young people are the fastest evolving community in the world. I am a young person and when I scroll through social media, I need to see content that is trendy now, that is changing fast, while the process of policy change is slow."
Learn more
Behavioural insights and digital health action plans endorsed by Member States on the second day of the Regional Committee
Behavioural and cultural insights are a flagship initiative of the European Programme of Work, and on day two of the 72nd Regional Committee, Member States adopted an action framework to drive work in this area until 2027. The flagship's framework calls on Member States to make use of behavioural and cultural insights (BCI) for effective, tailored, equitable, sustainable and people-centred health policies.
Learn more
Technical Advisory Group on the mental health impacts of COVID-19 in the WHO European Region briefing
This briefing addresses the mental health impacts of COVID-19 across the European Region and associated opportunities for action.
Learn more
Core health indicators in the WHO European Region
This publication presents the core health indicators in the WHO European Region with a special focus on the European Programme of Work Measurement Framework.
Learn more
Urban design for health: inspiration for the use of urban design to promote physical activity and healthy diets in the WHO European Region
A symposium held by WHO Regional Office for Europe in collaboration with Gehl in April 2021 explored how to advance concrete actions in support of healthier environments and behaviour in cities through urban planning and design, with a focus on physical activity and health diets.
Learn more about the outcomes of the symposium
Invisible numbers: the true extent of noncommunicable diseases and what to do about them
This report is a reminder of the true scale of the threat posed by non-communicable diseases (NCDs) and their risk factors. But, crucially, it also shows what can be done to avoid them. There are cost-effective and globally applicable interventions that can protect people from NCDs or minimize their impact. Every country, no matter its income level, can and should be using and benefitting from these policies – saving lives and saving money.
Learn more
Imagining the future of pandemics and epidemics: a 2022 perspective
The World Health Organization's 1st foresight report - "Imagining the Future of Pandemics and Epidemics", attempts to explore what the future of infectious threats might look like, using a short time horizon (3-5 years) to encourage immediate action.
Learn more

Funded by the European Union. Views and opinions expressed are however those of the author(s) only and do not necessarily reflect those of the European Union or HaDEA. Neither the European Union nor the granting authority can be held responsible for them.
Unsubscribe
If you would like unsubscribe from the EUPHA newsletter then please click here.