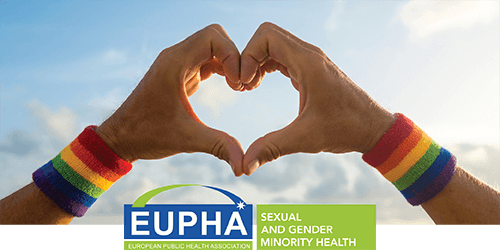 The EUPHA Sexual and gender minority health section aims to increase knowledge on sexual and gender minority populations differences in health and health care, promote monitoring of health disparities among LGBT populations and explore the reasons for health disparities in this group. The Section's priority is to build a network of researchers in the field of sexual and gender minority health from a public health and behavioral science perspective.
EUPHA Sections bring together researchers, policymakers and practitioners working in the same field for knowledge sharing and capacity building. By joining this Section, you can exchange knowledge with your peers in the field of sexual and gender minority health. You don't need to be a EUPHA Member to join a Section.
Watch the EUPHA video 'Are we standing up for the vulnerable? - Ensuring solidarity and health for all' here.
The EUPHA-SGMH brochure can be downloaded here.


We currently have 1306 section members.
It would be great to add you to those members!

Do you work in sexual and gender minority health?
Promote your work through the European Public Health Journal, the European Public Health Conference and/or during the European Public Health Week.
The Team
President: Arjan van der Star
Vice President: Lovro Markovic
Recent News