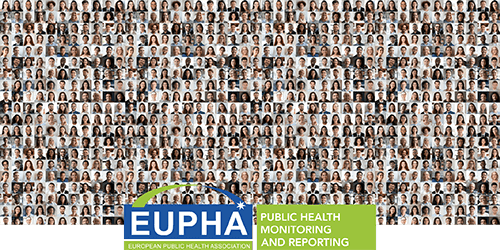 The EUPHA Public health monitoring and reporting section aims to establish a platform that will exchange experiences and good practice examples of public health monitoring and reporting. The Section's fields of interest are monitoring models, indicators for public health monitoring and the underlying data, and reporting of outcomes of public health monitoring, including forecasts and evaluation of impact of reporting.
EUPHA Sections bring together researchers, policymakers and practitioners working in the same field for knowledge sharing and capacity building. By joining this Section, you can exchange knowledge with your peers in the field of public health monitoring and reporting. You don't need to be a EUPHA Member to join a Section.
We currently have 3225 section members.
It would be great to add you to those members!

Do you work in public health monitoring and reporting?
Promote your work through the European Public Health Journal, the European Public Health Conference and/or during the European Public Health Week.
The Team
President Petronille Bogaert
Vice Presidents: Hanna Tolonen, Heidi Lyshol
Recent News