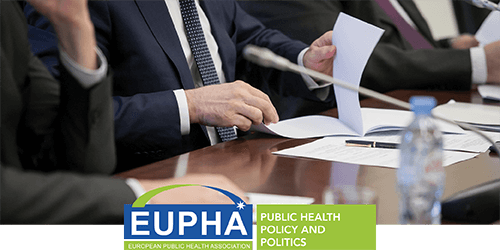 The EUPHA Public health policy and politics section aims to improve the understanding and management of the feasibility, acceptability and impact of health policies and governance systems; build linkages between different public health disciplines across the practitioner, policymaker and academic realms; and build capacity in public health policymaking and governance across the different EUPHA audiences.
EUPHA Sections bring together researchers, policymakers and practitioners working in the same field for knowledge sharing and capacity building. By joining this Section, you can exchange knowledge with your peers in the field of public health policy and politics. You don't need to be a EUPHA Member to join a Section.
We currently have 4842 section members.
It would be great to add you to those members!

Do you work in public health policy and politics?
Promote your work through the European Public Health Journal, the European Public Health Conference and/or during the European Public Health Week.
The Team
President: Dr Sofia Ribeiro
Vice President: tbd
Recent News