Dear subscribers,
The second day of the European Public Health Week 2023 is well under way. More than 50 events taking place today and around 220 events during the whole Week.
There is definitely something for everyone. Have a look at the full events calendar.
Today - Tuesday, May 23: "Diversity in health"
We started the day with the daily kick-off webinar, organised by EUPHA and supported by AGE Platform Europe, the European Federation of National Organisations Working with the Homeless and the European Institute of Women's Health. Two EUPHA Sections also participated: the Migrant and ethnic minority health Section as well as the Section on sexual and gender minorities.
For those that missed it - or those that want a replay - the recording will be available soon.
A quote that we especially liked today: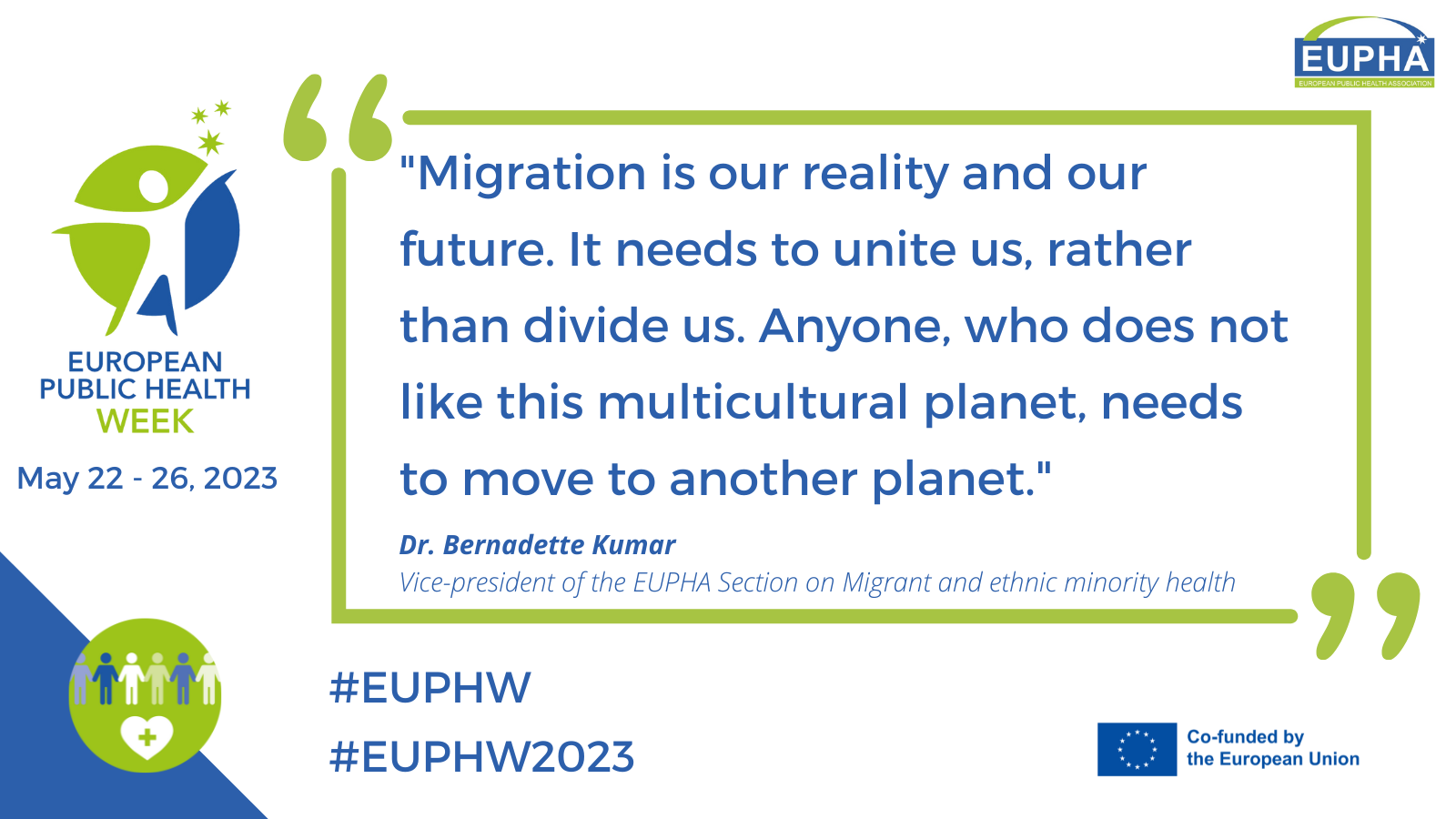 Tomorrow - Wednesday, May 24: "Diversity in health"
Wednesday's daily topic is "Access to care". The daily kick-off webinar is organised by the European Observatory on Health Systems and Policies, titled "Universal access to care: How can we overcome barriers in the patient's care journey?" Be sure to register and attend.
Next to this, over 30 other events will take place across Europe tomorrow, mostly related to the topic of access to care.
The rest of the week - Daily kick-off webinars and all other events
Here is the list or remaining daily kick-off webinars and full event calendars for each day.
For daily updates, follow us on LinkedIn, Twitter and Facebook.
Thank you for your time and attention - and, most importantly - for helping us raise awareness about this year's highlighted themes, as well as about the importance of public health, in general!
Kind regards,
Damir Ivanković
2023 EUPHW Coordinator

The European Public Health Week (EUPHW) is an initiative by the European Public Health Association (EUPHA) supported by the WHO Regional Office for Europe and co-funded by the European Union.
Someone forwarded this newsletter to you and now you also want to become a subscriber? Simply send us a quick e-mail and we'll make sure you're added to the list. If, on the other hand, you want to unsubscribe - also do just send us a short email and we'll remove you from the mailing list.