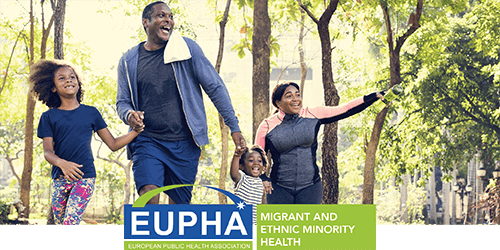 The EUPHA Migrant and ethnic minority health section aims to spread knowledge on ethnic differences in health and health care, on explanations for these differences, and on interventions that aim to tackle them. The Section also aims at setting methodological standards for European countries to identify ethnic groups to promote exchange of information, and at increasing political attention for consequences of migration for health and health care.
EUPHA Sections bring together researchers, policymakers and practitioners working in the same field for knowledge sharing and capacity building. By joining this Section, you can exchange knowledge with your peers in the field of migrant and ethnic minority health. You don't need to be a EUPHA Member to join a Section.
Watch the EUPHA video 'Are we standing up for the vulnerable? - Ensuring solidarity and health for all' here.
We currently have 2667 section members.
It would be great to add you to those members!

Do you work in migration and ethnic minority health?
Promote your work through the European Public Health Journal, the European Public Health Conference and/or during the European Public Health Week.
The Team
President: Dr. Bernadette Kumar
Vice President: Prof. Charles Agyemang
Recent News