European Public Health WEEK

13-17 May 2019

Celebrating healthy populations



MEDIA TOOLKIT
This media toolkit includes materials and guidance that were developed to help promote public health messages and details about EUPHW events.
Why should I use this toolkit?
We provide ready-to-use key messages, visual materials and other resources relevant to each of the 5 daily themes to help your efforts in communicating with your audiences, particularly through social media, newsletters and websites.
How should I use this toolkit?
You can simply download or copy/paste the various materials.
Can I change the materials?
To maximise impact with your audiences, you may want to translate them into your local language. However, available visuals must not be altered in any way, nor the slogan "Celebrating healthy populations" and the themes of the 5 days. The use of the European Commission and World Health Organization logos is not permitted.
Who should I share these materials with?
IF YOU ARE A PUBLIC HEALTH ORGANISATION




You can share them with your usual stakeholders as well as with your staff. We highly encourage you to contact your institutions' press and communications offices so they can disseminate the initiative through the institution's channels and help to engage local media (scroll down for more information on media engagement).




IF YOU ARE AN INDIVIDUAL PROFESSIONAL
You can share materials with your institution's communications offices and colleagues, as well as with your own network through your personal social media channels.


IF YOU ARE A CITIZEN INTERESTED IN PUBLIC HEALTH
We encourage you to share our messages and visual materials with your friends, family, schools and workplaces through your own social media channels.



IF YOU ARE A JOURNALIST OR ANOTHER MEDIA PROFESSIONAL


You can use materials for your media coverage of the EUPHW. If you wish to conduct interviews with those involved in the EUPHW, please send your media enquiry to EUPHAcommunications@eupha.org.
TIPS TO HELP PROMOTE PUBLIC HEALTH MESSAGES AND EUPHW EVENTS
Share key messages, facts and figures about each of the daily themes on your own social media feeds, newsletters and websites
Check which EUPHW events you are most interested in joining, in person or online (search by country or by day/theme)

Share your thoughts on social media about the events you are attending using #EUPHW and #EUPHW[country in English], e.g. #EUPHWnorway
TIPS TO HELP PROMOTE YOUR OWN EVENT
BEFORE THE EVENT
Make sure your event is listed on the EUPHA website and includes details on how participants can attend, in person and/or online.
If you haven't submitted your event yet, please do so through our online form.

Spread the word through your network at least two weeks in advance, e.g. through newsletters, partners, event platforms and staff mailing lists.

Send your institutional social media handles and one template post about your event to euphacommunications@eupha.org so we can publish it on our social media channels.

Use the #EUPHW hashtag so we can find your tweets and Facebook posts and retweet/share them on our pages.

Post the EUPHW promotional e-flyer and logo on your website (scroll down to download files).

Contact other public health associations in your country (e.g. EUPHA members) and ask them to support your dissemination efforts.
Engage with the media:
Ask your institution's communications and press offices for help to let journalists know about your event. As a first step, make them aware of the EUPHW kick-off event on 13 May in Brussels as this may help to create a news hook around your event.
If your institution decides to issue a press release, please let us know at euphacommunications@eupha.org as we may be able to complement it at European level.
DURING THE EVENT
Use the official EUPHW key messages, mottos of the day and resources available for the theme that is relevant to your event.

Use #EUPHW on Twitter and Facebook so we can retweet and share your posts on our pages.

Use the official EUPHW logo and/or country logo in your presentations and event materials (scroll down to download files).

Take photos during the event, make sure you are allowed to share them online and note the relevant details (caption, credit, etc).

If possible, record your event for future dissemination and ask the audience if there is any objection to it.
AFTER THE EVENT
Get in touch with us at euphacommunications@eupha.org to let us know how it went.

Share your photos (with relevant credits and captions) and any recording links so we can include them in reports about the EUPHW.

Consider organising Facebook or Twitter chats to follow up on questions arising from your event, so you can further engage your audiences.
MATERIALS FOR DOWNLOAD


KEY MESSAGES
You can download a full list of key messages, facts and figures for each of the 5 daily themes.

You can also check each daily theme page for relevant resources and reports.

ANIMATED THEME GIFs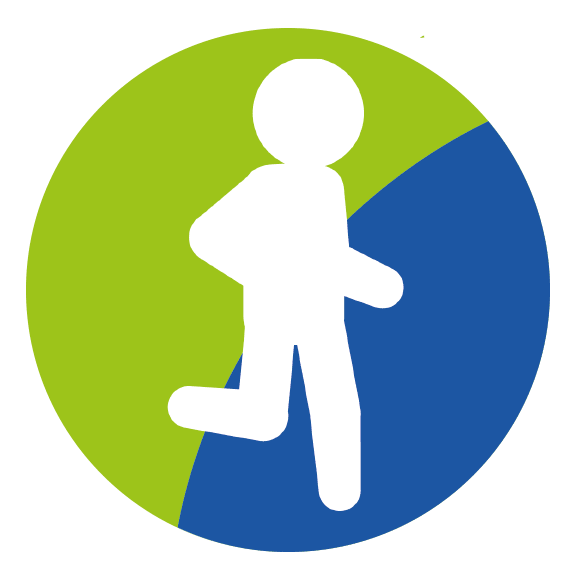 Day 1 (13 May): Becoming, being and remaining physically active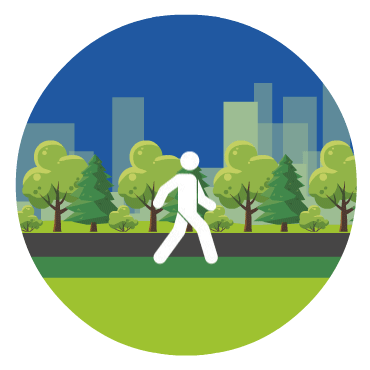 Day 2 (14 May): Healthy environments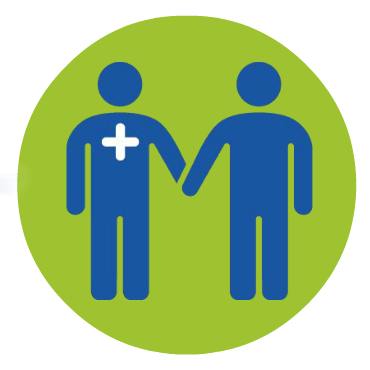 Day 3 (15 May): Care 4 Care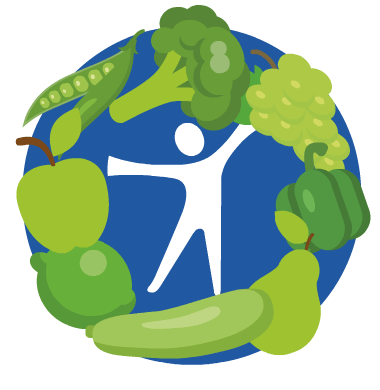 Day 4 (16 May): Sustainable and healthy diets
Day 5 (17 May): Euro Youth Mental Health
E-FLYER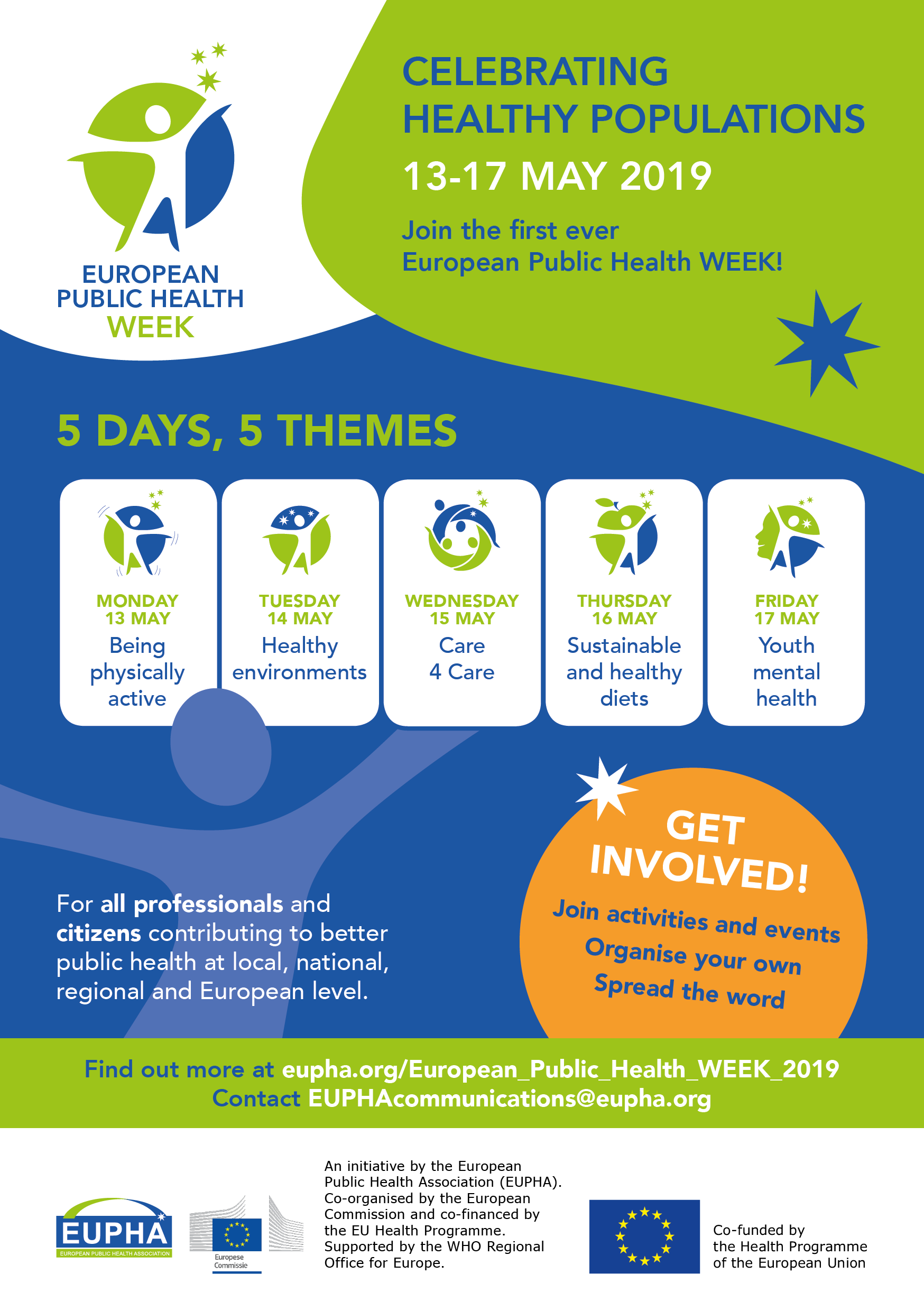 Download the EUPHW promotion e-flyer in PDF and PNG formats
You can also download an editable version
LOGOS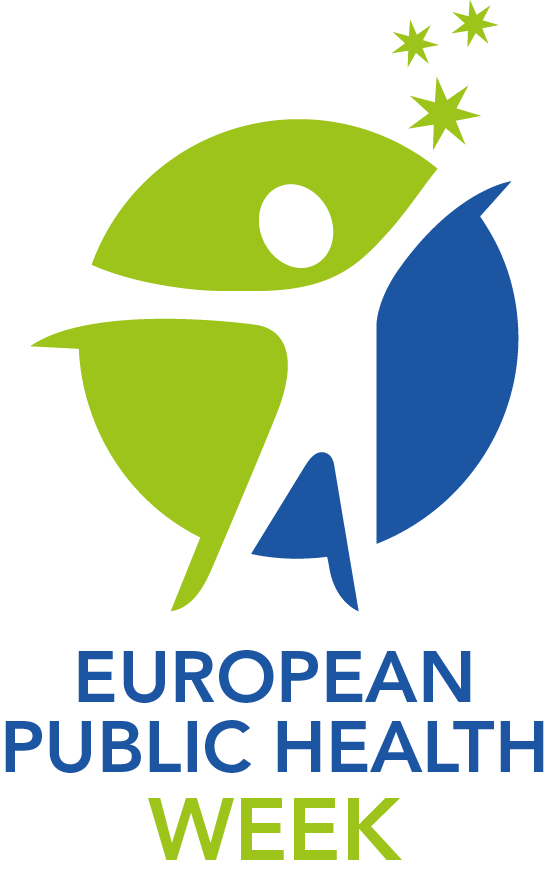 Download the general EUPHW logo:
- for web use (white background)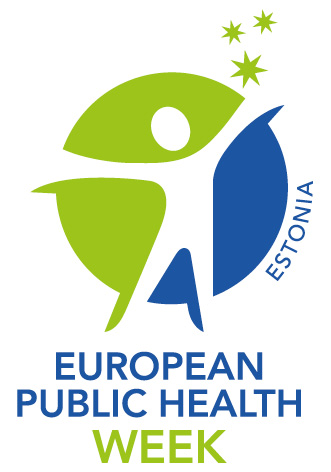 Download your country logo:
- for print use (all countries)

If you wish to use the EUPHA logo, please get in touch with us at euphacommunications@eupha.org.
BANNERS
TEMPLATE CONTENTS FOR SOCIAL MEDIA
Suggested Tweets

1
The first ever European Public Health WEEK by @EUPHActs is happening this 13-17 May 2019. Follow & share #EUPHW to raise awareness about public health and celebrate healthy populations across Europe! https://eupha.org/European_Public_Health_WEEK_2019
Image: EUPHW logo
2
This year's #EUPHW 5 public health themes are:
Being physically active (Monday 13 May)
Healthy environments (Tuesday 14 May)
Care 4 Care (Wednesday 15 May)
Sustainable and healthy diets (Thursday 16 May)
Youth mental health (Friday 17 May)
Which ones are you taking part in? https://eupha.org/Topics_of_the_week
Image: EUPHW banner
3
The European Public Health WEEK begins this Monday 13 May! Join the kick-off event and "walkinar" in Brussels to celebrate the theme of day 1 - being physically active. Details and live streaming link available at https://www.facebook.com/events/2357285051151690/ #EUPHW
Image: GIF day 1
4
Have you chosen the #EUPHW events you want to attend between Monday and Friday 13-17 May? You can search for events in your country at https://eupha.org/EUPHW_Search_for_an_event - note: many take place online so you can join them wherever you are!
Image: EUPHW map
For social media contents about specific EUPHW themes, please refer to each daily theme page.