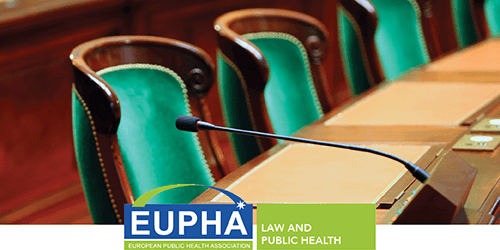 EUPHA Sections bring together researchers, policymakers and practitioners working in the same field for knowledge sharing and capacity building. By joining this Section, you can exchange knowledge with your peers in the field of public health and law. You don't need to be a EUPHA Member to join a Section.
The value of law to public health
There is a growing recognition that law as a discipline has a major role to play in framing effective public health strategies at global, transnational, regional and national levels. To respond to this evolution, in 2020, EUPHA established a new Law and public health section (also known as EUPHA-LAW).
Legal interventions can stimulate progressive change through both regulation and litigation. The law is expected to help societies respond to pressing global health challenges. Law has been at the foundation of many public health successes and has the potential to support many more. The examples of sanitation, HIV, road safety and tobacco control are often given to illustrate the power of law to promote changes in social norms. However, there are many more that have been – or could be – envisaged to address major public health challenges, including air pollution, unhealthy diets and other risk factors for the growing prevalence of non-communicable diseases; antimicrobial resistance and the ongoing challenge of infectious diseases; access to medicines; and universal health coverage.
Maximising legal opportunities for public health by understanding legal constraints
To maximise the opportunities that the law offers to promote better health for all, it is necessary to understand the constraints that it may also impose. In particular, it is necessary to reflect on how the law has been used by powerful economic actors as part of corporate strategies to oppose or delay the adoption and implementation of public health regulatory measures. For example, it is well established that the tobacco, alcohol and food industries have challenged public health laws and regulations in courts, tribunals or dispute settlement bodies. The involvement of legal experts in the design and implementation of disease prevention and health promotion strategies at an early stage reduces the likelihood that industry challenges will be successful.
To develop effective legal responses, EUPHA-LAW will work with sub-disciplines in public health and law to help build greater legal capacity and to address complex public health challenges. Similarly, we acknowledge that many public health issues require both multi-disciplinary and multi-level responses. EUPHA-LAW will, therefore, reflect on how local, national, regional and global regulatory responses can best support each other.
We currently have 917 section members.
It would be great to add you to those members!

Do you work in law and pubic health ?
Promote your work through the European Public Health Journal, the European Public Health Conference and/or during the European Public Health Week.
The Team
President. Amandine Garde
Vice President: Nikhil Gokani
Recent News