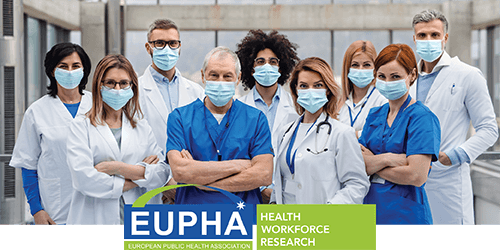 The EUPHA Health workforce research section aims to serve as a network of all researchers interested in health workforce issues. It places health workforce research in the wider context of healthcare policy and services transformations as an independent, interdisciplinary and multi-professional field. With a focus on Europe, the Section also takes a broader perspective on global developments in health workforce research.
EUPHA Sections bring together researchers, policymakers and practitioners working in the same field for knowledge sharing and capacity building. By joining this Section, you can exchange knowledge with your peers in the field of health workforce research. You don't need to be a EUPHA Member to join a Section.
Watch the EUPHA video 'Is the public health workforce equipped for the present and the future?' here.
We currently have 1310 section members.
It would be great to add you to those members!

Do you work in health workforce research?
Promote your work through the European Public Health Journal, the European Public Health Conference and/or during the European Public Health Week.
The Team
President: Marius-Ionuț Ungureanu
Vice President: Michelle Falkenbach and Tiago Correia
Recent News